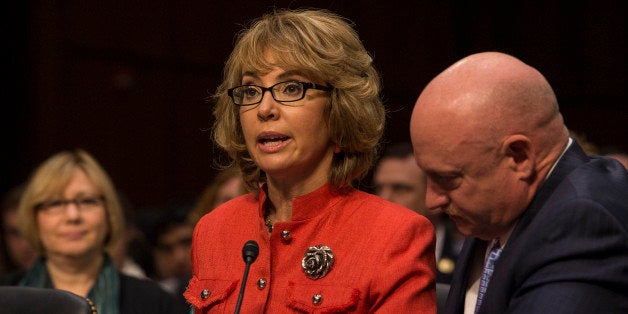 Three Democratic senators announced their plans on Thursday to introduce a new bill that would tighten gun restrictions on accused domestic abusers. Sens. Dick Durbin (D-Ill.), Richard Blumenthal (D-Conn.) and Chris Murphy (D-Conn.) had just met with former Rep. Gabrielle Giffords (D-Ariz.), the congresswoman who survived a point-blank gunshot wound to her head in 2011, to discuss new legislative avenues to protect women from gun violence.
"Coming here today to Senator Blumenthal's office and meeting with Gabby Giffords was a graphic reminder of gun violence and what it can do to the lives of innocent people," Durbin said. "What she's come today to do is to remind us and challenge us to renew this conversation about gun violence on Capitol Hill."
The senators said they will take the lead on legislation that would prohibit accused domestic abusers with temporary protective orders issued against them from possessing or purchasing a gun. Current federal gun restrictions only apply to people with permanent protective orders issued against them -- but Blumenthal said that gives alleged abusers a several-day window in which to retain their guns and potentially harm their partner or spouse.
The National Rifle Association has scaled back its opposition to domestic violence-related gun bills over the past year as the political climate has shifted in favor of removing guns from potentially violent people. For decades, the nation's largest gun lobby opposed taking a domestic abuser's guns away for anything less than a convicted felony. But it is now staying neutral on bills that would extend gun restrictions to individuals convicted of misdemeanor domestic violence or those who have a protective order issued against them.
Giffords has been one of the most visible proponents of gun violence prevention legislation in Congress. She lobbied the Senate bill to pass a bill last April that would strengthen background checks, but the bill failed to pass. On Thursday, she delivered a letter and petition to Sen. Patrick Leahy (D-Vt.), chair of the Senate Judiciary Committee, urging him to hold a hearing on legislative ways to prevent gun violence against women. The petition currently has 37,000 signatures.
"Congressional action has meant the difference between life and death for many women. But many of those who perpetrate violence against women are still allowed easy access to firearms," Giffords wrote in her letter. "More action is needed –- and soon. Women's lives are at stake. We know more about the dangerous connection between domestic abuse and guns than we ever have. Let's leave no stone unturned when it comes to protecting women and their families."
Murphy said he has spoken with Senate Republicans about his bill, and they seemed "receptive" to it.
"I think our colleagues who have long wanted to do the right thing are now beginning to understand the political ramifications of continuing to sit on the sidelines," Murphy said. "Especially when we're talking about something that's rooted in common sense, like protections for victims of domestic violence."
Calling all HuffPost superfans!
Sign up for membership to become a founding member and help shape HuffPost's next chapter
BEFORE YOU GO
PHOTO GALLERY
Giffords Appears At Gun Control Hearing