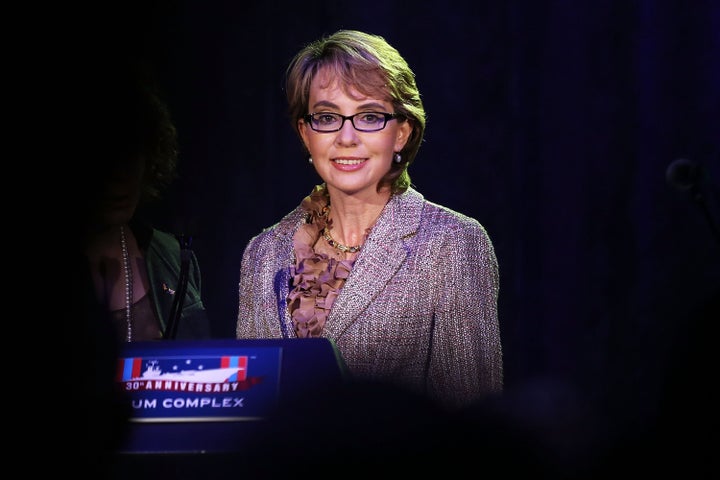 CHARLOTTE, N.C. -- After months of build-up, former Rep. Gabrielle Giffords (D-Ariz.) on Tuesday officially launched her new political action committee, Gabby PAC.
Staying true to her Blue Dog Democrat roots, Giffords' PAC will be co-chaired by a Democrat and a Republican: Robert Reich, former Labor Secretary under Bill Clinton, and Trey Grayson, the former Republican Kentucky Secretary of State. Jan Lesher, formerly the chief of staff for operations for the Department of Homeland Security, will be the group's treasurer.
The PAC will only help Democratic candidates, however.
"We are thrilled to officially launch Gabby PAC," Giffords and her husband Mark Kelly said in a statement. "Gabby PAC will only support candidates who are dedicated to working hard for commonsense, bi-partisan solutions that strengthen our communities and our entire country. This commitment to public service over partisanship is what guided Gabby while she was serving the people of Arizona and will be the guiding principle of Gabby PAC."
Reich said in a statement that he has known Giffords and Kelly for years, so he knows "how important it is to them to support candidates who will reach across the aisle to achieve real progress for our country." Grayson, who is director of the Institute of Politics at Harvard Kennedy School, said the "candidates supported by Gabby PAC will be an important part of shaping our nation's policy in the years to come."
Reflecting the priorities that Giffords focused on as a congresswoman, the PAC will specifically focus on issues relating to boosting the economy, supporting renewable energy, enhancing veterans affairs and creating more opportunities for young people.
Giffords signaled earlier this year that she was interested in forming a PAC, but beyond that, she has mostly stayed out of the limelight since leaving Congress in January. She stepped down in order to focus on her physical rehabilitation after the 2011 Tucson, Ariz. shootings that nearly took her life.
It remains to be seen whether Giffords will make an appearance at the Democratic National Convention this week.
REAL LIFE. REAL NEWS. REAL VOICES.
Help us tell more of the stories that matter from voices that too often remain unheard.
BEFORE YOU GO
PHOTO GALLERY
Gabrielle Giffords' Road To Recovery