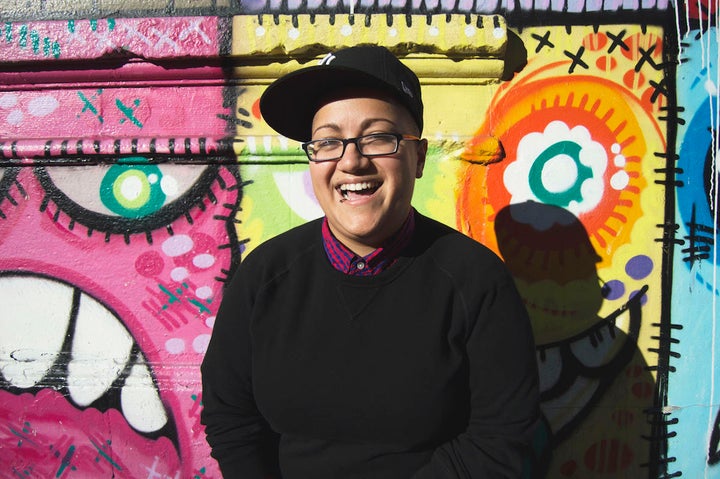 There's a scene in the Season 1 finale of Netflix's "One Day at a Time" that makes author Gabby Rivera particularly emotional. Shortly after 15-year-old Elena Alvarez comes out to her family as a lesbian, her traditional Cuban abuela gives her a big surprise ahead of her quinceañera party: She's turned her gorgeous sparkly gown into a sleek suit.
"I cried so hard," the 35-year-old critically acclaimed writer told HuffPost. "That was so beautiful, that moment when everyone gets it. When you're finally living in your body and in your presentation and in yourself. When Elena puts on that suit, that is literally what happens, and everyone can feel it."
The scene is especially moving because, as a young, queer Puerto Rican girl living in the Bronx, Rivera so rarely saw any part of her identity remotely reflected in pop culture. Growing up, all she saw was a sea of white, slim and straight characters on film and television. And it meant she had to scrounge for "pockets of representation" among the few Latinx characters available.
There were people like openly gay Cuban-American Pedro Zamora on "The Real World" and Nuyorican actor Wilson Cruz's turn as Rickie Vasquez in the cult classic series "My So-Called Life." But, most profoundly for Rivera, there was America Ferrera's leading lady in "Ugly Betty." Sure she was straight, but the author said she loved seeing a nerdy Latina who liked to write and didn't need to have that "white slim body thing going on."
I have to make my own lane ... it's a little exhausting.

Gabby Rivera
And now there's Elena Alvarez, a headstrong Cuban-American lesbian teen who simply doesn't feel comfortable in a dress. That last bit is something Rivera can certainly relate to.
"It was terrible and painful shopping for dresses growing up," Rivera said. "Oh, my God, I hated everything, and it caused so much tension between me and my mom."
But long before the Alvarez family graced the small screen, Rivera had already begun to create the characters she yearned for as a teen.
From her 2016 coming-of-age young adult novel Juliet Takes a Breath to writing the solo comic series for Marvel's first queer Latinx superheroine, America Chavez, Rivera's work has largely focused on creating a space in pop culture for queer brown folk who are rarely represented in cisgender, white storylines or mainstream white LGBTQ storylines.
She also needed to create that space for herself. "People say that I present masculine or gender non-conforming, but for me, I'm a woman. I'm a butch dyke queer loverboi, and this is just what that looks like," she said. "I'm like, 'Damn, where is the space?'"
The novelist said entering even celebratory events like a quinceañera or baby shower can be difficult for her, and she often senses a big divide between the Latino spaces and the queer spaces she frequents.
"I can make friends anywhere I go into a space, but it's terrifying," she said. "Even Latino clubs in New York, I felt like I couldn't go out dancing with my straight cousins because the bouncers would either try to throw me out or tell me to take off my hat. Dudes would try to push me around."
"It's a lot," she added. "It's like I have to make my own lane ... it's a little exhausting."
Rivera's work isn't just about expressing these struggles. It's also about imagining a world in which queer brown folks are free from them. Rivera describes Juliet as a "joyful novel," despite dealing with tough issues, and said her America Chavez series is all about creating an inclusive universe.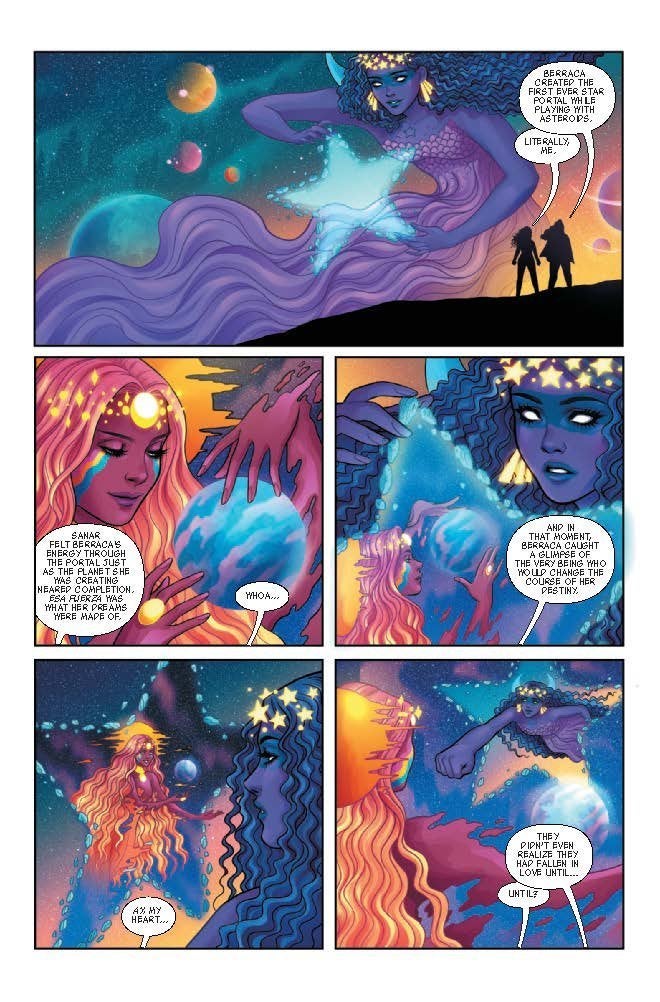 The author describes the Latinx heroine as an unapologetically queer and powerful brown girl in a world filled with equally diverse friends.
"They would be black. They would be bisexual," she said. "They would be all of these things and all these identities that fit certain boxes but really just boils down to everyday people."
She added: "I want[ed] to be sure that everyday beautiful-ass queer black and brown folks saw, if nothing else, just the reflection of them or their cousin or whoever ... in this comic doing fun shit and going on adventures and being loved."
The importance of representation is not lost on Rivera, who knows firsthand the consequences of lacking a community of people who are like you and understand your experiences.
"I am thankful every day that I am still here and that I'm still alive," Rivera said. "In my mid to late 20s, there was a very dark period in my life where I just was like, 'There's no reason to be here.' I felt very lost and alone, and I didn't have a supportive queer community. I had a lot of trauma and tragedy."
The author still has bouts of anxiety and depression, which she discusses openly on social media. But now that she feels she's thriving, Rivera also wants to show LGBTQ youth of color there is hope.
"It is my duty to share joy," she said. "It is my duty to be as triumphant as I can, to be like, 'Yo, yes, you will survive it. Oh, my God, please know that you will survive.'"
The magic of being queer and Latinx or whatever it is, isn't something you're going to find in white culture and in white people. It's going to be something that you find in your own communities and in your reflections in your experience.

Gabby Rivera
During that dark period, Rivera said she coped by searching for queer people of color with "chubbier bodies" on Tumblr ― it gave her a small taste of representation. And she also found some sense of community once she started writing for Autostraddle, a culture site for queer women.
Still, the author said it would be years before she understood the need to find a community that nourished her as a queer brown woman. And it's a storyline she shares with her novel's protagonist, Juliet.
In the novel, the chubby 19-year-old Puerto Rican girl comes out as a lesbian to her mother. But before the two can process the news, the Bronx teen heads to Portland, Oregon, to intern for her favorite feminist author. There, she realizes what it means to navigate predominantly white spaces while staying true to your identity.
"Juliet navigates a lot of whiteness in the book," Rivera said. "If this is your experience, know that it is valid, know that you have the right to define yourself outside of what they want from you, and that the magic of being queer and Latinx or whatever it is, isn't something you're going to find in white culture and in white people. It's going to be something that you find in your own communities and in your reflections in your experience.'"
For LGBTQ Pride 2018, HuffPost is highlighting 30 different cultural influencers who have shifted the narrative when it comes to queer issues and whose work has contributed to building a more inclusive and equitable future for us all.
#TheFutureIsQueer is HuffPost's monthlong celebration of queerness, not just as an identity but as action in the world. Find all of our Pride Month coverage here.
Calling all HuffPost superfans!
Sign up for membership to become a founding member and help shape HuffPost's next chapter