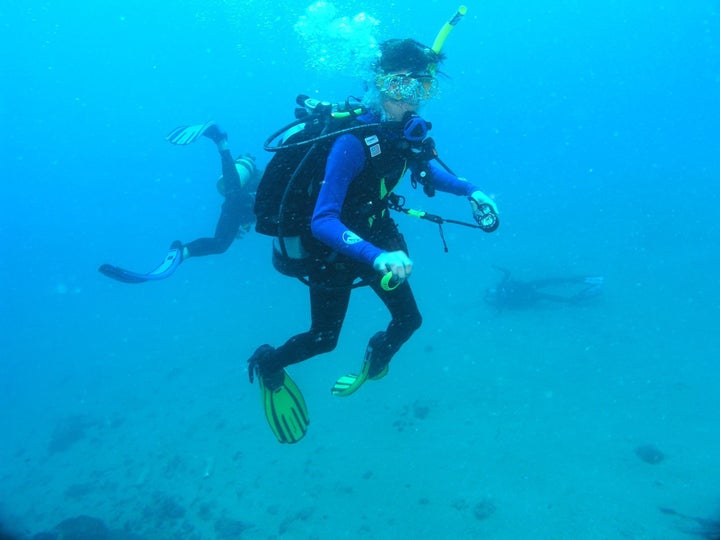 An experienced scuba diver who was there when Tina Thomas Watson died cast doubt on her husband's version of what happened on the day she drowned off Australia's Great Barrier Reef in 2003.
In one version, Milsap recalled, Watson told him that his wife panicked, knocked off his mask, making him unable to help her. In another, he said he was holding her, but that she was too heavy to carry to the surface.
The tale wasn't plausible to Milsap, because underwater, a person's weight is the equivalent of 10 to 20 pounds.
Prosecutors argue that the defendant, a 36-year-old bubble wrap salesman, who had married his wife 10 days earlier, had planned her death to cash in on her life insurance.
The Alabama man served 18 months in an Australian prison for manslaughter. If convicted in a Birmingham courtroom, he faces life behind bars.
To preempt a possible move by the defense, prosecutors aired a taped deposition of Tina's doctor about a heart condition she had in 2001. Tina had a procedure two years before she died to correct an irregular heartbeat. Dr. Farrell Mendelsohn testified in a Birmingham courtroom that he considered her cured.
The defense contends that Tina's death was accidental and perhaps was gearing up to argue that her medical history put her at risk in diving, The Associated Press says.
SEE PHOTOS FROM THE GABE WATSON CASE: (Story continues below)
PHOTO GALLERY
Gabe Watson
One of Watson's friends -- a fellow scuba diver -- testified on the fifth day of the case. Although Watson was certified as a rescue diver, his pal Michael Moore said the certificate was awarded by an instructor who cut corners, The Birmingham News says.
Testimony from the human resources manager at Tina's job was deemed beneficial to the defense by the Birmingham newspaper. The Alabama Attorney General's office says Watson plotted his wife's murder, because he thought he was the beneficiary of an insurance package worth as much as $210,000. But the human resources manager said that Tina's policy through her employer was worth only $33,000 and that her father was the recipient.
In a police interview already played in court, Watson admitted that he "hung out" with the crew and asked for hugs while others performed 40 minutes of CPR on Tina, The Daily Telegraph reports.
Calling all HuffPost superfans!
Sign up for membership to become a founding member and help shape HuffPost's next chapter
BEFORE YOU GO