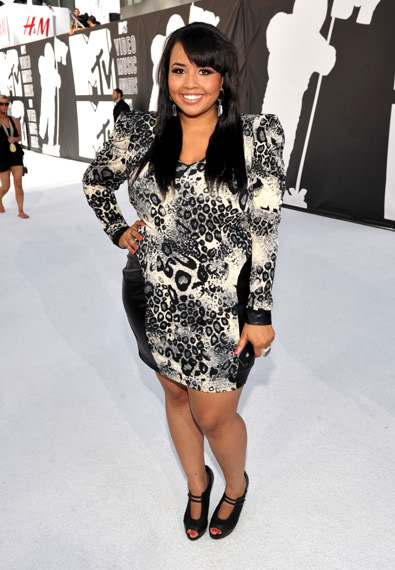 Gabi wearing a Monif C. dress at the MTV Music Awards.
Gabi Gregg is MTV's first-ever Twitter Jockey, a post she has held for a little over 3 months, during which time she's met everyone from DJ Pauly D to Taylor Swift to Kanye West, and oh yeah, President Obama. Not bad for a new job.
Gabi got her fab new post not just because she's a great Twitterer, but also because she's beloved; she was nominated and elected by the people. MTV teamed up with American Express' new Zync card and asked for nominations on the Zync Card Facebook fanpage. Then, out of the thousands nominated, Gabi made it to the top 20, and from there she aced a number of Twitter and real life challenges. Fans were then able to vote for one remaining finalist via the ZYNC page and text during a live vote-off. Gabi beat the other contestants handily.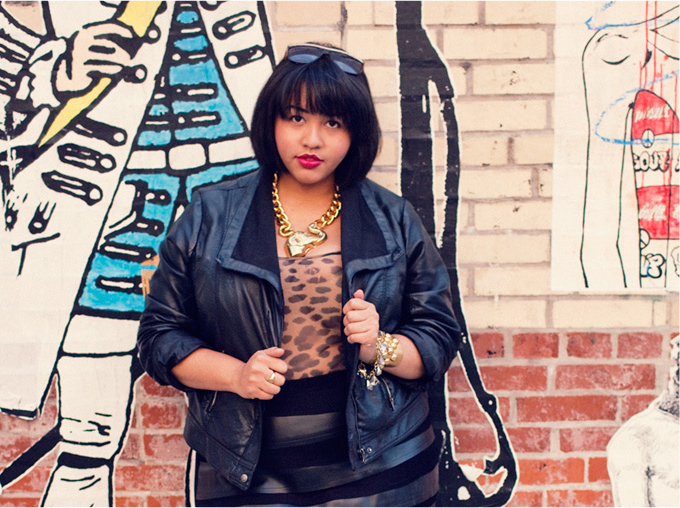 Gabi showing off a recent outfit in NYC's Meatpacking district via her blog.
If you caught Gabi on the TJ finale, you know that she's got that pretty/shiny thing going on, complete with a simple bob that highlights her happy-round cheeks, cupid's bow lips and big brown eyes. But it's in person that her loveliness really comes through, and despite oldsters predictions that a generation raised on text (and Gabi is certainly the master of the 140-character question, response, and rejoinder), she is incredibly well-spoken.
If you don't know what a Twitter Jockey is, don't feel like too much of a fogey, it seems like MTV is still figuring out what that means too. But Gabi seems to have a pretty good grasp of what she's doing: "I'm a conduit to MTV for the Twitter masses," she told me in a recent interview. She sees her job as part giving an inside look at MTV (she said one of the number one question she gets is how to get a job at MTV, so she features staffers on her blog there), and, naturally, covering all the fun MTV events and interviewing celebs. And because she's the Twitter correspondent, she gets to ask the question people REALLY want to know the answer to. Instead of "What are you wearing?" (Do we really care whether the stars' jewelry is by Tiffany or Harry Winston? No.), she gets to Tweet about what stars smell like, or what they like to eat.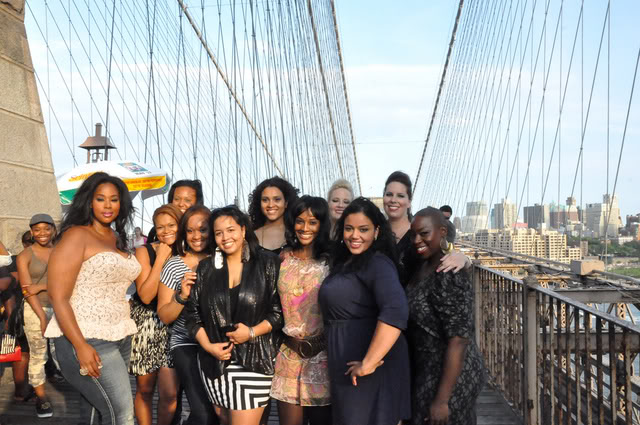 Gabi, models and Tweet-Up attendees at the fashion show on the Brooklyn Bridge.
She's also fashion-forward, passionate - and positive. Before she was the face of Twitter for MTV (@MTVTJ), Gabi was a mouthpiece of a different kind; for young women who aren't skinny and aren't ashamed of it. Gabi and her audience of uber-stylish women are proud of who they are and what they look like, an island of ladies who celebrate dressing up and love their bodies in a world that seems to think the key to selling to women is to make them feel badly about themselves by refusing to make clothing that fits them.
Gabi founded her blog, "Young, Fat and Fabulous" in October 2008, at the beginning of the now-burgeoning curvy girl movement, which now boasts allies in the modeling, fashion, TV and Hollywood worlds. And as Gabi describes it, "the plus-sized blogosphere just exploded" soon after. She was quoted in the NYTimes and featured on Good Morning America for her style diary (she featured pix of herself modelling trendy, urban-inspired outfits) before she even heard of the TJ contest through MTV.
So when she did get into the running for the top position at MTV she did (and continues to) raise fashion consciousness and body love for women who are larger than a size 14. Gabi says, "I try to incorporate it into my job when possible, and spread awareness when I can." And she means it. From the get-go, she not only featured a very cool plus-sized fashion show (held on the Brooklyn Bridge no less) as part of her final Twitter Jockey challenge, she wore Indy plus-sized designer Monif C's dress as she covered (and Tweeted, natch) the recent MTV VMA's. She continues to abide by the simple statement, "I think women can look great at any size," and she says she hopes to stay with MTV for a long time as she's having a blast, but that a future in fashion is also on her radar.
For those of you looking for fab designs in sizes 14 and up, Gabi's faves include Asos Curve (a UK-based site that Gabi says recently launched in the US), Forever 21's sister store, Faith 21, and Monif C.