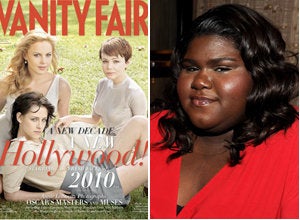 Abbie Cornish, Kristen Stewart, Carey Mulligan, Amanda Seyfried, Rebecca Hall, Mia Wasikowska, Anna Kendrick, Emma Stone, and Evan Rachel Wood all had some sort of breakout year, some with more memorable performances than others. They are also all white and thin.
Not pictured was Oscar nominee Gabourey Sidibe, even though she was interviewed inside the magazine and has the most compelling breakout story of all.
"At first I thought, 'Hmm, should I be there?" she told Access Hollywood. "Then I very quickly got over it. I think if I were a part of that shoot I would have felt a little left out anyway."
She is gracious and self-effacing, and probably gives a great Oscar acceptance speech.
"I would have felt a little like... whether or not I should have been there," she said. "[It] doesn't matter, because I wasn't on it and I'm excited to be mentioned anywhere, and it doesn't matter to me where I'm not mentioned."
Popular in the Community