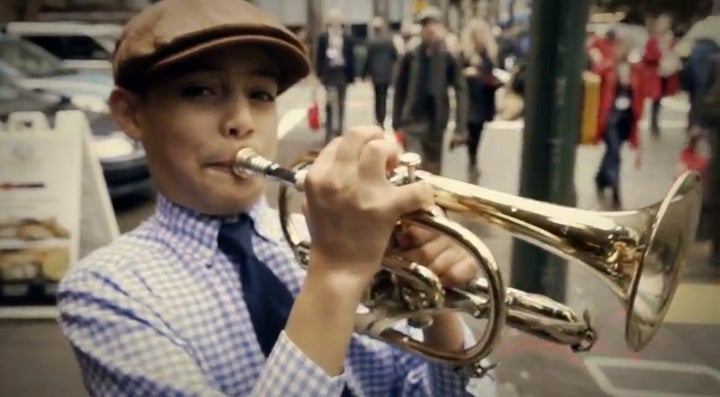 Gracing a busy street corner in San Francisco, a 12-year-old boy, dressed in a newsy cap, collared shirt, and tie plays the trumpet for lucky passersby of Mission and 4th.
While Angelo wrote that he enjoys playing for the practice and meeting new people, his street-corner serenades have another purpose: to pay for his music education at the S.F. Conservatory of Music and Berkeley Jazz School.
In a blog post, Korner describes what it was like to meet Angelo:
"... When you see him out there just passing by, it feels like he is a professional and experienced performer. Kind of a grown-up in a childs costume, handing out business cards to people who are interested in booking him for an event. But after I got to talk to him I realized, he's a kid like all the others but also a kid like no other."
Perhaps gaining confidence from the documentary, Angelo recently tried his hand at reality TV startdom, to apparent success.
"Wow! And again, wow, " he wrote in a blog post back in October. "On Saturday, September, 2011 I passed the preliminary audition for America's Got Talent. I am so excited!"
Thursday, Korner said that while he's never cared about the show before, he will now.
"Currently he's taking part in America's got talent," he wrote in a blog post. "And after such a long time ignoring this show I will propably follow it from now on."
Angelo also asks for public support to fund his journey to a dream education.
If you like, you can directly support my music education by calling the San Francisco Conservatory at the number below and letting them know that you would like to contribute to "Gabriel Angelo's Tuition":

San Francisco Conservatory
Ask to speak to Ms. Eileen Brown, Financial Manager
(415) 503-6236
In return, he wrote, expect to see your name on the wall of "Gabriel Angelo's Heroes."
Related
Popular in the Community