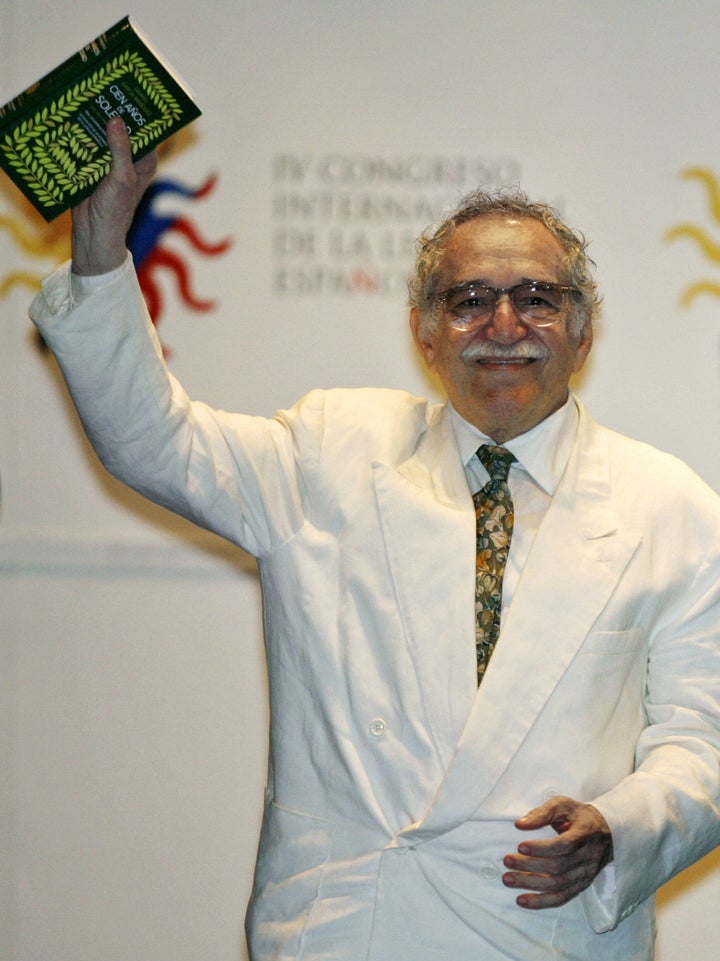 Gerald Martin's task of chronicling Nobel laureate Gabriel Garc&iacutea M&aacuterquez's life wasn't easy. Despite being a public figure, the most read author still alive is zealous about protecting his private life.
'Gabo', as he is fondly called, turns 85 years old today. And it's a special birthday too -- this year marks the 30th anniversary of his Nobel Prize for Literature.
The Nobel Laureate is known for his writing which blends magical elements with the real world. And much like the magical realism in his stories, many of the things that are known about the Colombian author are a mix of facts and fiction.

'Gabo' was born on March 6th, 1927 in the small town of Aracataca in the northern region of Colombia where he was raised by his maternal grandparents. When he was eight his grandfather passed away and he moved to the state of Sucre to live with his parents.
After completing high school, 'Gabo' made the big move: from a small town in the warm Caribbean coast of Colombia, he relocated to the cold and frenzied capital, B&oacutegota.
He enrolled in the public Universidad Nacional (National University) as a law student as per his parents wishes. But 'Gabo' had a different calling. In the late 40's he started working as a reporter.
In 1955 he published his first novel "La Hojarasca" ("The Leaf Storm").
'Gabo' had quickly become a prominent name in the intellectual and journalistic scene in Colombia.
I wanted to be a writer, and I wanted to be a good writer and I wanted to be a very good writer and I wanted to be the best writer in the world… I didn't realize that goal implied gaining fame. I would've been happy if all by books had been posthumous in the sense that I didn't have to carry with the books I have written. I would've rather that my books were known after my death.
"He has told most of the well-known stories about his life in several different versions, all of which have at least an element of truth," said Martin to The L.A. Times.
Gabo's life and writing are recorded in thousands of interviews and stories, including his own memoir "Living To Tell The Tale." But most of these recordings are part-truth, part myth.
The same can be said about his literary output, where 'Gabo' creates worlds where he depicts the fantastical and extraordinary as commonplace.
In his acclaimed novel "Cien A&ntildeos de Soledad" ("One Hundread Years of Solitude"), which takes place in the mythical town of Macondo, 'Gabo' intertwines real life occurrences with mystical happenings: there are references to the civil war in Colombia between liberals and conservatives; apparitions of the dead; complicated family relationships and a rain that won't stop for four straight years.
Like the magical realism in his novel, 'Gabo' is known for fabricating details when talking about his private life.
"I was aware that Garc&iacutea M&aacuterquez had a habit of making things up during his interviews. He liked to give each journalist a gift, something original, so they didn't go away with the same old stuff," said journalist Katie Davis who interviewed 'Gabo' back in 1983.
But is it really made up?
"Latin Americans are used to a world where fantastic things are part of daily lives," 'Gabo' said in the 1983 interview. "Here we believe that behind the reality of rationalists there's still a lot of space where things can't be explained."
"The tone that I eventually used in One Hundred Years of Solitude was based on the way my grandmother used to tell stories. She told things that sounded supernatural and fantastic, but she told them with complete naturalness... In previous attempts to write, I tried to tell the story without believing in it. I discovered that what I had to do was believe in them myself and write them with the same expression with which my grandmother told them: with a brick face."
The story goes that after finishing "One Hundred Years of Solitude", he didn't have enough money to send the manuscript in full to the publisher in Buenos Aires so he sent the first half while him and his wife, Mercedes Barcha, pawned their belongings. When he had enough money he sent the other half.
Take A Look At Some Of 'Gabo's' Memorable Moments:
PHOTO GALLERY
Gabriel Garcia Marquez
Calling all HuffPost superfans!
Sign up for membership to become a founding member and help shape HuffPost's next chapter