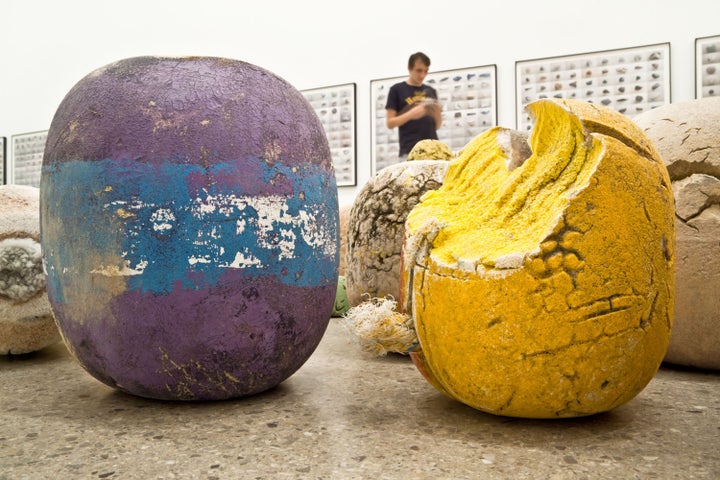 When it comes to mundane materials, there is perhaps no artist alive today who can unearth the poetic beauty of found items like Gabriel Orozco. In a 2007 interview with BOMB Magazine, he said, "My urgent struggle was to find something that was not art." From sculptural installations to photographs to paintings, the Mexican artist's devotion to detritus is an unpretentious mission that seeks to slowly break down the wall between constructed exhibition spaces and the natural world.
An exhibit at The Guggenheim Museum in New York is the most recent venue for Orozco's array of discarded treasures. Titled "Gabriel Orozco: Asterisms," the show is one part installation, one part photography, showcasing the appropriated debris gathered at two separate locations -- a playing field near his home in New York and a protected coastal biosphere in Baja California Sur, Mexico.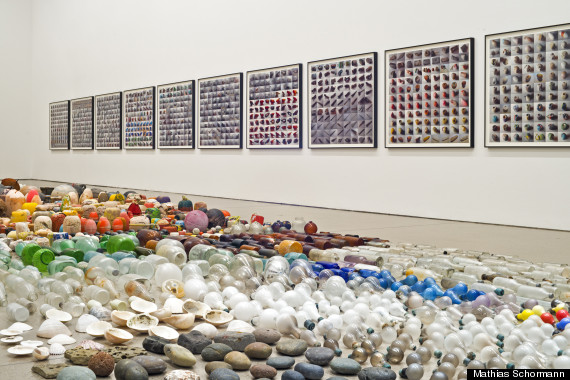 Gabriel Orozco, "Sandstars", 2012. Gabriel Orozco: Asterisms, Deutsche Guggenheim, Berlin, July 6–Oct. 21, 2012. © 2012 Gabriel Orozco. Photo by Mathias Schormann
"Sandstars," an explosive sculptural rug pieced together from glass bottles, stones, and tools, pays homage to the area of Isla Arena, Mexico. A repository for flows of industrial and commercial trash, the Baja California region is also a whale mating ground and cemetery, and the wasteland that gave birth, in more ways than one, to Orozco's whale skeleton sculpture "Mobil Matrix" six years ago. For his more recent installation, the artist has arranged over 1,200 objects on the Guggenheim's floor, accompanied by a dozen large, gridded photographs depicting the individual objects in a studio setting. A final 13th grid shows the expansive landscape from which the castaway items came, acting as the last piece of a puzzle that connects reality to a museum setting.
Overall, "Asterisms" achieves what so many of Orozco's past works have, building an exhibit from traces of the exterior world not as art in itself, but as a performative gesture taking place in an art space. Using his visually appealing yet ultimately banal systems of organization, the artist exhales a refreshing breath of unadulterated beauty contemporary art rarely sees.
Scroll down for more images of the exhibit and let us know what you think of Gabriel Orozco's love affair with the lost and forgotten in the comments section.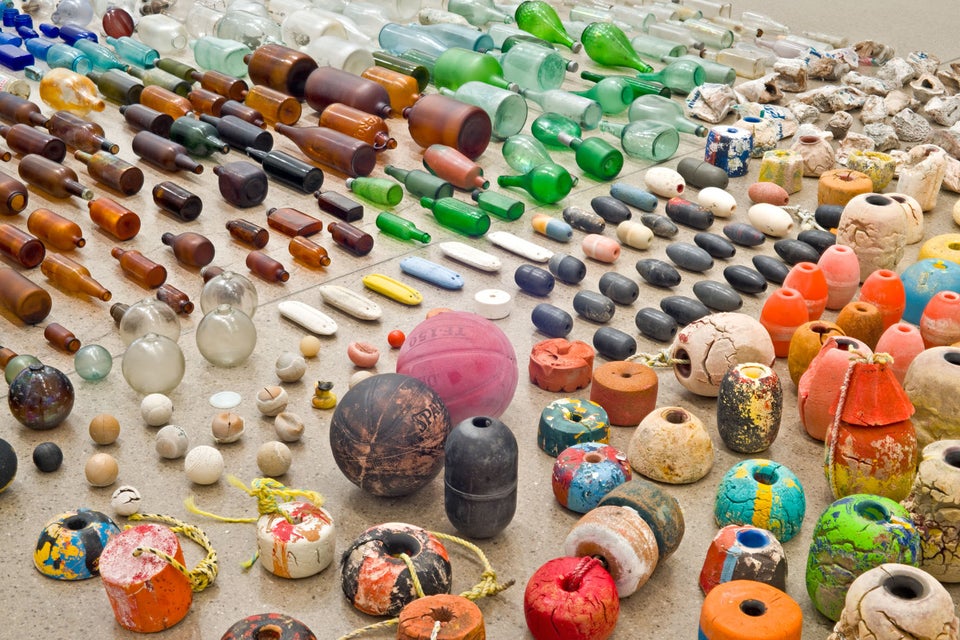 Gabriel Orozco: Asterisms
"Gabriel Orozco: Asterisms" will be on view until January 13th, 2013 at The Guggenheim Museum in New York City.
Support HuffPost
The Stakes Have Never Been Higher
Related
Popular in the Community