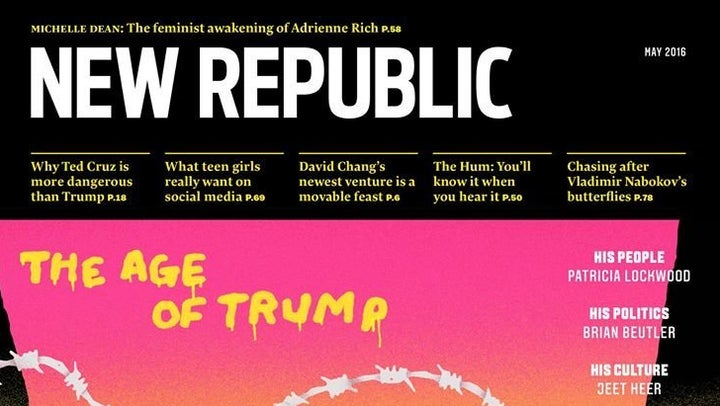 NEW YORK -- New Republic Editor-in-Chief Gabriel Snyder is leaving the politics and culture magazine less than two months after it was sold to liberal activist and donor Win McCormack.
Snyder informed staff Thursday that the June issue would be his last.
"We built an editorial team composed of new voices reflective of the breadth of American experience," Snyder wrote. "You have announced a new generation, committed to the highest standards of journalism."
Snyder did not indicate whether he is leaving for another media company, and no immediate or interim replacement was named Thursday.
The newest leadership of the New Republic hasn't said much publicly about their plans, but there's been speculation McCormack and new publisher Hamilton Fish, steeped in the traditions of niche political and cultural magazines, could try returning the magazine more to its previous incarnation.
Reached by phone Thursday, Snyder declined to comment on the new owner's plans and suggested such a top-of-the-masthead change should be expected under the circumstances.
"New ownership often has new visions and I think it makes sense, is typical, for there to be a change in editorial leadership," he said. "And that's all that happened."
Snyder took the helm of the publication in December 2014, one of the rockiest moments in the magazine's history. Just two weeks after celebrating its centennial, the magazine's top editors, Frank Foer and Leon Wieseltier, quit following disputes about the publication's direction with then-owner Chris Hughes and CEO Guy Vidra. Dozens of staffers and contributing editors followed in a mass exodus that gutted the magazine of not only talent, but also its institutional memory.
Hughes moved the magazine's headquarters to New York City, reduced its print frequency from 20 to 10 issues, and emphasized increasing publishing on the web.
In gearing up for an early 2015 relaunch, Snyder recruited a diverse staff of journalists and came out of the gate with a cover story tackling the magazine's legacy on racial issues. Over the next year, the magazine published a number of provocative stories, such as Michael Eric Dyson's takedown of Cornel West, and ambitious features like Elle Reeve's "The Secret Lives of Tumblr Teens." The New Republic, born in the Progressive Era, continued to champion progressive causes under Snyder's stewardship, such as paid family leave.
To some, the new New Republic would never live up to the old New Republic, which at its best produced deep, ideas-driven reporting and erudite cultural criticism, and proved willing to deftly challenge liberal orthodoxy. Still, the old New Republic also enthusiastically backed the Iraq War, a position its editors regretted a year later, and long drew criticism for its then-owner's reflexive support for Israel and dismissal of Palestinians' concerns.
The latest incarnation seemed to be coming into its own when Hughes -- who made his $700 million fortune as a Facebook co-founder -- announced in January that he wanted to sell the magazine after sinking $20 million into two relaunches in less than four years. Hughes had been the magazine's savior, rescuing a money-losing operation and promising to uphold its traditions while opening his wallet to hire big-name writers. But after shifting priorities, and creating turmoil in the process, Hughes was done.
After Hughes' announcement, Snyder and some editors explored setting up a nonprofit model for New Republic that would include a board of directors similar to publications like Mother Jones, ProPublica and Lapham's Quarterly, according to sources familiar with the plans.
Snyder confirmed in an interview that he and some editors began putting together a proposal for a non-profit New Republic that would supported by donors, members and subscribers. Kira Brunner Don, a former executive editor of Lapham's Quarterly, also assisted in drafting the plan.
While Snyder said he "was heartened that there was a lot of interest," the group wasn't "able to get it together in time before the other bids came together."
Hughes found a willing buyer in McCormack, a donor to Democrats and progressive causes and publisher of literary quarterly Tin House. McCormack brought in Fish, a former publisher of The Nation, as publisher and editorial director. (The most recent masthead, however, only lists Fish as publisher.)
In a separate memo, Fish touted several achievements during Snyder's tenure and said the the editor "put his distinctive mark on what a political and cultural institution looks like in 2016."
Read Snyder and Fish's memos below:
Friends,

I'm writing to let everyone know the June issue will be my last as Editor in Chief. Though I'm sad to depart, I am immensely proud of our accomplishments over the last 17 months.

We built an editorial team composed of new voices reflective of the breadth of American experience. You have announced a new generation, committed to the highest standards of journalism.

We demonstrated how digital fluency can amplify our best literary traditions rather than compete with them. We participated in and shaped discussions of vital issues during a crucial election year. Mostly, though, we published some damn fine work, sometimes under difficult circumstances. Every single day, your indomitable talent and work ethic has humbled me.

Above all, I will miss working with each one of you, and for that, I can't thank you enough. I'd also like to thank Chris Hughes and Guy Vidra for trusting me with the helm of such a storied publication. Now, as new ownership sets its plans for the future, it makes sense for me to step aside. I wish Win McCormack and Hamilton Fish the best of luck: the nation — and journalism — is better off with a strong New Republic.

But for now, back to work: we've got a magazine to close!

- Gabriel

All -

In addition to bringing many of the talented editors and writers we have on staff today, Gabriel has put his distinctive mark on what a political and cultural institution looks like in 2016. Under his leadership, the New Republic published agenda-setting coverage on issues including Paid Family Leave, Black Lives Matter, and the Paris Climate Conference. Last September, the New Republic introduced a fully redesigned print edition. In November, the New Republic unveiled the innovative short-form digital format, Minutes, which as part of the web redesign has boosted traffic and been a vital way for the New Republic to cover breaking news and participate in the digital discussion. Just last month, the New Republic launched a new editorial series, Field Portraits, which showcases candidate profiles through the lens of poets and writers – a prominent example of Gabriel's vision of this magazine at the intersection of politics and culture.

Gabriel – thank you for your stewardship of this institution. We have a brighter future thanks to your many distinguished contributions.

Ham
Popular in the Community