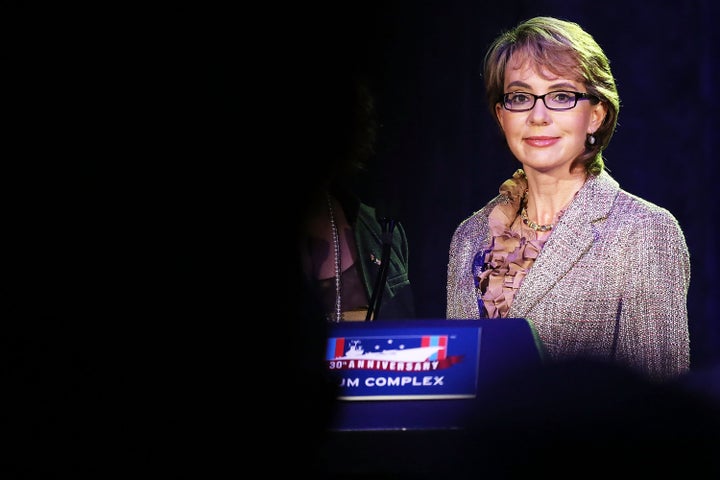 WASHINGTON -- Former Rep. Gabrielle Giffords (D-Ariz.) on Tuesday night attended her first -- and last -- campaign event since the January 2011 shooting that nearly took her life. And she hinted at what her next career move may be: a Gabby PAC.
During a private reception on Capitol Hill, Giffords pulled together a mariachi band and a spread of Southwestern food to thank her donors and friends for their support over the past many months, even though she decided to retire from Congress in January to focus on her rehabilitation. Giffords was shot in the head in January 2011 in a Tucson, Ariz., shooting spree that left six dead and others wounded.
But the focus of Tuesday night wasn't so much on Giffords as it was on her supporters. When the nearly 300 guests arrived, they received stickers to wear, declaring "Thank you from Gabby Giffords," with an image of a cactus. Similar banners hung on all the walls, with the giant words "Thank you."
The event marked the first time that Giffords has attended one of her campaign events since the shooting. Her staff organized past events while she was in rehabilitation and attended them on her behalf. Giffords spent most of Tuesday night posing for pictures -- and then more pictures -- alongside her husband, astronaut Mark Kelly. Several House Democrats made appearances, including House Minority Leader Nancy Pelosi (Calif.) and House Minority Whip Steny Hoyer (Md.). Reps. Chris Van Hollen (Md.), Rosa DeLauro (Conn.), Jason Altmire (Pa.) and Allen Boyd (Fla.) were among those spotted, as were former Reps. Stephanie Herseth Sandlin (S.D.) and Ike Skelton (Mo.).
But Kelly and Giffords' taking the stage to thank everyone and give an update on their plans marked the event's highlight. Kelly did all of the talking.
"Gabby and I are not going to be strangers to Washington," Kelly said to cheers. "We've got a few things that we're planning on working on -- those issues she cares about, but also helping her friends. And that includes -- we haven't quite figured this out -- but at some point it might include an organization called Gabby PAC."
Whatever Giffords ends up doing, she will stay focused on the same issues she prioritized while in Congress: solar energy, veterans affairs and border issues, Kelly said. She will also push for "just the ability to work together with other people," he said. "Gabby has always been one to work across party lines and try to get things done for this country. And she's doing to continue to do that."
Rep. Debbie Wasserman Schultz (D-Fla.), a close friend of Giffords, told The Huffington Post the night marked a turning point for Giffords, professionally speaking.
"This was sort of the soft beginning of the next stage of Gabby's public role, how she's going to kick off the next stage of her service and the impact and the difference that she's going to make," said Wasserman Schultz, who chairs the Democratic National Committee. "Gabby really wants to make a difference. We know because she's not in Congress anymore she has to find other ways to do that. There's a lot of different ways she can have an impact. One of the ways is through a voter PAC. She's exploring that now."
Still, the real point of the event was bringing Giffords' "professional family together," Wasserman Schultz said. Gushing about the "droves of friends and supporters that came tonight," Wasserman Schultz called them a "testament to the legacy and the impression she left on hearts that are normally frozen in Washington."
"Gabby Giffords melts the coldest of hearts," she said.
Giffords is trying to help her former aide Ron Barber win a June 12 special election to replace her in the House. With Barber locked in a tight race with Tea Party favorite Jesse Kelly, Giffords is hoping to give Barber a boost by making a rare public appearance with him at a June 9 campaign event. On Tuesday, Wasserman Schultz urged the group to back Barber in the coming days.
"Dig deep. Work hard. Do everything you can over the next seven days to make sure that Gabby's legacy will continue in Ron Barber," she told those gathered.
Pelosi and Hoyer also gave speeches.
Giffords is "a shining star," Pelosi said, adding that lawmakers were "blessed" to have been able to serve with her in Congress. House Democrats regularly meet in a room in the Capitol Complex named after Gabe Zimmerman, an aide to Giffords who was killed in the Tucson shootings, Pelosi noted.
"Every week ... we meet in the Gabe [Zimmerman] room to pay tribute to a staff person committed to our country, committed to Gabby Giffords and someone that we love very much, and whose name is memorialized in that very special way," Pelosi said. "So Gabby came, provided her leadership, made her mark. Who knows how long that will last before she's back again."
Hoyer said Giffords and Kelly are examples for "all the world ... of courage, of grace, of caring, of love, of perseverance, of hope, of optimism. Gabby Giffords personifies all of that."
"America's couple," Hoyer called them.
During Kelly's remarks, he described his "roller coaster of a ride" flight to Tucson after learning of Giffords' shooting. "We found out Gabby had died for about 30 minutes," he said to a now-silent room. "But even during that 30 minutes, I knew, if anybody, if anybody could pull themselves out of something, it would be Gabby."
Kelly thanked Giffords' staff for opening her congressional office just two days after the shooting. He spoke of Giffords' six months in the hospital and the "incredible moment" when she woke from her coma while Wasserman Schultz and Sen. Kirsten Gillibrand (D-N.Y.) were visiting. "I realized as soon as she woke up to that New York accent from Long Island, and also from Florida, Debbie Wasserman Schultz, talking in her face, that's what pulled Gabby from her coma ... I knew from that point on that she was going to be back," he said.
Giffords said just three words while on stage. As Kelly wrapped up his remarks, he said Giffords has more work ahead of her in rehabilitation but plans to live by the words she always tells Kelly before they part. Kelly then handed the microphone to his wife.
"Fight, fight, fight," she said.
Popular in the Community