Former Rep. Gabrielle Giffords (D-Ariz.) ripped senators who "gave into fear and blocked common-sense legislation" on background checks in a New York Times op-ed published Wednesday evening.
"Speaking is physically difficult for me. But my feelings are clear: I'm furious," Giffords wrote. "I will not rest until we have righted the wrong these senators have done, and until we have changed our laws so we can look parents in the face and say: We are trying to keep your children safe."
Giffords' op-ed echoed the sentiment of President Barack Obama, who was visibly angry while giving remarks in the White House rose garden after the amendment was defeated.
"There were no coherent arguments as to why we wouldn't do this," Obama said as Giffords and others affected by gun violence stood behind him. "It came down to politics -- the worry that that vocal minority of gun owners would come after them in future elections. They worried that the gun lobby would spend a lot of money and paint them as anti-Second Amendment."
The op-ed wasn't Giffords' first takedown of the senators for the gun vote. Seconds after the amendment was defeated, Giffords sent a fundraising email skewering the lawmakers for doing "the unthinkable."
"Over two years ago, when I was shot point-blank in the head, the U.S. Senate chose to do nothing. Four months ago, 20 first-graders lost their lives in a brutal attack on their school, and the U.S. Senate chose to do nothing," Giffords wrote. "It's clear to me that if members of the U.S. Senate refuse to change the laws to reduce gun violence, then we need to change the members of the U.S. Senate."
Giffords and her husband, retired astronaut Mark Kelly, have formed a political committee that supports candidates who back gun restrictions. The couple met with senators -- including Sens. Joe Manchin (D-W.Va.) and Patrick Toomey (R-Pa.), who crafted the background check measure -- ahead of Wednesday's vote.
Click here to read Giffords' full piece in the New York Times.
CORRECTION: This post originally identified Giffords as a Republican. It has been corrected.
Before You Go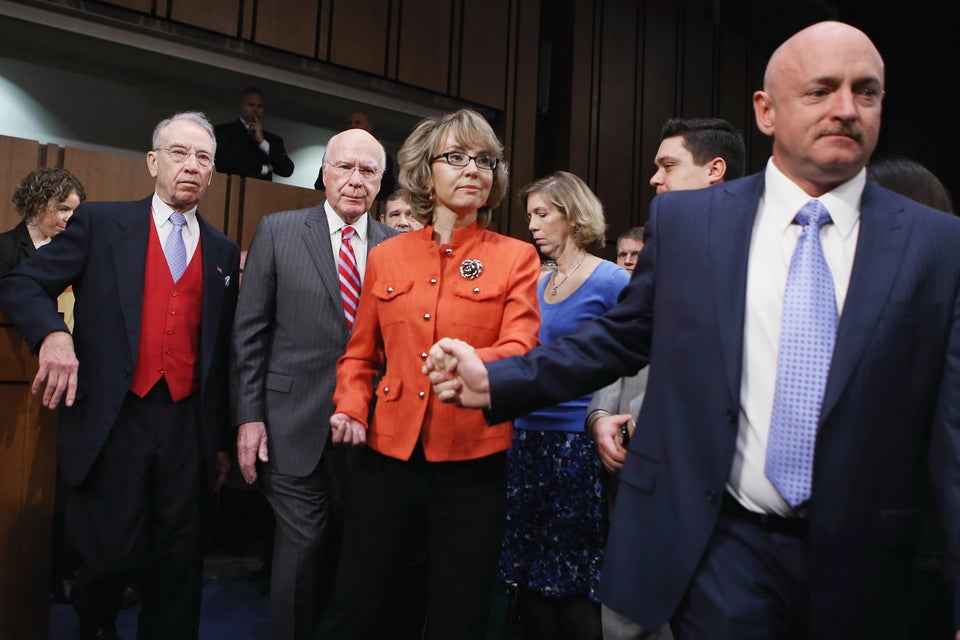 Giffords Appears At Gun Control Hearing
Popular in the Community