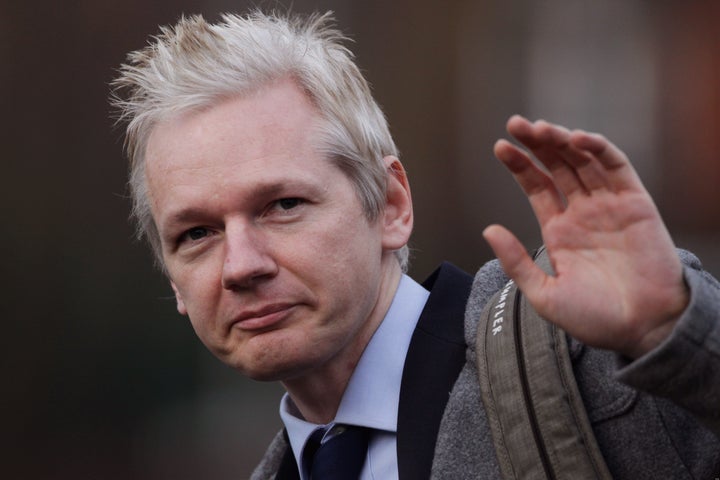 Though he came across more strident than sympathetic, Julian Assange joined the ranks of public officials to offer words over the grisly Arizona shooting that left six dead and Democratic Congresswoman Gabrielle Giffords in critical condition.
In a statement issued ahead of Assange's Tuesday court hearing in London, where he is fighting extradition to Sweden on rape charges, the WikiLeaks founder drew parallels between his own experience and that of Giffords, whose shooting launched a nationwide debate over the toxic tone of U.S. political discourse, the Associated Press is reporting.
Citing "unprecedented violent rhetoric by U.S. prominent media personalities," Assange warned similar attacks on other officials like himself could await, as such open provocation could potentially "inflame...unbalanced personalities," an indirect reference to 22-year-old suspect Jared Lee Loughner.
The Telegraph quotes Assange's statement as follows:
"No organization anywhere in the world is a more devoted advocate of free speech than WikiLeaks but when senior politicians and attention-seeking media commentators call for specific individuals or groups of people to be killed, they should be charged with incitement -- to murder," he said. WikiLeaks had engaged in "extreme security measures" to protect its staff, he said, adding: "We call on US authorities and others to protect the rule of law by aggressively investigating these and similar incitements to kill. A civil nation of laws cannot have prominent members of society constantly calling for the murder and assassination of other individuals or groups."
In November, former vice presidential candidate Sarah Palin referred to Assange as "an anti-American operative with blood on his hands" and "a high-tech terrorist," while suggesting he be "pursued with the same urgency we pursue al Qaeda and Taliban leaders." Other pundits also went on the offensive, with former Arkansas Governor Mike Huckabee saying any penalty short of execution for the WikiLeaks founder would be "too kind."
Calling all HuffPost superfans!
Sign up for membership to become a founding member and help shape HuffPost's next chapter