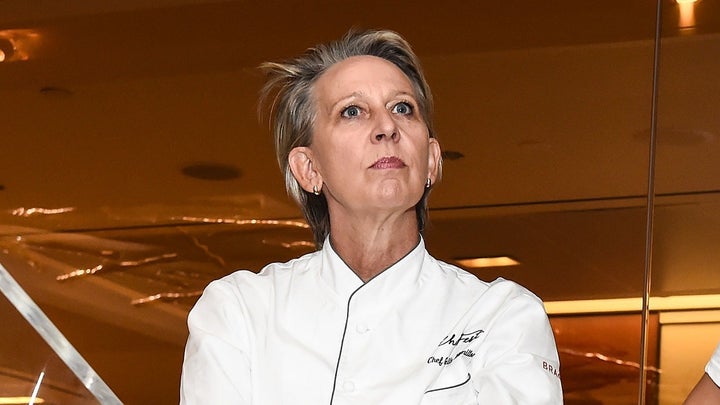 Letting my mind roll over my own payroll, female after female after female — from general manager to bar manager to sous chef to pastry chef to owner to server — I couldn't imagine that we were still having this conversation, this draining, polarizing conversation about where the women are in the industry. When I opened my own restaurant, nearly ten years ago, I finally put to bed that whole business about being a woman in a male-dominated profession.
When I first read these lines in Gabrielle Hamilton's groundbreaking memoir Blood, Bones, and Butter, I felt a stirring of exhilaration in my core, coursing up my head, and buzzing between my temples.
The year was 2011, and I'd just begun on my fourth year as a restaurant hostess, amiably grinning my way through my shifts at several top New York City eateries. I knew all-too-well the ugly sexism curdling in the industry's belly ― even worse for back-of-house women than for those of us working the floor ― but Hamilton's memoir touched on a possibility that I hadn't even considered: the idea of a truly egalitarian dining climate where identifying as a "female chef" would be neither necessary nor notable.
A chef would be a chef, a manager would be a manager, a sommelier would be a sommelier, regardless of gender. It sounded pretty damn good to me. And Hamilton, with her successful and delicious East Village restaurant Prune and her skilled way with words, seemed the perfect standard-bearer for this brave new world.
But even then, something seemed a little off about Hamilton's reading of gender relations in the hospitality industry. The paragraph above struck me so profoundly as a 24-year-old hostess replying to sexually charged comments and rogue touches with a strained and silent smile. Hamilton wrote those lines about her experience as an invited speaker for a convention addressing the absence of women in high-end kitchens. In the book, Hamilton speaks openly about her reluctance to address this group, and there's something almost defensive about her distaste of being called a "female chef." While I understood and largely related to the frustration, Hamilton's determination to remove that phrase from the conversation read as an attempt to ignore the problem rather than address it.
The accusations against Friedman, which largely fueled the service industry discussion around the Me Too movement, paint a picture of an individual blatantly using his position of power to exploit, undermine, and abuse female subordinates. This isn't a man who respects women, and for a female restaurant leader to align herself with him comes with very heavy implications. Bloomfield knew this (although her choice to speak publicly came later than many would have liked) and ended her partnership with Friedman as a result.
And Hamilton knows this. She knows that attaching her reputation and that of her partner Ashley Merriman to Friedman's notoriety sends a clear message to the women currently in her employ: If they come forward with concerns or accusations of their own, they can expect to be silenced. She's even making peculiar (and arguably offensive) comparisons between her situation and José Andres' choice to travel to Puerto Rico after Hurricane Maria. She recently referred to the Friedman harassment debacle as a "a man-made disaster."
And that's exactly the point. This situation was entirely made by a man who made the conscious choice to abuse his authority. It's not an act of God. It's not outside the realm of human control. As someone who's witnessed and experienced harassment from male managers and authority figures while working in restaurants, I can say this without question: Friedman made a choice, one that he will hopefully pay for very soon.
Unfortunately, Hamilton also made a choice. This gifted chef and talented writer chose to link her skills and reputation to a credibly accused predator, and time will tell whether she'll be held accountable for that decision. Because while I would like to believe, as Hamilton seems to believe, that the food world operates in a genderless vacuum, that's not the reality. Ignoring the abuse and the discrimination won't make it go away, and the only chance we have of improving conditions comes from direct and unflinching action. Hamilton missed an opportunity here, and for her sake and the sake of all the women who work for her, I hope she realizes it.