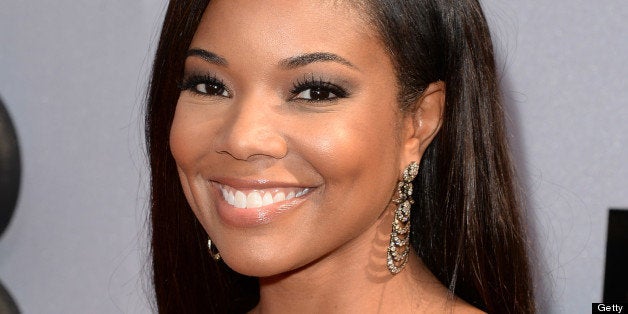 It's Fourth of July! Which certainly means it's time to head out for some much needed fun in the sun. But don't forget your sunscreen. And yes--that also means you, black folk!
"Sunscreen is important for everyone – from the lightest skin tones to the darkest," Dr. Howard L. Brooks, medical director of SKIN: Cosmetic Dermatology Center of Georgetown, told The Huffington Post. "Often people of color feel that their darker complexion protects them from the harmful rays, and while we may not burn as quickly as other ethnic groups, we can still develop skin cancer."
There is also premature aging to consider. Wrinkles, spots and sagging skin are all side effects from overexposure to the sun. And we can't rely on the age-old myth that our high percentage of melanin will protect our skin. Sure, it might help (see: "Black don't crack"), but we still need to be sun safe.
Neutrogena has been spreading that message with the help of their brand ambassador and actress, Gabrielle Union.
We caught up with the "Being Mary Jane" star and flawless skinned beauty to get her take and tips on sun safety. Here's what she had to say...
As a black woman did you always know the importance of wearing sunscreen?
Whether it's your friends or people in your own family, it is crazy to me how many people honestly believe that because you have a darker complexion, whether you are African-American or Hispanic or just have a more olive-complexion, you don't have to wear sunscreen. Everyone, regardless of skin color, can get cancer.
It's not even just about slapping it on once and calling it a day, regardless of your skin tone you also have to reapply. Someone described it to me once as that one application need to be enough to fill a shot glass and that visual stuck with me and was easy to remember. You have to put on enough, roughly every two hours, or it doesn't do you any good.
Is it hard convincing your black friends and family members to use sunscreen?
I have been so outspoken about sun protection over the years because I saw people in my own family or even my friends who honestly had the perception that they didn't need to use sunscreen. It's a really sad reality since they are not alone in believing that, which is why the overall 5-year melanoma survival rate for African Americans is lower than for Caucasians -- 77 percent versus 91 percent. When skin cancer is so highly preventable by just getting into the habit of actually putting on sunscreen -- ideally year round and being responsible -- it is hard not to speak up about it. I also always use SPF 30 or above because we are all guilty of not applying enough sometimes and you need a certain level of SPF to be protected.
How are you and Neutrogena teaming up to support the message of sun safety?
This Summer, Neutrogena has an amazing program called "Buy One, Donate One." When you buy SPF you are not just helping yourself stay protected but you're helping disadvantaged families, too. For any sun product purchased through July, the Brand will donate one to a family in need. Right now for the beach or pool, I love the Neutrogena Beach Defense spray. If this doesn't incentivize people to get out there and buy sunscreen then I don't know what will.

Can you pass on some beauty wisdom to the younger generation who may still need convincing that protecting their skin in not optional?

If you can't remember to protect your skin for health reasons, do it for vanity as the sun can be really aging and I don't know any women or young girls who want that later on in life. I also get check-ups when I see my dermatologist for routine check-ups and personally keep an eye on my skin for any changing marks or moles which could indicate a potential problem. By visiting ChooseSkinHealth.com, you can find free cancer screenings in your area, so there are no excuses.
What are your must-have beauty products?
I love Neutrogena's Rapid Tone Repair collection -- it uses a gentle formula but is powerful as it returns your complexion into a clearer more even canvas, and you feel like you don't need makeup after using it which I like it as when I am not working I tend to go without make-up a lot of the time. I also drink a gallon of water a day and my skin, hair, and nails all benefit from that extreme hydration.
Do you have a personal beauty philosophy?
Less is more. There is only so much you can hide with cosmetics so it is important to use them to accentuate your features and not hide behind it. This is why I am so adamant about taking care of my skin with a daily routine and protecting my skin from the sun all year and not just in the summer months, that helps keep your skin youthful and healthy.
Calling all HuffPost superfans!
Sign up for membership to become a founding member and help shape HuffPost's next chapter
BEFORE YOU GO
PHOTO GALLERY
Sunscreen Quiz: True Or False