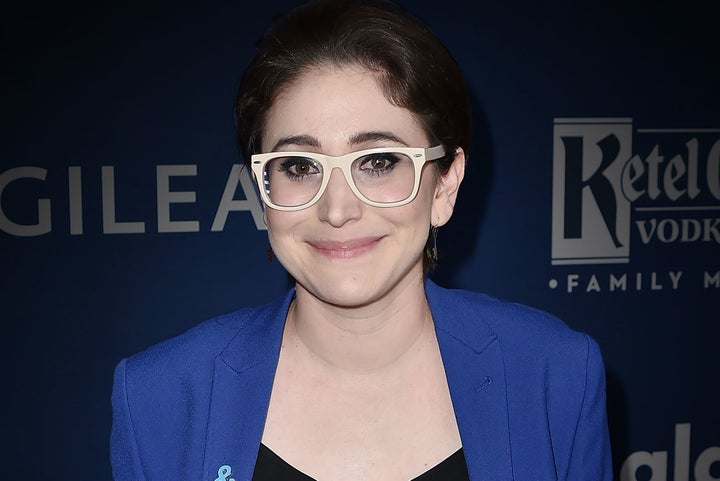 It's almost impossible to nail down exactly one way to describe the broad career of Gaby Dunn.
Dunn is one-half of the YouTube channel "Just Between Us," which she runs with comedian Allison Raskin. The funny friends also both earned the title of New York Times best-selling author, thanks to their book I Hate Everyone But You. Dunn is the host of the popular podcast "Bad With Money," a series that sheds light on the sometimes-taboo topic of finances and sparked another book deal. She's a TV writer and actor and has racked up more than 138,000 followers on Twitter.
Along the way, she's been unapologetically vocal about identifying as bisexual and incorporates her queer experience throughout her work. Just this past week, she announced she's releasing "Theirs and Theirs" hand towels, a take on the popular "His and Her" gifts, after mentioning the idea on Twitter.
It's easy to see why it's difficult to define Dunn with just one title. When we asked her what she thought summed up her work best, even she hesitated, but ultimately went with "writer."
We chatted with Dunn about what it's like to juggle so many projects at once, including her work on the queer comedy "Take My Wife." She also had a lot to say about her frustration with many films and shows that insist having one queer character is enough.
It seems that you always have several projects going on at the same time. Do you think you're at your best when you have several things to do at once?
Yeah, but I have to be more selective now with what I say yes to. It's very "feast or famine" in terms of work so my instinct is to be like, "I have to say yes to everything. This will end tomorrow." But I just recently have been saying no, and I feel terrible every time and I just have to get over that. I guess I have this panic that no one will ever ask me to do anything again so I have to say yes. I work well under pressure, but my body is like, "Stop doing this to us." So I do have to prioritize and say no to things, but maybe now I can do five things total at a time.
That's still a lot of projects. That's impressive.
Stuff comes up where it's like, "Oh, my God, I have to say yes to that." But I do notice that only a few of my friends will have multiple projects going on at once, so that is rare. I say I can only do five things, but I guess five things is a lot.
On "Just Between Us," Dunn and Raskin share funny skits, offer advice and talk about mental health.
You were on Season 2 of Cameron Esposito and Rhea Butcher's comedy "Take My Wife," which is really walking the walk when it comes to having an inclusive writers' room and cast made up of women, people of color and the LGBTQ community. What was it like working on that?
It was such an honor. It felt like getting knighted. I love Cameron and Rhea, and I think what they do is incredible. I think they work so hard. Every LGBTQ character is played by an LGBTQ actor. Cameron posted the stats on what they do, and it's just unprecedented and it should set a standard for what people should do. Because you have to do it to prove it's possible. I was very nervous. I was like, "Am I good enough to be here?"
Cameron and Rhea are super lovely, welcoming, nice and friendly, and I think just really wanted to make the LA LGBTQ community part of this ― even the smaller roles were queer people. It's that thing where when you succeed you bring everyone with you, and that's what they did.
With all of your projects, how do you check out after a long day of work? What mental health tips can you share?
Well, I just moved and I got a bathtub, so that's pretty life-changing.
Oh, believe me, I lived in New York for a long time where I barely had a bedroom, let alone a bathroom so this is very exciting for me. It's a regular-sized place to live, but, oh man, there's a bathtub.
I also sometimes just take a walk around my block, which is kind of something my girlfriend told me to do because a lot of stuff that I do I feel like has to have an end goal and a purpose. Then I have shows that I like. I watch "Brooklyn Nine-Nine." I like "Madam Secretary." I like "Law & Order: SVU." I guess none of that seems like it would be relaxing.
I actually have a question related to "Brooklyn Nine-Nine." I saw you retweeted an interview with Stephanie Beatriz who talked about how important it was for her character to use the word "bisexual" on that show. Do you have a similar moment from TV or film that had the same impact for you?
Maureen from "Rent." I loved that show when I was younger ― just the idea that she had this boyfriend and now she had this girlfriend and was very confident and very, I don't know, flirty. There are friends of mine that joke that I saw the character Maureen and then just grew up to become her. I just remember being like, "Whoa, she lives in New York with her artist friends and she makes stuff and she had a boyfriend and now she has a girlfriend ― this is crazy!" They say "bisexual" in the show in "La Vie Boheme," and I'm not sure but that might have been the first time I heard the word.
What does your ideal day look like?
I'll get up, I'll get coffee, maybe have some cereal, water my plants. I'm not very big on activity planning, but my girlfriend is. She loves to be like, "Let's walk around this area," or "I want to shoot hoops." That would never occur to me to plan activities. She's like a camp counselor.
I'd probably see friends from the queer community in LA. Maybe someone's got a dog around, and I get to pet that dog. I like seeing movies. Or even showing someone a movie that I like and being like, "Oh, you're going to love this."
What, or maybe who, are your biggest motivators?
Just spite and pettiness. [Laughs]
Those are great motivators.
It's hard for me to put my motivation on other people because I feel like that's a real quick way to be disappointed. Even thinking people will do the right thing or thinking, "There's a lack of diversity, this network will surely do the right thing," it's just not true. And I learn that the hard way a lot of times.
Maybe a better question is who are your role models or who do you look up to?
I talked a lot this past weekend about Sara Ramirez and the way she kind of sleeper-agented her way into being an out person on TV through Callie [on "Grey's Anatomy"] and became more butch and androgynous and then snuck right into "Madam Secretary." I think she's super cool.
It's hard to think about who I want to be like, though, because everyone I know who's successful came from a totally different background. You can say you want to follow in this person's footsteps, but it's impossible because the circumstances have changed or they had something wild happen to them. I think everybody, especially queer people, has come from so many wild twists and turns that have led them to this place. You go, "Oh wow, they're a success overnight," but that's never the case. It's always been years and years of bullshit.
What's on your bucket list?
I'd love to act in more stuff. I had a really great time on "Take My Wife." I realized when I was cutting together my reel that I've only ever played queer characters. In everything I've ever done, even with long hair, even with different styles of dress, I've never played a straight woman. I think that's super funny and I'm curious as the future keeps going if that will continue, but I would love to act more.
I would love to be in more writers' rooms. It's been a really cool experience. It's interesting to influence what people see. I have a few books coming out, and I have a comic book I'm working on. I'd love to turn a comic book into a movie or TV show because I love "Wonder Woman" and "Black Panther" and all that stuff. And comic books aren't comedy, it's like dark, sort of drama-type stuff. And I realize I watch a lot of drama even though I'm a comedian. So I'd love to pivot a little and try something like that and turn a comic book into a movie. That'd be cool.
Our theme for Pride Month this year is "The future is Queer." What does a queer future look like to you?
GLAAD just released its study for the year of media in 2017 and there were no major studio films with trans characters ― zero. So it's interesting when people say, "Oh, my God, it's changed so much," or when you hear from agents, "They're only casting for diversity, they're only casting trans, they're only casting black people, white people are barely getting seen." But the statistics don't back that up.
Queer people hang out with other queer people. I hate when there's one queer character on a show who's friends with everyone and then it's like, "Well, we can't have more than one." But who are this person's real friends? I've heard a lot of times with my writing where people think, "Well, not everyone in this person's world can be queer." Yeah, they can. That's my experience, because I've made it that way. I would love if it's more normalized to the point that it's not jarring.
Let's say there was a movie this year about a trans character. It wouldn't have to be a coming out story or a story about them getting beaten. It could just be a romantic comedy and the lead was a trans woman. I think people have this very narrow box of what media about queer people has to be, and I would love for it to just become more commonplace the way it is in my life.
This interview has been edited for clarity and length.
For LGBTQ Pride 2018, HuffPost is highlighting 30 different cultural influencers who have shifted the narrative when it comes to queer issues and whose work has contributed to building a more inclusive and equitable future for us all.
#TheFutureIsQueer is HuffPost's monthlong celebration of queerness, not just as an identity but as action in the world. Find all of our Pride Month coverage here.