As a transport train pulled into the Auschwitz-Birkenau concentration camp, just past midnight on May 14, 1944, a group of SS troopers patrolling the platform were stunned when they pulled open one of the boxcar doors: There, packed in with a mass of humanity, stood a family of seven little people.
Despite the hour, guards rushed to tell Dr. Josef Mengele about the little people. And the monstrous "Angel of Death," who conducted grotesque experiments on thousands of camp members, couldn't believe his eyes. While Jews and other victims were quickly herded off the platform, destined for the gas chambers, the seven siblings were segregated and taken to separate quarters.
"This will keep me busy for the next 20 years," Mengele said, contemplating "research" that might be conducted on them. And so it was that the Ovitz family -- a storied troupe of Romanian vaudeville performers -- found a safe haven in his laboratory. When Auschwitz was liberated the next year, they returned home and resumed performing.
The extraordinary story has been told in books, magazine articles and documentaries. But now, for the first time, it's the subject of a play, The Lilliput Toupe, by Gaby FeBland -- a talented and engaging young playwright who came up with the idea while she was studying theatre at Northwestern University.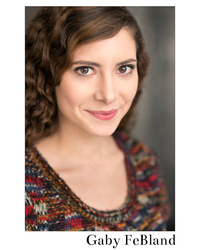 Her show, blending drama and song, cuts back and forth between the family's history and traumatic experiences and its staged version of Snow White and the Seven Dwarves. But what makes the work truly unique is that it recently debuted in an Off-Broadway theatre, performed entirely by actors of short stature.
It marks the first time that such a cast has graced the New York stage. And sponsors hope it will pave the way for others. The Lilliput Troupe was produced with support from the 2015 Araca Project, which helps a select group of young theatre artists stage their work in New York.
"This is a play that shows you the restorative power of comedy, and the power of theatre as a survival tool," FeBland said in an interview, before opening night. "The Ovitz family survived great adversity because they retained their identity as performers. They believed strongly that performance was an act of rebellion against the indignity around them.
"I wanted to capture that spirit with a strong cast, but it wasn't easy," she added. "There aren't a lot of opportunities for little people to perform, and timing was a big problem."
As it turned out, the play was set to open while rehearsals were underway for Radio City's annual Christmas show -- and that production is one of the few acting opportunities for New York actors with dwarfism. The holiday spectacular "pays ridiculously well, and you couldn't blame any one of the actors we approached for graciously declining the chance to join our cast," FeBland said. "We had two who wrote us emails saying, 'We believe in your show -- but this (Radio City) is how we can afford to have families and remain in the theatre.'"
She credits her producers, Jack Eidson and Sally Lindel, for reaching out to virtually every acting agency that represents little people and eventually putting together a first-rate cast. The New York company (pictured below) featured Hollis Andrews, Aaron Beelner, Sofiya Cheyenne, Sarah Folkins, Lauren Mayeux, Laura Presley-Reynolds and Caleb Tourres. The show was directed by Alex Benjamin, who is also a Northwestern drama graduate.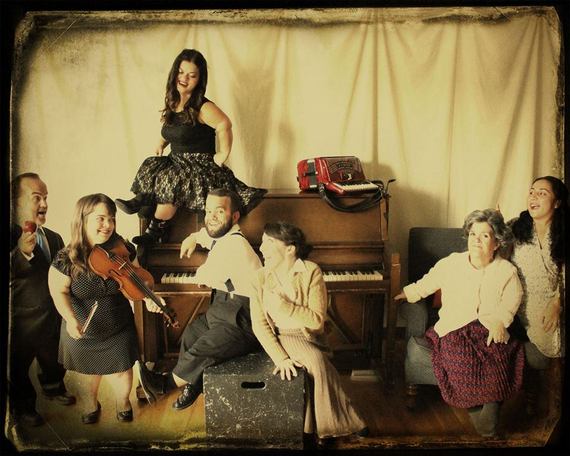 "Working with all of these actors was extraordinary, because we're very much like the characters we're playing on stage," said Andrews, during a talk-back with the audience. "The Ovitz actors had no interest in being a spectacle. They wanted to be seen as serious performing artists. And that's where I really connected to this story."
For Beelner, the power of the show was its ability to convey the humor - and wisdom - of historically fascinating characters. "They used humor to survive, and as soon as they got out of Auschwitz, they got back on stage," he said. "That's what they knew how to do. And as actors, we could all relate."
Beyond casting, FeBland faced other challenges: Although the tale of the Ovitz family has been amply documented, there is little historical source material that differentiates the siblings from each other. Asked how you create a play with such limits, she said: "I made up what I believed the family dynamic to be, and present each of the Ovitzes as they exist in my imagination. As they sing in the show's opening number: 'We are the Lilliput Troupe, and most of this is true.' I'm very honest about exaggerating the traits that already existed in each historical figure."
As the script notes, there's Perla ("childlike in her wonderment")...Elizabeth ("a sensible broad with business savvy")...Micki ("a lovable hack whose clothes never quite fit")...Frieda ("a minx whose concept of style and beauty does not fall far from Dolly Parton's tree")...Avram ("the patriarch, scriptwriter and emcee..a born showman")...Fran ("the silent one") and Rozika Ovita, ("the matriarch").
But that lineup led to the biggest challenge of all. The Ovitz family survived Mengele and Auschwitz. They enjoyed privileges in camp that, while meager, were life-saving. By the end of the story, they made it back to their homes in Romania and later settled in Israel. How did this miracle happen, when most people sent to the camps didn't survive?
The Lilliput Troupe doesn't offer a pat explanation. Instead, as actors face the audience in the climactic scene, they offer starkly different answers:
Perla, who had more personal interaction with Mengele than the others, says: "You have to understand: Without him, we would have had no champion. The doors would have closed behind us, there would have been a hiss, and our story would have been lost in the annals of history."
Elizabeth offers a different view, saying: "Or our disability wasn't a disability at all, but a gift."
Rozika says: "Or we saved each other."
Frieda says: "Or God saved us."
FeBland hopes The Lilliput Troupe will reach a wider audience following its brief Big Apple run. And she hopes the play will eventually be published, so theatre groups across the nation can teach audiences a powerful lesson -- not just about history and art, but about who we are as people.
"I want everyone to see it," she says. "I want able-bodied people to connect with the characters. And I want theatre-makers to see it -- because this story is a reminder that art is more than a commercial product. It's a tool for human beings to survive impossibly difficult situations, with dignity and strength."
Related
Popular in the Community