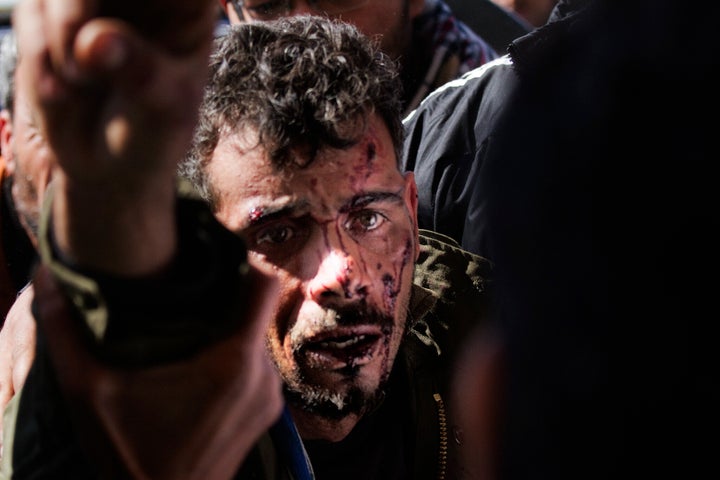 ALGIERS/TUNIS (Reuters) - Libyan leader Muammar Gaddafi's forces used tanks and artillery on Wednesday to try to retake the city of Misrata, the last big rebel stronghold in western Libya, residents said.
But rebel fighters in Misrata, on the Mediterranean coast about 200 km (130 miles) east of the Libyan capital Tripoli, said they had stalled a ground attack on the city and seized some tanks from pro-Gaddafi units.
"The fighters have defeated Gaddafi's forces from the southern and western side (of the city)," a resident, who gave his name only as Mohammed, told Reuters by telephone.
"The shelling on the city stopped and the rebels have captured some tanks. The battle is continuing on the eastern side, but it is not a heavy one."
Earlier, residents and rebel fighters who spoke to Reuters said Gaddafi loyalists had begun to bombard the city at 7:00 a.m (1 a.m. EST) with tanks, artillery and rockets, in what appeared to be preparation for an assault.
But they said that ground forces had yet to enter Misrata and were still in the outskirts.
Accounts of fighting in Misrata could not be verified because Libyan authorities have barred reporters from the city. Libyan officials had no immediate comment on reports of an attack.
A doctor at Misrata hospital said 11 people had been killed and 20 wounded in the fighting. He said the wounded were being brought to hospital in private cars because ambulance drivers were afraid of being hit by shells.
"We have enough medicine but we are short on staff," said the doctor, who gave his name as Muftah.
A rebel fighter in Misrata, who did not give his name, said the city would make a stand.
"They are trying to enter the city. I do not think they will be able to do it, at least not today," he said.
The assault on Misrata, Libya's third-biggest city with a population of about 300,000, coincides with a rapid advance by Gaddafi's forces on rebel strongholds in eastern Libya.
Gaddafi, in power since a military coup in 1969, lost control of large swathes of Libya in a revolt last month, but since then his security forces have fought back.
State television made an appeal to the people of Misrata to support the security forces and turn their back on the rebels.
"The armed forces are from you and for you," the appeal said. "Avoid strife ... This is a call for stability and security for everybody. Do not listen to provocation and avoid discord."
(Additional reporting by Tarek Amara in Tunis; Writing by Christian Lowe; Editing by Sonya Hepinstall)
Calling all HuffPost superfans!
Sign up for membership to become a founding member and help shape HuffPost's next chapter