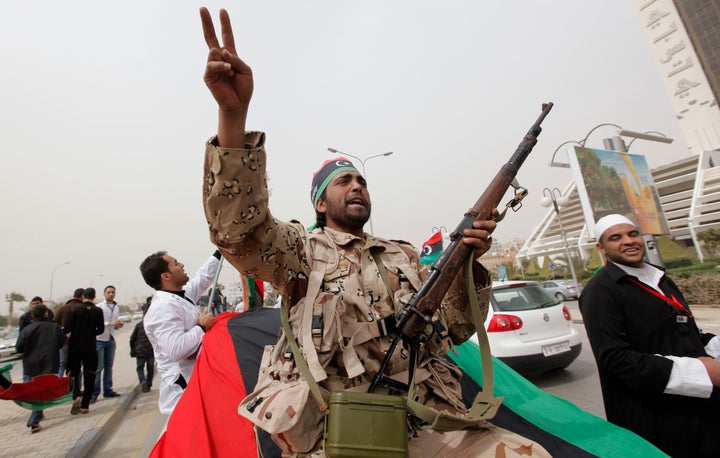 AJDABIYAH, Libya (Reuters) - Muammar Gaddafi's forces attacked two rebel-held towns on Tuesday as the battle for eastern Libya edged closer to the insurgent stronghold Benghazi, rebel fighters said.
The Libyan leaders' troops unleashed a heavy bombardment on a rebel checkpoint outside Ajdabiyah, a junction town on the coastal highway, and a nearby rebel arms dump. The insurgents abandoned the position as the barrage threatened the town.
Fighting was also underway for the oil town of Brega, 75 km (50 miles) to the south, rebel fighters said.
Al Jazeera television reported that elite army units commanded by Gaddafi's sons were heading toward Brega, suggesting he wanted to swiftly and emphatically crush the month-long insurrection against his 41-year rule.
Gaddafi's forces have advanced steadily eastwards along the coast to retake towns captured by rebels in the early days of the uprising.
The poorly-equipped rebels have been outgunned by tanks, artillery and warplanes and are now in danger of being pushed back to Benghazi, headquarters of their provisional national council.
Government warplanes strafed rebel forces at Ajdabiyah on Tuesday morning then ground troops unleashed a heavy barrage on a rebel checkpoint near its western gate and nearby arms dump.
"They are bombarding the arms dump with land-based weapons. it is a really heavy bombardment, can't you hear it. If they hit the arms cache it will destroy Ajdabiyah," a pro-rebel civilian volunteer, Ashraf Abdel Malik, told Reuters on the scene.
Rebels retreated from the checkpoint and as I pulled back with them, the bombardment started creeping closer to the town.
A warplane earlier fired two rockets at rebel positions.
Ajdabiyah has been on edge since Gaddafi's forces began bombing and shelling it on Sunday. The town is a gateway to regions further east and a 400 km (250 mile) desert road offers a clear route straight to Tobruk, near the Egyptian borde.
Also on Tuesday, the two sides fought for control of Brega, site of important oil facilities.
"It is still advance and retreat, we are not in control and they are not either," fighter Hussein al-Wami told Reuters on Tuesday morning.
His report was seconded by fighter Addel Ibriki, who had just returned to Ajdabiyah from Brega.
"It is still to and fro," Ibriki said.M
However, the head of the oil workers' union said in Tripoli that all Libya's oil export terminals except Tobruk were back in government hands. Brega has an oil terminal.
"All of the terminals are under control, except Tobruk," said union chief Mohammed Abu Sittah.
Claims of defeats and victory have been difficult to verify immediately and towns have changed hands several times in the past.
The movement of units commanded by Gaddafi's sons indicated a new resolve to defeat the rebels.
In western towns, residents had said units of the 32nd Brigade have been used to quell the revolt. This unit is commanded by Khamis Gaddafi and military analysts say it is the best trained and equipped force available to the Libyan leader.
When violence engulfed Benghazi in mid-February, Saadi Gaddafi said he had been appointed commandant of the city. Soon after, residents took control of Benghazi and forced out Gaddafi's forces.
Libyan state television has carried messages saying eastern towns and cities would be or had been "liberated" from the hands of what it calls "armed gangs" and terrorists inspired by alQaeda. Since halting the rebel advance, Gaddafi's forces have recaptured the oil towns of Es Sider and Ras Lanuf.
(Reporting by Mohammed Abbas; Writing by Angus MacSwan in Cairo; Editing by Giles Elgood)
Calling all HuffPost superfans!
Sign up for membership to become a founding member and help shape HuffPost's next chapter