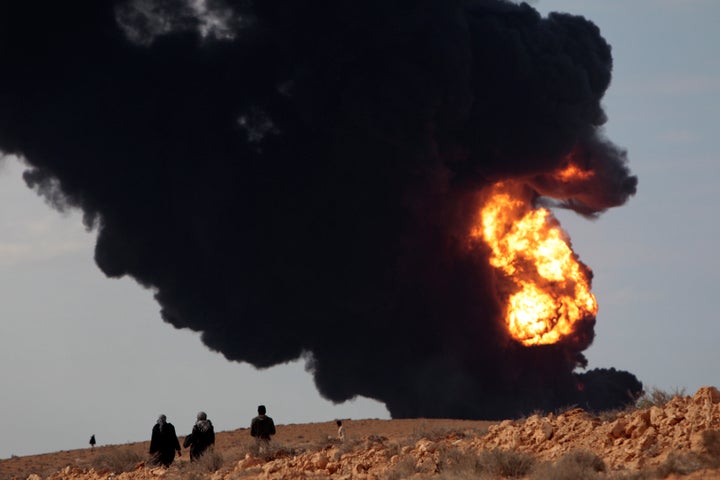 RAS LANOUF, Libya — Forces loyal to Moammar Gaddafi struck an oil pipeline and oil storage facility Wednesday, sending a giant yellow fireball into the sky as they pounded rebels with artillery and gunfire in at least two major cities.
Gaddafi appeared to be keeping up the momentum he has seized in recent days in his fight against rebels trying to move on the capital, Tripoli, from territory they hold in eastern Libya. State television claimed Gaddafi's forces had retaken Zawiya, the city closest to Tripoli that had fallen into opposition hands.
There was no was to immediately verify the claim. Gaddafi forces have been waging a heavy siege on the city since last week, and phone lines there have not been working for days. State TV showed a crowd of hundreds, purportedly in Zawiya's main square on Wednesday, carrying images of Gaddafi and shouting "The people want Colonel Gaddafi!"
The fall of Zawiya to anti-Gaddafi residents early on in the uprising that began Feb. 15 had illustrated the initial, blazing progress of the opposition, which has now been blunted.
In the east, an Associated Press reporter at Ras Lanouf near the front line of fighting saw an explosion from the area of the Sidr oil facility, 360 miles (580 kilometers) east of Tripoli. Three columns of thick smoke rose from the area, apparently from burning oil.
Mustafa Gheriani, an opposition spokesman, said the government artillery hit a pipeline supplying Sidr from oil fields in the desert. An oil storage depot also was hit, apparently by an airstrike, he said.
Gaddafi's successes have left Western powers struggling to come up with a plan to support the rebels without becoming ensnared in the complex and fast-moving conflict. On Wednesday, a high-ranking member of the Libyan military flew to Cairo with a message for Egyptian army officials from Gaddafi, but no further details were known.
President Barack Obama's most senior advisers were meeting Wednesday to outline what steps are realistic and possible to pressure Gaddafi to halt the violence and give up power.
They planned to examine the ramifications of a no-fly zone over Libya and other potential military options, U.S. officials said, speaking on condition of anonymity to discuss internal administration deliberations.
Britain and France are pushing for the U.N. to create a no-fly zone over the country, and while the U.S. may be persuaded to sign on, such a move is unlikely to win the backing of veto-wielding Security Council members Russia and China, which traditionally object to such steps as infringements on national sovereignty.
The two sides in Libya traded barrages of artillery shells and rockets Wednesday afternoon about 12 miles (20 kilometers) west of the oil port of Ras Lanouf, an indication that regime forces were much closer than previously known to that city. Ras Lanouf is the westernmost point seized by rebels moving along the country's main highway on the Mediterranean coast.
Four bodies were brought to the morgue at the hospital in Ras Lanouf, doctors said.
Warplanes streaked overhead and a yellow fireball erupted at or near the location of a small oil terminal. Pillars of black smoke also rose from the direction of the town of Bin Jawwad, about 40 miles (65 kilometers) to the west.
Calling all HuffPost superfans!
Sign up for membership to become a founding member and help shape HuffPost's next chapter