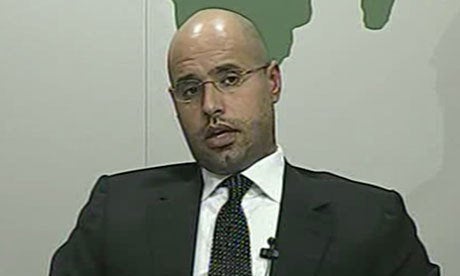 Oxford University Press made a deal with Saif Gaddafi, the second son of Libyan strongman Muammar Gaddafi, to publish as a book his doctoral thesis on "soft power" and democracy, "The Role of Civil Society in the Democratization of Global Governance Institutions." As one of the most respected publishing houses in academia, the contract was an honor for the young Gaddafi, who was being groomed as his father's likely successor.
In order to boost sales and push it on the bestseller lists, Saif Gaddafi offered to purchase 20,000 copies of the book, reports the London Evening Standard.
The publisher says that it has dropped plans to publish the book. A spokesman emailed the following statement to The Huffington Post:
In May 2010 Oxford University Press received a book manuscript from Saif al-Islam Alqadhafi elaborating a model of democracy and democratic reform with particular reference to Libya and the Arab world. The manuscript was sent for review by scholars of the highest international standing. They supported the book's publication on the basis of the evidence then available of its scholarly quality and of the author's credibility. They also noted its possible contribution to political reform. The Delegates of OUP provisionally approved publication of the work subject to review of the final manuscript, which has not yet been received. Recent events in Libya have completely changed the circumstances surrounding the work and the author, and therefore OUP will not now proceed with publication of the book.
Not that you'd have to shell out for the thesis in any case -- there are plenty of copies online.
And to add to the embarrassment for the venerable publishing house, the London School of Economics, where Saif wrote his thesis, is investigating claims that the work was plagiarized. (Click here for an extensive list of apparently plagiarized passages in the book.)
"LSE is aware that there are allegations of plagiarism concerning the PhD thesis of Saif Gaddafi. The school takes all allegations of plagiarism very seriously and is looking into the matter in accordance with standard LSE procedures," said a spokesperson for the school.
The thesis has been used to mock Saif, whose comments on Libyan TV condemning protesters seem at odds with his own words. Among the passages in the thesis:
I adopt the definition of liberal individualism as a political ideal within which liberty is an inalienable right of individuals and a just government must protect individual liberties in its constitution and laws. It is based on the philosophical doctrine that individuals are prior to the collectives they constitute and are entitled to live and act by their own judgment, and so their equal liberty should be restricted only when necessary to secure the equal liberty of all.
Support HuffPost
The Stakes Have Never Been Higher
Related
Popular in the Community