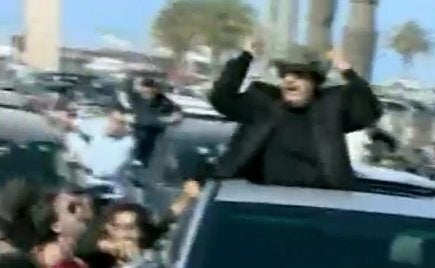 Libyan state TV aired a bizarre video of Muammar Gaddafi this week, in which the embattled leader is shown making victorious gestures to a crowd of supporters amidst a Tripoli motorcade.
Though the Libyan capital was reportedly under air attack around the time the clip was shot, Gaddafi nonetheless appears in a celebratory mood throughout the video.
Rebels have warned of an impending massacre in Misrata by Gaddafi troops if NATO doesn't intensify its attacks on government forces.
Watch a Reuters report on the clip below: