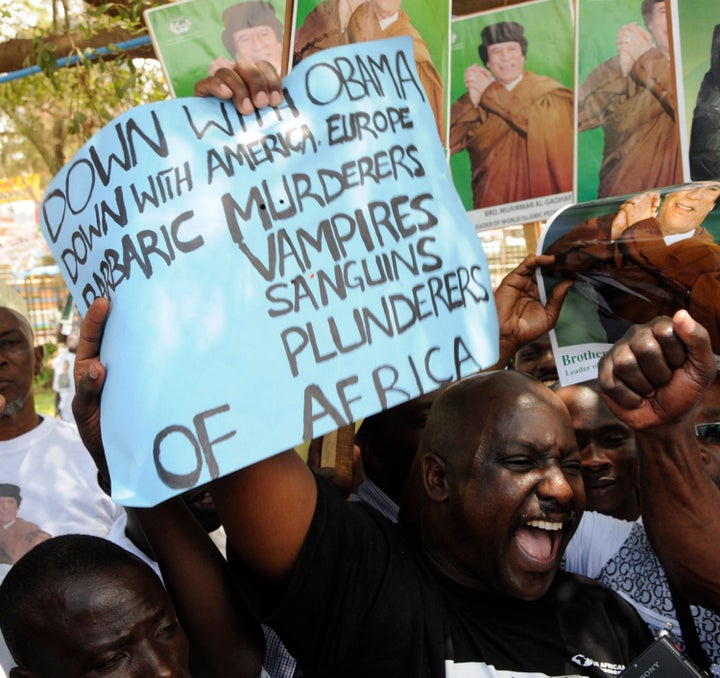 KAMPALA, Uganda -- Libyan leader Moammar Gadhafi is welcome to live in the East African nation of Uganda, the president's spokesman told The Associated Press on Wednesday, in what appears to be the first country to offer him refuge.
An intense diplomatic effort is under way to find a country where Gadhafi can go, as an international military effort against Gadhafi's forces continues.
The spokesman for Uganda's president, Tamale Mirundi, told the AP that Gadhafi would be welcome in Uganda. He said Uganda's policy is to accept asylum seekers, especially because so many Ugandans fled the country during the longtime rule of dictator Idi Amin.
"So we have soft spots for asylum seekers. Gadhafi would be allowed to live here if he chooses to do so," Mirundi said.
Another possible reason Uganda might accept Gadhafi is that Ugandan President Yoweri Museveni is, like Gadhafi, among the old guard of African leaders. Museveni has been in power for 25 years, though he won re-election in February amid signs that many Ugandans still genuinely support him.
Gadhafi has been in power for more than 40 years.
Museveni had planned to travel to Libya in mid-March, but sent his foreign minister instead. Days later, Museveni issued a nine-page statement denouncing the U.S. and European military action for interfering in what he said was an internal matter. He also praised Gadhafi, though he urged the Libyan leader to negotiate with the rebels.
"Whatever his faults, is a true nationalist," Museveni said of Gadhafi. "I prefer nationalists to puppets of foreign interests."
One complicating factor to Gadhafi's living in Uganda may be the International Criminal Court, whose chief prosecutor has said he will decide by May whether to seek an indictment against Gadhafi. Uganda is a signatory to the statute that created the court.
Muslims in Uganda may welcome Gadhafi as well. Muslim leader Hamuza Kaduga noted that Gadhafi paid for a large modern mosque in Kampala and has supported other projects.
Uganda currently hosts more than 20,000 refugees from Kenya, Somalia, Sudan, Eritrea and Rwanda.
Calling all HuffPost superfans!
Sign up for membership to become a founding member and help shape HuffPost's next chapter