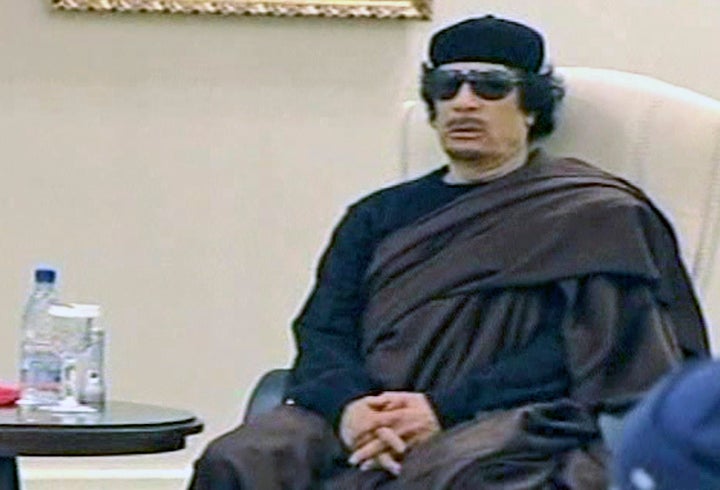 By Alister Bull and Joseph Logan
WASHINGTON/TRIPOLI, May 20 (Reuters) - Muammar Gaddafi will inevitably leave power, U.S. President Barack Obama said, as NATO intensified its weeks-long bombing of government targets and said on Friday it had sunk eight Libyan warships.
Obama was speaking in an address on the Middle East where a series of uprisings this year governments in Tunisia and Egypt, and inspired a three-month-old revolt in Libya that aims to overthrow Gaddafi.
"Time is working against Gaddafi. He does not have control over his country. The opposition has organised a legitimate and credible Interim Council," Obama said in Washington on Thursday.
"When Gaddafi inevitably leaves or is forced from power, decades of provocation will come to an end and the transition to a democratic Libya can proceed," he said, defending his decision to take military action against the Libyan leader's government.
His comments echoed NATO Secretary-General Anders Fogh Rasmussen who said military and political pressure were weakening Gaddafi and would eventually topple him.
The Libyan leader remained defiant.
"Obama is still delusional," Libyan government spokesman Mussa Ibrahim said. "He believes the lies that his own government and media spread around the world ... It's not Obama who decides whether Muammar Gaddafi leaves Libya or not. It's the Libyan people."
Acting under a U.N. mandate, NATO allies including France, Britain and the United States are conducting air strikes that aim to stop Gaddafi using military force against civilians.
NATO aircraft sank the eight warships in overnight attacks on the ports of Tripoli, Al Khums and Sirte, the alliance said in a statement.
"Given the escalating use of naval assets, NATO had no choice but to take decisive action to protect the civilian population of Libya and NATO forces at sea," said Rear-Admiral Russell Harding, deputy commander of NATO's Libyan mission.
Libyan officials took journalists to Tripoli port where a small ship spewed smoke and flames, and cast doubt on whether boats targeted by NATO had been involved in fighting.
Mohammad Ahmad Rashed, general manager of Tripoli's port, said six boats had been hit by missiles.
The boats, five belonging to the coastguard and a larger naval vessel, had been undergoing maintenance since before the start of the fighting, he told reporters, adding that the port was still functional and capable of handling commercial traffic.
NATO bombs struck Tripoli, Gaddafi's hometown of Sirte and Zlitan east of the capital, state TV said late on Thursday.
Rebels control eastern Libya and pockets in the west but the conflict has reached a stalemate as rebel attempts to advance on Gaddafi's stronghold of Tripoli have stalled.
Western governments, under pressure from sceptical voters, are counting on Gaddafi's administration to collapse.
"We have significantly degraded Gaddafi's war machine. And now we see results, the opposition has gained ground," Rasmussen told a news conference in the Slovak capital, Bratislava.
"I am confident that a combination of strong military pressure and increased political pressure and support for the opposition will eventually lead to the collapse of the regime."
Libyan state TV showed footage of Gaddafi meeting a Libyan politician in Tripoli. Government spokesman Ibrahim said the politician had been in a delegation that met Russian officials in Moscow this week to explore possibilities for a ceasefire.
The footage zoomed in on a TV screen in the room that showed Thursday's date displayed in the corner. Gaddafi wore a brown robe with a hat and sunglasses.
Gaddafi was last seen on May 11 when state TV showed him meeting tribal leaders in Tripoli. NATO bombed his compound the next day, and a day later TV broadcast an audio clip in which he taunted NATO and said the alliance could not kill him.
The last few days have seen a flurry of diplomatic activity focusing on a possible ceasefire deal.
But Western powers are likely to stress their determination to keep the pressure on Gaddafi when heads of state from the Group of Eight industrialised nations meet on May 27-28.
In an attempt to raise pressure on Tripoli, the European Union is considering tightening sanctions by blacklisting some Libyan ports to prevent exports of oil and imports of fuel, a Western diplomatic source told Reuters. (Additional reporting by David Brunnstrom in Brussels; Martin Santa in Bratislava, Isabel Coles in Cairo, Souhail Karam in Rabat, Tarek Amara and Sylvia Westall in Tunis and Emma Farge, Peter Apps, Dmitry Zhdannikov and William Maclean in London, Writing by Matthew Bigg; Editing by David Stamp and Miral Fahmy)
REAL LIFE. REAL NEWS. REAL VOICES.
Help us tell more of the stories that matter from voices that too often remain unheard.