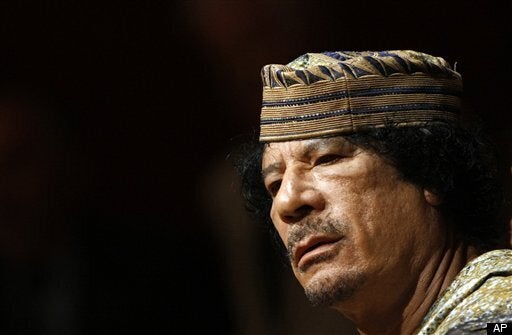 NEW YORK - If Libyan leader Colonel Muammar Gadhafi was visiting your country and asked to meet 700 women, apparently as part of his mission to "save European women," what would you do?
Instead of telling him to save women at home first, Italian Prime Minister Silvio Berlusconi -- Gadhafi's latest western host -- not only acquiesced but sent his Equal Opportunities Minister Mara Carfagna, a former topless model, to the meeting on Friday.
It sounds like bad political satire, I know, but Gadhafi's hyperbole -- the tent he pitches everywhere he goes, his entourage of women bodyguards -- seems to have met its match in Berlusconi's outlandishness.
You would think with all the troubles he's been having with women lately, especially his estranged wife's complaints about his questionable "friendships" with much younger women, the last thing Berlusconi would agree to do was round up women for Gadhafi's mission.
Wasn't Carfagna worried Gadhafi would lecture her about her "decadent" past? Controversy surrounded her appointment last year because while she was still a model Berlusconi had publicly flirted with her, saying that if he weren't already married he'd marry her "in a shot." His wife demanded and got a formal apology. Perhaps Gadhafi should focus his efforts on Mrs. Berlusconi.
Don't let the sight of those 40-odd AK47-wielding women bodyguards, apparently trained killers, make you think for a second Gadhafi is some kind of feminist or savior of women who presides over a haven of women's rights. Before he looks abroad to save anyone, Gadhafi should take a look closer to home.
During an impromptu Gadhafi news conference in Libya in 1996, I got into a scuffle with some minders from the Information Ministry who tried to eject me from the conference. One of Gadhafi's male bodyguards -- yes, he has male guards too -- twisted my nipple.
Outraged, I appealed to the "Brother Colonel" as we call Gadhafi in Egypt. He stopped in mid-sentence, we made eye contact for three or four seconds and then he continued as if nothing was happening. After the news conference, an Algerian journalist told me he heard the minders say "just shoot her."
I wonder what the girls and women detained indefinitely in "social rehabilitation" centers in Libya for apparently violating moral codes think of Gadhafi's mission to save European women.
Many are rape victims in a country where they risk prosecution for adultery or fornication if they attempt to press charges and where a rapist can avoid a prison term of up to 25 years if his victim agrees to marry him. Families pressure rape victims into exactly such marriages to avoid scandal and shame.
The only way for women and girls to leave "social rehabilitation" homes is for a male relative to take them into custody or if they marry. Human Rights Watch says most of the girls and women in the centers were taken there against their will, and that those who came of their own volition did so because Libya has no shelters for survivors of violence.
I wonder what two women in particular -- both widows of prominent Libyan dissidents -- think of Gadhafi the feminist.
Fawziya al-Ghoka is still in jail in Tripoli as she was when her husband Fathi al-Jahmi -- Libya's most prominent dissident -- died on May 20 in a Jordanian hospital. He was flown there in a coma after years of imprisonment in Libya for criticizing Gadhafi and for calling for greater freedoms for Libyans.
I interviewed the other widow, Baha Omary Kikhia, in Cairo more than 15 years ago during one of her many trips to the region to find out what happened to her husband, former Libyan foreign minister turned dissident Mansour Kikhia.
A four-year CIA investigation found in 1997 that Egyptian agents turned over Kikhia -- who had asked for Egyptian security protection while attending a meeting of an Arab human rights organization he had helped found in Cairo -- to agents of Gaddafi's regime, who spirited the dissident to Libya, where he was executed and buried in the Libyan desert.
Ask the five Bulgarian nurses who along with a Palestinian doctor were jailed and tortured for years over accusations that they had deliberately infected hundreds of Libyan children with the HIV virus what they think of Gadhafi's mission to "save European women." They were freed in 2007 after the European Union brokered a cooperation deal with Tripoli.
Associating Gadhafi with women's rights is as absurd as his wish to link himself to Omar al-Moukhtar, the resistance hero hanged by Italian occupiers in 1931 and who is a legend to this day throughout much of the Arab world.
It is typical of Gadhafi's hyperbole to arrive in Rome on an historic visit to Libya's former occupier with a picture of Moukhtar pinned to his chest and accompanied by Moukhtar's elderly son.
Moukhtar fought to liberate his compatriots and were he alive today he would fight Gadhafi, who imprisons and impoverishes his subjects, as zealously as he fought Italian occupiers.
After the death earlier this month of Omar Bongo, who ruled Gabon for 41 years, Gadhafi now holds the illustrious title of the world's longest-serving dictator. For close to 40 years now he has ruled brutally, keeping poor the inhabitants of a country rich in natural resources which he gladly peddles abroad now that more western capitals are opening their doors to him.
Let's call him what he is: a brutal dictator. Never a feminist.
REAL LIFE. REAL NEWS. REAL VOICES.
Help us tell more of the stories that matter from voices that too often remain unheard.