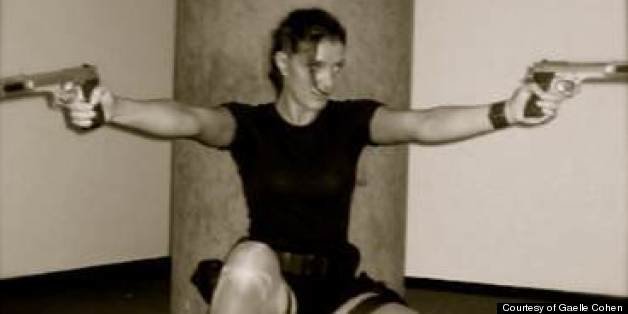 Gaëlle Cohen is 41 years old and has been at the same job for the last 15 years. But since her job title happens to be Hollywood stuntwoman and stunt coordinator, it's far from monotonous. Cohen, who is originally from France, has worked with the likes of Penelope Cruz, Jessica Biel and Kathryn Bigelow.
She spoke with HuffPost Women about how she got her start, the rampant sexism in the European stunt community and the craziest stunt she's ever performed.
How did you first get into stunt performance?
I was a lawyer first. I had finished law school and I was suposed to become a lawyer full time, but it wasn't what I wanted to do. I had also been on the National Fencing Team for many years. So one day a friend of mine called me -- she [ran] an actor replacement agency -- and said, "I need an actor to jump tomorrow morning. Can you do me a favor and go there?" [When I got] there I met some stunt people who were rehearsing a sword fight backstage. I told them that, "If you want, I can train you and choreograph a fight for you." They accepted. Weeks later, I received a call from the stunt coordinator on [a] show with tons of sword fights and he said, "I'd love to work with you if you're interested."
After my first day on set, I knew it was where I was meant to be. It was like a flash, like, this is me. So I decided to drop law and become a stuntwoman. I trained for a year and a half with the National Circus School. I started working full time after. Every day I think: "It was meant to be."
What sort of training did you need to undergo during that year and a half?
I learned martial arts, motorcycle -- everything you can think of that can be useful on a movie. For stunt people, it's not just about being in shape and having a daily workout. To perform the actions in movies you have to acquire skills. On a TV show I did called "Queen of Swords," I was doubling the lead actress, and she was jumping off a roof onto horses and doing martial arts. So you need to learn all of those things to do them on movies after that. Kung Fu, Taekwondo, diving [and] horseriding were [part of] my daily training to become a complete stuntwoman.
What's the craziest stunt you've ever done?
There's a difference between the craziest and the most dangerous. In [the 2005 film] "Sahara," I was doubling Penelope Cruz, and so we had to train camels to be able to chase a train, and [then I had to] jump from a camel onto a moving train. When I heard about the action, first I thought, "Oh my god, how can I do that?"
Another time, I was doubling an actress on a movie called "Labyrinth" and I had to jump onto a car from a roof to escape, and when I jumped my leg shattered. I broke my whole leg. It went great during the rehearsal but then the day of the shoot, it was not as smooth.
I know that you worked on "Zero Dark Thirty." What sort of stunts did you do in that film?
I was brought in for the bombing scene in the restaurant, so I did that. I was one of the three stunt people being ejected with tables and everything.
It was a fantastic experience. I was dreaming to work with Kathryn Bigelow. When they called me, I had no idea it was for her movie. Everthing was very secretive. When I arrived on set and saw her I couldn't believe it. The main action of the movie and working with her was really a dream come true.

Do you prefer to work with female directors, or does it not make a difference?
As a stunt performer, it doesn't change anything for me. But as a stunt coordinator, [someone who organizes stunt casting and performances for a particular TV show or film], there's a little difference. There's a softness going on and kind of a friendship that happens with female directors even if you're not really friends. You don't have that with male [directors]. I think that's related to the fact that we're both women. But that's really enjoyable.
We have women [directors] that are jerks and you have men that are jerks too. When people are good, there's a real difference with a woman.
Is stunt performance a male-dominated industry? Do you feel like there's a large community of stuntwomen?
It was a male-dominated industry until I'd say 50 years ago. Especially in Europe. I'm from France. It's quite different in Europe than in the States. It's still very conservative. You have a lot women who are very good, but there are no female stunt coordinators. Over there, we still have the macho feeling. It's really a boys club. That's one of the reasons I moved to the States. I was always wondering, why can't I be a coordinator?
One time one of the [male coordinators in France] told me, "A female coordinator? That will happen when pigs will fly." That day I said, "Oh really? Well watch me." So I started to get shows to coordinate. I started getting anonymous messages from male coordinators saying: "If you want to steal our jobs, you'll never work again." It was an attack on the female aspect. If a woman gets a movie to coordinate then [it] must be because she has an intimate relationship with the director. The first message hurt me really bad. The second message was like, OK, whatever. The third [was when] I realized it was good. If I wasn't a threat, I wouldn't get those jealous messages. So I decided to move to the States.
Here it's more open. You have female stunt coordinators. They're really good and really respected. The Hollywood environment is better for me than old Europe. It's macho, but here, good stuntwomen are really respected by stuntmen.
It's a male job, but we have our place and we're respected.
Is there a time when you see yourself retiring?
If I listen to my boyfriend, it would be tomorrow. At the same time I really understand, it's not easy -- especially for a man regarding his girlfriend -- to let her go in the evening to a shoot where she has to jump off a roof. I know it's really hard on him. If it was on him, [my retirement] would be tomorrow.
But as far as me, I feel great because I'm 41, I'm in great shape and I have 15 years of experience. It makes me stronger and better than I was when I started. I really don't see a retirement in the early future. But every accident makes you decide, is this the last one?
What are the projects you've worked on that you've enjoyed most over the past 15 years?
That's a really hard question. "Zero Dark Thirty," because Kathryn Bigelow is like the model that I think all women in Hollywood have as an example. She's a joy to work with and she's so strong and so powerful. And then I did a movie with Jessica Biel that I coordinated and we shot it in Canada called "The Tall Man." I spent eight months with her and I trained her, and she was adorable. We became friends and also [it was] my third movie with the director [Pascal Laugier], so I'm friends with him and we know each other really well. It was a real adventure; a real family project.
As far as adventure, I'll say "Sahara." We were in the desert for five months riding camels and being shot by helicopters and riding those old vintage cars. We were staying in a palace in the middle of nowhere. It was really like we were not on earth. There is great things in every project we're on. You have amazing locations and countries. You work with incredible people. It's a mix of all that. Accidents aside, [stunt people] have the dream job.
LOOK: Photos Of Gaëlle As A Stunt Performer And Coordinator
REAL LIFE. REAL NEWS. REAL VOICES.
Help us tell more of the stories that matter from voices that too often remain unheard.
BEFORE YOU GO
PHOTO GALLERY
Gaëlle Cohen, Stuntwoman