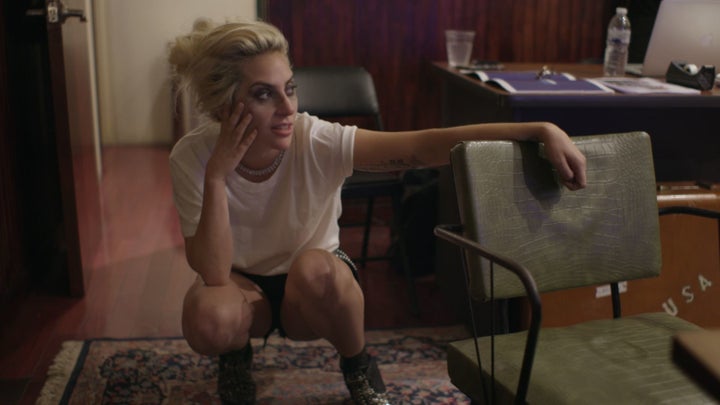 Lady Gaga's new documentary, "Gaga: Five Foot Two," opens with a shot of her, suspended in midair. Only her bottom half is visible, emphasizing the sparkling stiletto boots that adorn her legs. She's about to be hoisted toward the sky for a grand entrance at this year's Super Bowl halftime show, where she rappelled onto the stage. That flashy footwear is a pop signifier: An artist so famous for eccentric shoes doesn't require a torso to look familiar. 
And yet, in "Five Foot Two," Gaga has abandoned, to some degree, the decadence with which she built a career. This is the "Joanne" era, after all. She's a genre-hopper now, less interested in choreography and costumes, and more inclined toward self-reflection and acoustic guitars. That shift forms the backbone of "Five Foot Two," which premiered Friday at the Toronto Film Festival, ahead of its Netflix release on Sept. 22. 
Even though Gaga can seem more austere these days, "Five Foot Two" is still a traditional pop-star documentary brimming with behind-the-scenes intrigue. Gaga teaches superstar producer Mark Ronson how to use Instagram! She has a "little baby meltdown" on the set of "American Horror Story: Hotel" after being handed a new script at the last minute! She records with Florence Welch! She lectures her staff about being better prepared! She receives flowers from her ex-fiancé! She sits around with her breasts exposed!
Most intriguingly, Gaga discusses Madonna, who went from veritable forerunner to vehement rival. We knew this bit was coming: Gaga posted a teaser clip on Instagram a few weeks ago that cut off right as she said, "The only thing that really bothers me about her is that ..."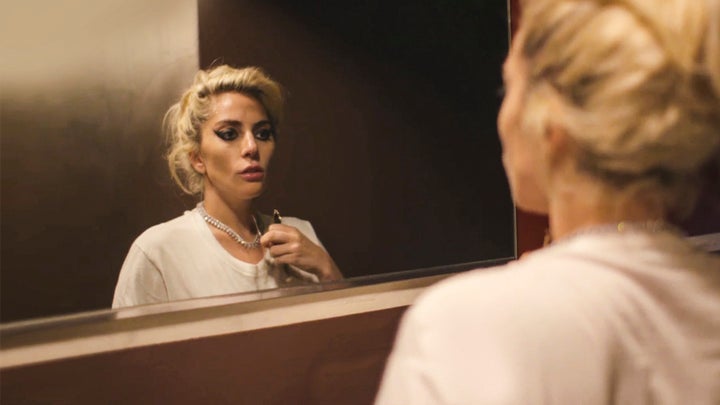 Alas, the quote isn't quite as juicy as it sounds. Gaga is playfully defiant while discussing Madonna, promising she will always admire the elder queen of music. (Their supposed feud got heated when certain fans, music critics and Madonna herself accused Gaga's "Born This Way" of imitating Madonna's "Express Yourself.") What "really bothers" Gaga is that Madonna, also an Italian who cut her teeth in New York, called Gaga "reductive" to a journalist instead of to her face. "Telling me you think I'm a piece of shit through the media?" she says in the movie. "It's like a guy passing me a note through his friend."
Fair, except Gaga doesn't seem to account for the fact that she's now doing the same thing: expressing her feelings about Madonna in response to a question posed by the media. Like all good pop-star conflicts, this drama has become performative. But Gaga remains jovial about the ordeal, saying she'd love for Madonna to ream her out face-to-face.
"I just want Madonna to push me up against a wall and kiss me and tell me I'm a piece of shit," she says, practically issuing an invitation. The crowd at Friday's premiere went wild. 
Later, at her grandmother's apartment, while shuffling through photos from her adolescence, Gaga finds a portrait in which she has a gap in her teeth, as Madonna famously does. "If I had kept that gap, then I would have even more problems with Madonna," she says, again shifting into lighthearted defiance. 
There's added irony in the fact that Madonna made the seminal pop documentary, 1991′s sterling "Truth or Dare," which followed her celebrated Blond Ambition Tour. Many others have attempted their own versions since, mostly to lukewarm results ― Katy Perry, Justin Bieber, Beyoncé and Oasis, to name a few. None are as electric as "Truth or Dare." The same goes for "Five Foot Two," though it comes close.
As in "Truth or Dare," Gaga's relationship with fame becomes a key subject. She discusses the loneliness of going home solo after being the subject of so much attention every day. She talks about being a woman in the business, and wanting to grow old in the industry, despite the toll notoriety took on Marilyn Monroe. She deals with the premature leak that let fans download "Joanne" illegally. She tends to medical issues, having broken a hip in 2013 while touring. She revisits sad family history. She ventures to Walmart to buy her own album. She outlines the downside of the renown she refuses to relinquish.
"When you become famous at 21 or 22, you stop growing up [...]," Gaga says. "You've gotta leave yourself behind."
Then, back to the Super Bowl, which Gaga considers the crown jewel of her nearly 10-year career. We return to the stiletto boots that opened the film, the camera tracking Gaga as she readies herself for what may be the most-watched moment of her life. The rehearsals are fascinatingly frustrating for Gaga, but when the big night comes, she is relaxed and resolute. Her small stature seems to grow as she trades the relaxed attire seen in most of "Five Foot Two" for another decadent costume. She is ascending to her rightful place: the world's stage. 
Amid all the Madonna fodder and other juicy tidbits, what's most amazing about "Five Foot Two" ― directed by Chris Moukarbel ("Me @ the Zoo," "Banksy Does New York") ― is how impossibly charming Gaga remains. In and outside of the recording studio, she displays a rich cognizance of her public image. She knows what people expect from her, and how to upend those expectations. Whereas some pop icons can seem aloof, or like subordinates of a machine beyond their rule, Gaga is a craftswoman in every sense. It's a splendid thing to see. 
Calling all HuffPost superfans!
Sign up for membership to become a founding member and help shape HuffPost's next chapter
BEFORE YOU GO