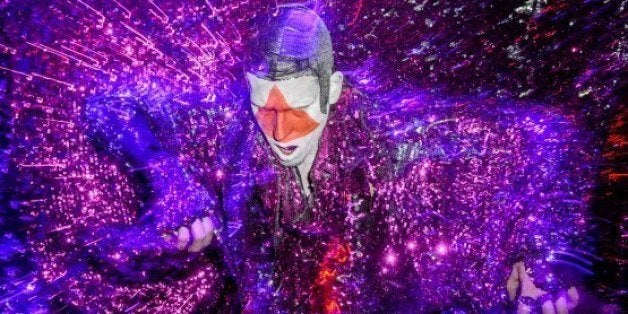 This is the nineteenth installment in HuffPost Gay Voices Associate Editor JamesMichael Nichols' 30-part series "After Dark: NYC Nightlife Today And Days Past" that examines the state of New York nightlife in the modern day, as well as the development and production of nightlife over the past several decades. Each featured individual in this series currently serves as a prominent person in the New York nightlife community or has made important contributions in the past that have sustained long-lasting impacts.
HuffPost Gay Voices believes that it is important and valuable to elevate the work, both today and in the past, of those engaged in the New York nightlife community, especially in an age where queer history seems to be increasingly forgotten. Nightlife not only creates spaces for queers and other marginalized groups to be artistically and authentically celebrated, but the work of those involved in nightlife creates and shapes the future of our culture as a whole. Visit Gay Voices regularly to learn not only about individuals currently making an impact in nightlife, but those whose legacy has previously contributed to the ways we understand queerness, art, identity and human experience today.
The Huffington Post: What did your journey to becoming a fixture as an artist and personality within the New York nightlife scene entail?
gage of the boone: I moved to NYC from San Francisco but spent time living in France and traveling throughout Europe in between. After San Francisco, I was city shopping to see where I belonged. I wanted to move to London but that didn't work out -- instead NYC reached out and grabbed me. In San Francisco I was part of a wild and colorful world of parties, art and music and also part of a band called HETICIDE. That period of my life really influenced where I am now. Nightlife in San Francisco was less of a focused thing; everyone was an active part of creating the world and making events or parties happen.
I've always dressed crazy. I started making clothes when I was 15 because I started going out to raves. The first club I started going to was a mega club with four rooms and two floors where DJs from NYC would come to spin. The club was just down the street from our house. San Francisco made my "looks" a 24/7 lifestyle; not necessarily like drag that would come off and go on -- more like you would just wake up in it. New York is clearly a little different. People are more judgmental and sometimes homophobic, so my life changed slightly when I moved here. Nightlife here is the place where the drag queens can put on their look and the 24/7 freaks can feel really comfortable and at home. I've always been nocturnal, so this very naturally became my playground. When I first moved here I put more makeup on at night and turned up the look a little more, but it was still a 24/7 thing. I had been to parties in NYC and all over Europe before I moved here, so I see nightlife as an international scene. In a way I accidentally gravitated towards the people who organize things and our bond organically formed through mutual respect and admiration.
I never really intended for nightlife to become my job, it just happened. I was working a lot of freelance and random jobs and was literally a starving artist, so when people started to ask me to host parties there was no way I was going to say no -- and it was and still is a great work environment. Desi Santiago and Ladyfag were really instrumental in seeing my potential and bringing me into the world. I'll be forever grateful.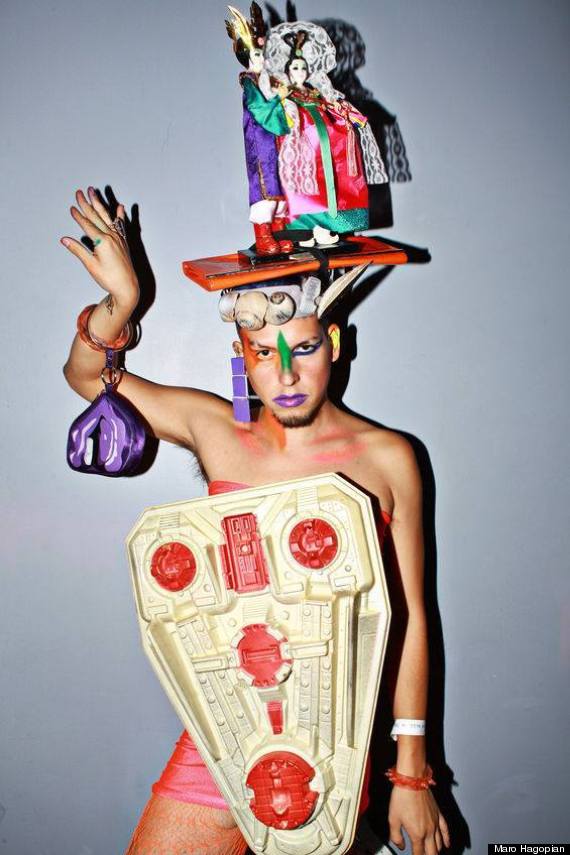 Your work embodies a combination of art, fashion and performance. How do all of these intersect within your identity as gage of the boone and the work you produce?
While nightlife is kind of my 9-5 job and it's fun, like any other artist in NYC you've got to have that job on the side to be able to create your work. I'm really lucky because my art work and work work overlap, in a way, since it's all creative.
I went to school for fashion and sculpture. From an early age I was taking acting and dance classes but I was really shy, so I never thought anything would come from that. However, through fashion and sculpture I realized that performance was central to activating everything. At this point I'm creating multimedia installation and performance pieces. Not to be confused -- I make art/performance for clubs, but also make much quieter and more conceptual work for my own practice. The way I conceptualize things varies. Sometimes its concept based, and the work itself is research into gaining a personal understanding of the ancient past or the future, or esoteric, metaphysical theorems I'm meditating on. Other times it comes from a shape or a color and is completely visual. Usually everything convolutes, eventually emerging, such as a shape leading me to unearthing the concept.
The work in the long run is visual, hermetic and abstract. It's very open to the audience's eye, the aim being to slow viewers down and transport them and their reality. I love doing site-specific work as well, so, sometimes it's more about creating an immersive environment for a specific place. The clothes that I create are also made in this organic way, and they are visual, as well, to break people out of their everyday reality. Sometimes people actually scream when I enter a bathroom. It can be hilarious to see peoples' reactions. Some people are frightened, others in a state of awe, some think it's funny.
What is Dreamhouse? How does it function and what is the vision you have for it?
Dreamhouse was my solution to being asked to present parties -- a way of breaking up my personal identity and my promoter identity: gage of the boone is a performer/artist. I'm not that serious about trying to become a giant promotor. I'm a dancer, so I've always loved getting people to dance and feel comfortable. I started to throw parties because I saw a need for something in the scene and wanted to create an experience for people to get lost in. At this point NYC has an abundance of nightlife, but I guess it comes in waves. When I first started throwing underground events there wasn't much happening. But now it's exploded. People need different things.
Dreamhouse is kind of like the Overground equivalent. It's the underworld creating interventions in nightlife.
The first monthly party I started was at a club in Marseille with a DJ friend, Danton Eeprom, who's now in London. It was a moment where we decided to hijack this club because it was empty and no one was dancing, so we went around the block to get his DJ equipment and came back and started a party. It went crazy pretty immediately and became a monthly thing. In that style, Dreamhouse is inserting different artists/performers and DJs in new spaces to shake things up a bit and keep people dancing and on their feet. KUNST is the first Dreamhouse endeavor; it's a collaboration with Susanne Bartsch. I was excited to do it because it's forcing a collision of Manhattan overground and Brooklyn underground under one roof. Dreamhouse is always different, like a dream that you may never have again in the same way.
The space you run, The Spectrum, has become integral for the evolving queer creative scene in Brooklyn as both a venue and queer community space. What does The Spectrum represent to you and what do you want it to become?
I created The Spectrum in active resistance to NYC shutting down queer spaces. Clearly spaces come and go, but at the time when The Spectrum was created a number of amazing DIY queer spaces/venues had been shut down. It was starting to feel like that was no longer possible, and I wanted to make sure that it was a possibility. There are amazing queer spaces in cities all over the world. I was really inspired, with friends in California, Barcelona, Copenhagen and London for facilitating these spaces. It felt necessary for every queer living in Brooklyn that The Spectrum exist. I feel my role has been to build and begin steering the ship, but it couldn't have thrived without the help of the many friends and volunteers who have helped along the way.
I see my participation in The Spectrum as a helper and a worker but in no way am I a singular face of The Spectrum. Everyone who enters The Spectrum embodies The Spectrum and that's what keeps it a community space. It's a cultural hub nuanced by the many people who come and go from all over the world. This constant flux of participation allows for the space to constantly shift and change and the longer it exists the more international it becomes. I have friends all over the word and hear people talking about The Spectrum globally -- it's an amazing feeling. The Spectrum's main purpose is to provide affordable space for queer artists, musicians and performers to rehearse and create art work. This operates on a sliding scale basis in order to keep the focus on accessibility rather than money hungry profiteering. We also provide donation-based classes: so far we have had yoga, pilates, meditation, esoteric occult theory and dance classes, as well as queer self-defense workshops, but we'd like to continually evolve and add to our programming schedule. We also have monthly performance events, CLOUD SOUNDS which is for live music and REVOLTING GRACE & EXECUTION, which is for readings, performance art and danced-based work. The Spectrum is a space where avant garde work can occur for an audience that is aware and invested in experimentation.
How does technology intersect with your work? How do you think technology has shaped and augmented nightlife?
My perception of technology is based on dreams that I've had that have influenced my work. I have very strange and vivid dreams of the future and extra-terrestrial spaces, where the technology is way more evolved. This is the visual inspiration for a lot of my work. I also think there will be a point where humans realize that they can interact with technology through their physical beings/breath/energy. Technology's effect on nightlife is interesting because the Internet has taken over as far as promotion and, arguably, aesthetics are concerned. There's a global aesthetic shift happening; suddenly people are evolving faster and as a more connected entity. The time it takes for a look to be seen in a club, and then co-opted for the runway by some designer and then worn by a celebrity to then be reproduced for mass consumption is suddenly ridiculously quick and slightly creepy. However, it keeps creativity moving and evolving faster. I think it's amazing that through the Internet more people are able to access the spaces where they will meet like-minded people. It helps to build community. I am just waiting for the next solution to Facebook (which is kind of a nightmare).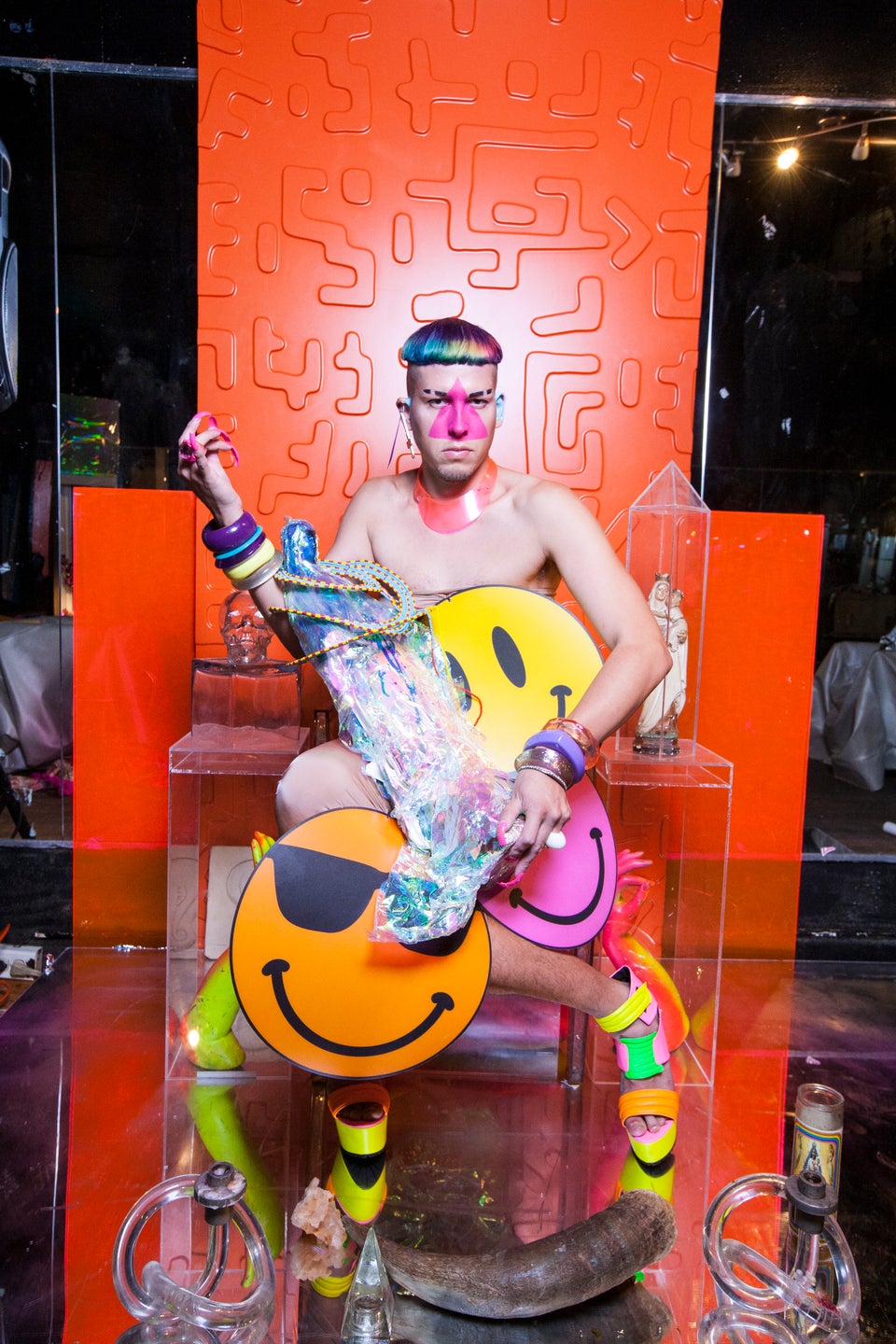 gage of the boone
How would you say nightlife influences or informs your art -- or vice versa -- as well as your identity as an artist and nightlife personality?
My involvement with nightlife has changed over the years -- different periods come in waves, with my personal art work and club identity being more similar at some points and more separate at other times. Even my everyday life shifts -- sometimes I'm a 24/7 weirdo engaged in art all the time, other times I'm in a state of introverted metamorphosis plotting my next aesthetic move or breakthrough. At certain points it's more in flux.
Right now, I'm more interested in having fun at the club and making art and performances separately. My monthly party, OVA THE RAINBOW, was born out of an urge to combine art with nightlife. The party currently varies from month to month, sometimes having visual themes that are somewhat silly -- the one this month being: PUT ON A HAPPY FACE. The root of where it came from was much more of an experiment pushing people into a new environment and seeing how different fully saturated colors or themes would effect a crowd. Sometimes the theme is conjoined with the metaphysical and occult, such as the first one RUBEDO, which was a Red party that delved into the RED phase of the alchemical opus. We have had HYPER CUBED, GOLDEN DAWN, TRANSPARENT, FROST, ONYX and EMERALD TABLET, to name a few -- each one creating an immersive, conceptual installation while simultaneously acting as a "just for fun" environment. Each time we also host performances from musicians and the most conceptual performers I know.
As for myself, as an artist and nightlife personality it's a little confusing, but I think it's more about the space that things occur in. I like to think that there is a symbiosis. At the moment I'm more looking to do things in galleries or different spaces outside of nightlife. As for the "club," I still believe it is a powerful space to create. But at this particular moment it's not my main interest. The way that clubs allow people to come together to celebrate and let go is very unique. It's also timeless and has been happening since the beginning of time. People have been making music, dancing, going into trances, having revelations, Dionysian frenzies since humanity first found consciousness. There's something about beats and rhythms and being connected with the body through movement that has allowed people to express and explore their humanity, as well as the human ability to communicate and connect non verbally.
Kenny Kenny stated in his feature: "We are the shamans of society. We're here to show them you don't have to go by the conditioned way of living. We're here to show them you can live your life in a very authentic way. That's what I think gay people are here for." -- What are your thoughts about this? What do you think the function of queer people, and queer art, is within the context of mainstream society?
NYC makes it really easy to get trapped into a prescribed way of life: you're supposed to get a job and to grow in your field. But there are many other ways to live and grow in cities non-linearly. I read somewhere that shamans wear many different patterns and colors because if you wear more than three or four you send people into a space of trance because their brains can't instantaneously process all the information. I find it much more interesting to never know what different friends of mine are going to look like at any given moment. I also like getting lost on the street, and prefer when unexpected things happen.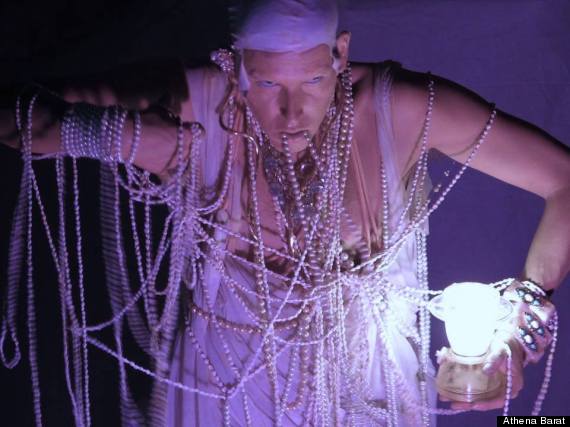 The Situationists did a similar thing when they strove to break up everyday mundane life. I'm constantly amazed and surprised when people clap their hands and thank me on the street for how I look. It's equally powerful when people are morally offended by my visual presence and it's important to remember a look is possibly triggering something deep and unresolved in another person. But most importantly, city children need to see alternate ways of living, so they are aware that they don't have to live the prescribed point A to point B lifestyle they are taught in school and perhaps by their parent/s. When I was 16 or 17, I found out about queer life. Before then I didn't know that there was something beyond gay or straight, and discovering queer identity was like a doorway opened for life to provide infinite possibilities.
It's important for people to dream big and not limit themselves, and also for people to be aware that their existence is political if they like it or not. Queerness is not just about gender or sexuality -- it's about an awareness of infinite possibilities of lives that can transcend gender norms, spiritual and religious understandings, social class limitations, political understandings.
To be queer has always meant that the individual is constantly deconstructing whatever barrier, limitation or label confines them, in order to be open to the moment. It's extremely important.
What projects are you currently working on and what shows do you have coming up?
At the moment Im working on:
REVOLTING GRACE & EXECUTION at The Spectrum Sept 30th 9PM
The next KUNST October 18th. (Dreamhouse)
I host ever Sunday at The Gilded Lily for botaniCULT
A new bartschinspiration collaboration with PS1
Secret DREAMHOUSE party in the works
What do you hope to see as the future of nightlife in NYC?
I really hope that one day the gay/queer and lesbian worlds of New York collide even more. There's a lot of different gay/queer/lez scenes in New York and I love to jump in and out of them, but it would be great if they'd overlap more. Some people perceive that there's competition in nightlife and try to play with that. It's always been a social insecurity, perhaps? Or a thirst for drama? I don't think it's necessary. I see everything currently happening in nightlife building together -- it has some sort of symbiosis and it's making everything stronger. The nightlife family tree in New York City is a little complicated, like any "family," but it's nice to see the strength when the family comes together and supports each other -- it's really beautiful. When I look to the future of nightlife it isn't focused on hierarchies but instead on creativity and passion. Oh, and more crazy LED screens and sci-fi club lighting budgets... This is the future after all...
Popular in the Community