One of the world's largest art galleries has just embraced technology in a big way. This month the Gagosian Gallery is launching an iPad app where users can interact with art in different ways: users can read biographies, reviews and even watch pivotal moments in art history like Robert Rauschenberg's 1966 performance of Open Score.
The best part? It's free.
The app was designed by Academy Award-winning @radical.media, will provide information about Gagosian's eleven galleries through a worldwide exhibition schedule, biographies of artists, a map of all locations, gallery news, a list of current events, reviews of the artists and a link to their shop.
Users will have the opportunity to view exhibitions they might not be able to attend, as well as providing a value add for those who are able to view the exhibition. Art afficionados who can't make it to the New York gallery to see the Picasso exhibition can explore a touch-sensitive sketch which shows 20 different states of a painting of his lover Marie-Therese. They can also watch video excerpts of renown art historian John Richardson, who specializes in Picasso, discussing the exhibition.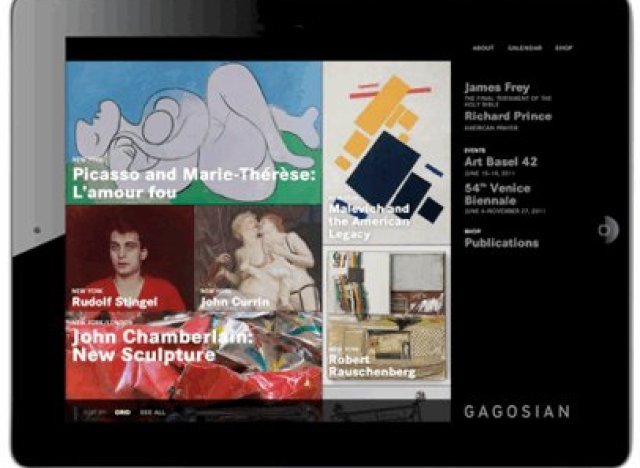 Larry Gagosian, the gallery owner, commented on the reason on timing for the application,
"In representing the most renowned modern and contemporary artists in the world, we are always seeking innovation. @radical.media is a great partner on this project as they utilized new technologies as a means of presenting, examining and giving access to our artists in entirely new ways not previously available."
This application may be evidence of a changing attitude in the art world towards technology, something it has typically been slow to embrace. The launch of this application by a highly respected galley may pave the way for others to follow in a similar fashion, allowing the art world to permeate parts of the world other than major metropolitan areas. The only issue with this, is the fact that the application is iPad exclusive, but perhaps even that will change in time.
The app is under review and pending approval from Apple.
REAL LIFE. REAL NEWS. REAL VOICES.
Help us tell more of the stories that matter from voices that too often remain unheard.