Holidays are upon us! And your friends have politely asked that no more Damien Hirst tchotchkes appear in their stockings. Seeing all those spotty buttons, totes, and mugs may have left a bitter taste in your mouth during your last visit to the Gagosian gift shop, but it seems that this year, the gallery's retail arm has really upped the ante.
It's even put together a handy guide to its star-studded gift shop with recommendations for everyone in your life -- or at least two people. For her, they propose a $7,000 tea set. But will she ever use it? you may wonder. For him, they suggest the Avedon "Women" catalogue. But he doesn't even like women! you may say.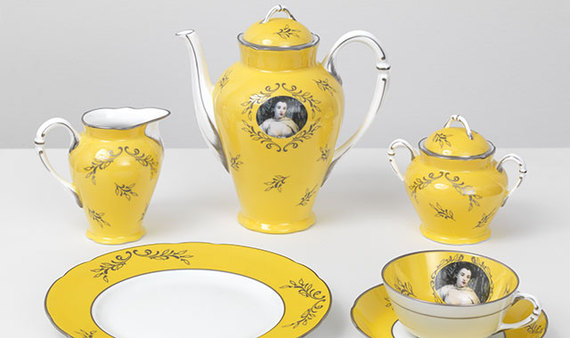 Cindy Sherman's "Madam de Pompadour" Tea Service ($7,000) / © ARTES MAGNUS EDITIONS. Courtesy Gagosian Gallery. Photo by Robert McKeever
Because we know your friends better than Larry Gagosian does, ARTINFO has recalibrated his gift shop's guide to be more specific, homing in on some ideal recipients.
1, Urs Fischer "Drywall" Wallpaper, $1,500 per sheet
The dust is just now settling from the gift shop's recent move (once at 988 Madison Avenue, it found extra gallery space at 976) and reopening, and it looks like the new storefront is badly in need of a paint job. Not so! That's the illusion put on by Urs Fischer's hyper-realistic "Drywall" wallpaper. The white swaths of taping and rough specks of spackle are so convincing that it actually looks like paper -- which comes in 10 slightly different versions -- has been torn off of the walls. The effect is trompe-l'oeil, but in reverse, and with a "Zoolander" Derelicte spin.
Best for: Your fashionable Williamsburg friend who pays the big bucks for distressed designer jeans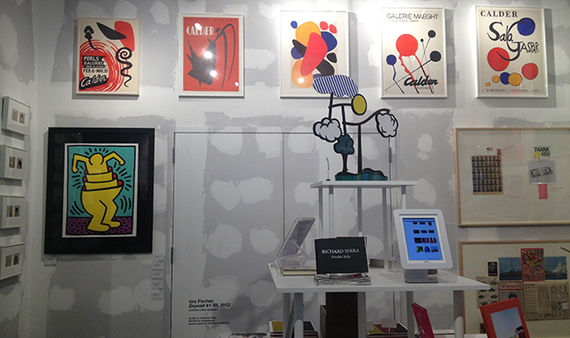 2. Leica Binoculars, $995
A bonus feature of the new space is the Leica shop-in-shop. You could get a new camera, but might we suggest a pair of candy-colored 10x25 binoculars for him and her? They might not birdwatch, but we bet they like art. If you've ever muscled your way through a Frick crowd to get a closer look at "Girl With a Pearl Earring" on a Saturday, you might have realized its better to look from a safe distance.
Best for: Gallery-goers who would rather not put up a fight
3. Cindy Sherman Madam de Pompadour Tea Service, $7,000
This fiscal year, the phrase "tea party" has gotten some bad press, but let's not forget what the words really refer to: the childhood ritual of serving invisible tea and crumpets to stuffed animal guests. Cindy Sherman posed as the titular Louis XV mistress and applied the print to a limoge porcelain set based on Madame's original 1756 French wares. Invite over Paola Pivi's Dayglo feathered bears, located a few blocks down at Galerie Perrotin, and offer them a nice cup of air.
Best for: The especially pronounced inner child
4. Richard Phillips Surf Board, $5,000
She's just too pretty to bring out to sea. Perish the thought of scratching that shiny veneer. She is, however, an ideal prop for people who like to brag about big waves in Montauk but don't really like to get wet.
Best for: The landlocked liar
5. Andy Warhold Artcash, $350
What the tykes of today don't know is that long before there were Banksy notes, there was Warhol Artcash (the origins of stenciling thing, you can teach them about later). In 1971, he printed individual notes on actual U.S. currency paper for a casino-themed benefit for Experiments in Art and Technology (EAT). At Gagosian, each bill comes sandwiched between two slabs of clear Lucite held together by magnets, making the bills easily accessible in the event that you need to make it rain Warhols.
Best for: Little ones in need of a history lesson
REAL LIFE. REAL NEWS. REAL VOICES.
Help us tell more of the stories that matter from voices that too often remain unheard.