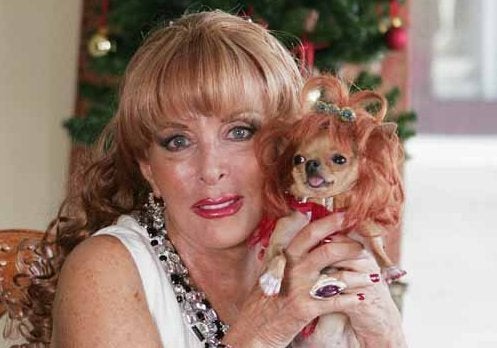 Heiress Gail Posner's dogs are used to living in the lap of luxury, and despite their owner passing away, it seems they won't have to make any adjustments to their lifestyle.
The New York Post reports that Posner has left her $8.3 million Miami mansion and a $3 million trust fund to her beloved pooches, including one named Conchita.
Posner's only living son, Carl, a small-time filmmaker, is disputing the will, filing a lawsuit to have it revoked and accusing his mother's aides of drugging her in a conspiracy to gain control over her considerable wealth. The Wall Street Journal reports:
Household aides, he claims, drugged his sick mother with pain medications and conspired to steal her assets by inducing her to change her will and trust arrangements in 2008. Others, including his mother's trust attorney, he alleges, used their influence to bend her wishes. Mr. Carr, who was bequeathed a relatively paltry $1 million in his mother's will, makes the claims in a lawsuit filed last week in probate court in Miami-Dade County.

Among Mr. Carr's claims is that the aides directed a "deeply disturbed" Ms. Posner to hire a publicist to promote Conchita as "one of the world's most spoiled dogs"--complete with a four-season wardrobe, full-time staff and diamond jewelry
Posner gave an interview in February of 2009 to the Broward and Palm Beach newspaper New Times in which she elaborates on her bizarre relationship with her chihuahua Conchita.
And why is she getting her own Range Rover? What color does she want?

We actually have made the decision not to get her the Range Rover. Instead, I got a new car and gave her the Escalade. She, along with her two sisters, gets driven in it to and from their weekly puppy spa appointment, where they get manis and pedis. The Escalade is gold.
Posner was also close to launching a fashion line that seems designed only with her in mind.
In addition to taking care of Conchita, and your philanthropic causes, do you have any pursuits such as business ventures or other projects?

I am very close to launching my match-your-pet company that will allow mommy and puppy to share the same outfits. All items will be hand-sewn and made to order.
To be fair, her dogs were not the sole beneficiaries of her will. Several bodyguards and aides received large sums of money, as well as the right to live rent-free in her mansion. Provided they care for the dogs, of course.