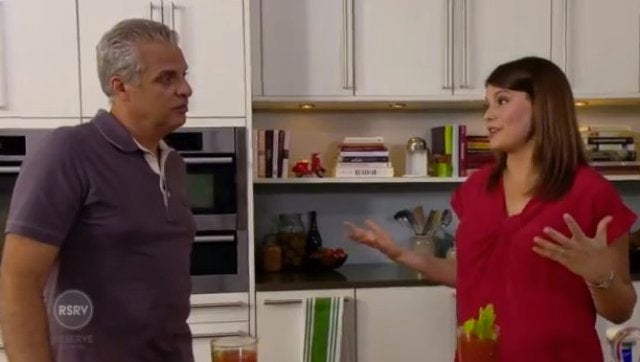 There's really no use trying to hide this from you guys, so we're just going to come out and say it: we really, really, really love Gail Simmons. So, when we found out that she was going to be Eric Ripert's next guest on his web series "On The Table," we were more than a little excited. When we found out that Gail was going to make Ripert two of our favorite things -- Bloody Marias and Welsh Rarebit -- we absolutely swooned.
We've always admired the obvious things about Simmons: her confidence in the kitchen, her obvious, innate love for eating good food and her ability to make the male chefs around her blush with her honesty and her jokes. What this episode taught us is that somehow, there is even more to admire, including her time wrestling chickens on a kibbutz and her insistence on working in kitchens before becoming a food writer, to really know how it felt. Also she is really serious about her eggs.
We're sorry. We know we're gushing. This episode is awesome.
Check out the episode (and Gail's Bloody Mary and Welsh Rarebit recipes) below:
"I can peg the greatest milestones in my life to what I ate. And I don't think I'm alone. And I don't think you have to be -- you know -- a food-obsessed person for that to be true," Simmons notes near the end of the video. There are times when you listen to other people talk about food and know, beyond a shadow of a doubt, that they know exactly how you feel. Watching this episode of "On The Table" was one of those times.
In a small saucepan over medium heat, melt:
1 tablespoon unsalted butter
Using a rubber spatula, stir in:
1 tablespoon all-purpose flour
Cook, stirring often, until mixture is golden brown and very fragrant, about 3 to 5 minutes.
Stir in:
1 ½ teaspoons mustard powder
¼ teaspoon cayenne
Then stir in:
½ cup Guinness stout
1 tablespoon worcestershire sauce
When mixture is smooth, reduce heat to low.
Whisk in until very smooth:
4 ounces extra-sharp cheddar cheese, coarsely grated
Spread a thick layer of the mixture on:
4 slices lightly toasted pumpernickel bread, cut ½-inch thick
Transfer to a parchment-lined sheet tray.Place pan under broiler. Cook until cheese is bubbly and edges of toast are crisp, about 4 minutes.
In medium skillet over medium heat, melt 1 tablespoon unsalted butter. When butter begins to foam, reduce heat to medium-low, crack 4 eggs into butter. Cook until whites are just set and yolks are still runny.
Remove toast from broiler. Place one egg on top of each slice of bread. Season with coarse salt and freshly ground black pepper. Serve immediately with cornichons or other pickled vegetables.
In a small bowl, combine:
lemon juice
dijon mustard
coarse salt
freshly ground black pepper
Toss together with:
1 bunch of arugula or mixed greens
3 ripe heirloom tomatoes, sliced