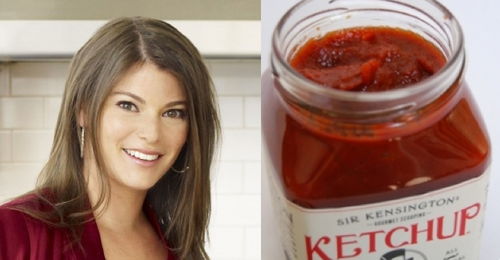 "Cooking is the only craft that relies on all five senses. The only way to become a great cook is to use them all." Gail Simmons, judge on Top Chef joins us for an interview and shares her insights on cooking and ketchup.
What helpful home-cooking tips can you pass on to us?
Read the recipe thoroughly then pull out the ingredients and plan out the prep before you begin to cook (called "mise en place"). Actually measure them out so when you're cooking you can use the "reach and dump" approach. This is a far easier and more reliable way to cook.
Taste your food as you go and season as you go. It's much easier to correct a dish when you're half way though than when you're done.
Trust your instincts. There is a reason why you never see a measurement for salt and pepper in a recipe - no one can tell you how much you need. Cooking is the only craft that relies on all five senses. Use them all!
You're exposed to a lot of food trends - are there any you're getting tired of?
This is one that I'm not really tired of, I just think that some cities (including NYC) don't do it very well (compared to say Austin, Texas) and that's food trucks. In Austin there is literally a perma food truck "park" . There's an egg truck called "The Local Yolk" with various flavors of deviled eggs, and "Pig Vicious" with pork belly sandwiches!
Any trends you're seeing that might be on verge of becoming big?
I'm seeing a lot of people attempt the curing and brining of their own meats. For example, people making their own beef jerkey. It's small scale now, but it's growing.
Speaking of preparing foods are there any small-scale packaged foods you've fallen in love with recently?
Yes! Two....
Sir Kensington "ketchup": It's thicker than normal ketchup and has a hint of salsa but it's smooth. (Sidebar from Michelle: Another vote for Sir Kensington! It was served at two restos in NYC where I ate, The Little Owl and The Fat Radish. It was so delicious, that after the burger was gone, I spooned the remaining ketchup out of the tiny bowl it came in and ate it. It's now available at some Whole Foods and Williams Sonoma. It comes in Classic and Spiced - go for the Spiced, which is not too spicey and buy two.)
Red Boat fish sauce: Many people are turned off by the idea of fish sauce, but when used sparingly it's genius. Red Boat is an exceptional brand from Vietnam - add to salad dressing or dipping sauce or as one chef taught me, put a drop in your risotto and you will need less cheese to get the same rich flavor. It adds a deep umami flavor. (Sidebar from Michelle: It now has its own Facebook page and is available on Amazon.)
You've tasted literally thousands of dishes on Top Chef, is there one that stands out above all others?
That would have to be the Fried Banana Fritters with Sriracha. (A Thai hot sauce that's ubiquitous and comes in a clear plastic bottle with a green plastic top). It was so good I still crave it.
Most common mistakes that you see the chefs make on the show...
It almost always it has to do with them not tasting their food (due to the enormous stress and time pressure). There's also the issue of under and over seasoning, and poor "balance". Balance is key in cooking - you want a little acid, a little sweet, a little savory - the flavors should be harmonious.
Is all the access to food content making us better cooks or is it simply entertainment?
I can't say it's making people better cooks, but it is opening up the conversation and making us more aware of food. The basic language and knowledge has been greatly elevated because of the access too food content. It's also opened up food and cooking to new audiences. There are now seven year olds that want to be chefs! But food as entertainment has been with us for a long time - in the 60's Julia Childs was cooking on TV. Like baseball, food will never go out of style; we will always need to eat and we will always find it entertaining. I think of food TV this way - all the fun and none of the calories.
Food politics is a common source of discussion these days, Tom Collicchio (your fellow judge and the first chef at Gramercy Tavern in NYC) was criticized on the show for serving corn fed beef (as apposed to grass fed) at his high-end restaurant Craft in Los Vegas .... what can you say about this?
First and foremost, you have to remember that restaurants are businesses and they have to stay in business. And though everyone thinks they want grass fed beef, most people actually prefer the taste of corn fed - it is less dry, more marbled, and less gamey, not to mention much less expensive than grass fed.
In general, do you think high profile chefs have any ethical/political responsibility when it comes to the food they serve?
There's not a single chef I know of that does not think about the politics of the food they're serving. Some have taken on sustainability in a very major way (for example Dan Barber) while others are involved in other facets of food issues. Tom Collicchio is very focused on hunger and recently made a documentary called "Hungry in America". I personally am on the board of City Harvest.
You often have judges that are not from the cooking world - any that stand out as incredibly fun to have had at the judge's table?
Adrock from the Beastie Boys - the band actually has a long history of rapping about food. They have over a 100 songs with food references.
Ok, final question, who would be your absolute dream as a guest judge on Top Chef?
Amy Sedaris - she is one of funniest people I know AND a great cook.
Your turn. Whether you watch Top Chef or not, we are now able to gorge ourselves with food content - it's the all-you-can-eat buffet that never closes. Is there too much? Want more of some stuff that we don't get enough of? Has it made you care more about food? Eat better? Cook better?
Michelle Madden is the creator of the award-nominated food blog, The Sweet Beet (nominations include a Webby and Saveur.com's top food blog). On her funny, engaging but highly informative blog, she shares tips and tricks for eating healthy along with original recipes. You can find her at www.thesweetbeet.com

Calling all HuffPost superfans!
Sign up for membership to become a founding member and help shape HuffPost's next chapter