Food Informants is a week-in-the-life series profiling fascinating people in the food world. We hope it will give you a first-hand look at the many different corners of the food industry. Know someone who would make a great Food Informant? Tell us why.
Gail Simmons is a trained culinary expert, food writer and dynamic television personality. Since the show's inception, she has lent her expertise as a permanent judge on BRAVO's 2010 Emmy-winning hit series "Top Chef," and is host of "Top Chef: Just Desserts," its pastry- focused spin-off, which just completed its second successful season.
Gail joined Food & Wine in 2004 and directs special projects for the epicurean magazine. Prior to Food & Wine, Gail was the special events manager for Chef Daniel Boulud's restaurant empire. She was born in Toronto, Canada and moved to New York City to attend culinary school. She then trained in the kitchens of legendary Le Cirque 2000 and groundbreaking Vong restaurants, and worked for esteemed food critic Jeffrey Steingarten at Vogue. Gail makes regular national culinary event and TV appearances and has contributed to several cookbooks. Her first book of her own, "Talking With My Mouth Full," is available today.
Read Gail's diary below to learn about her busy week right before her book launches.
Monday, February 6
8am: Getting over cold so didn't sleep so well last night. Need a hearty breakfast. I make hot oatmeal with shredded coconut and maple syrup.
10am: Conference call with my publicist about upcoming book launch: "Talking With My Mouth Full." It comes out in just 2 weeks and there is so much still to do for it -- coordinate details of book launch party, book tour schedule travel, confirm recipes for the multitude of cooking demos I will be doing as well as book talks and signings, and of course a major wardrobe consult is in order.
2pm: I'm in my office at Food & Wine magazine. After a lunch of a Greek salad from the local diner, I am faced with a bunch of press interviews and deadlines. Today: AdWeek and Hollywood Reporter are calling, and I have to write a short paragraph for Zagat about my best meal ever (see second slide).
4pm: Meeting with my assistant Allison, my partner in crime, to brainstorm several recipes I need to submit for various cooking demos.
5pm: Call with an event company in Calgary, Alberta looking to create a food and wine festival there with me...a check of the weather tells me it is about 18 degrees there right now. They better be thinking August. I may be Canadian by birth but after 12+ years in New York I have grown soft. Canadian winter is a whole other species...
7:30pm: Knicks Game at Madison Square Garden!!! This is my very first time at a Knicks game and I had forgotten how much fun basketball is to watch. I'm with my husband Jeremy, my agent Jeff and his associate Jenni. It's been a while since I have been at MSG in general and am so excited about the food makeover it's received since my last visit. In between cheering for Jeremy Lin, we feast on Hill Country brisket sandwiches, Jean Georges Vongerichten's chicken with soba noodles and fresh dill (yes, fresh herbs on food at a sporting event!) and a chicken hot dog with kimchee. Oh, and Bud Light. Yum. Jeremy Lin kills it. Knicks win against the Utah Jazz 99 to 88. Lin scored 28 points. Move over Manning, NYC has a new hero. Hooray!
10:30pm: Home! I now have to preview the upcoming episode of "Top Chef" every Monday night so I can work on a blog for Bravo as well as a recap for Entertainment Weekly online each week. This was a great one, the last episode in the season before our Whistler/Vancouver three-part finale begins. Bev is back (after winning "Top Chef: Last Chance Kitchen" on the "Top Chef" website)! We bring in the 5 remaining chef's mentors and ask them to each cook a dish for all of us. It's a very emotional challenge and Paul is victorious. I have to admit, his chilled Dashi & Sunchoke soup is one of the best dishes I have EVER eaten on the show. Ed Lee is eliminated. He is a talented chef and I am sorry to see him go but he definitely made the most mistakes that night.
11:30pm: Still time to get in one episode of "Friday Night Lights" before bed. I am deep into this show and sort of obsessed, so be warned: I will talk about it many more times this week.

Tuesday, February 7
9am: Institute for Culinary Education (ICE) advisory board meeting and facility review. Its my old alma mater and I attend meetings with them about twice a year. Always nice to go back and see how things are changing. Also a chance to catch up with industry friends like Chefs Kerry Heffernan, Michael Laiskonis, Scott Campbell, and ICE president Rick Smilow.
11:30am: I have a call with Josh Wesson, wine expert, author, and dear friend, to discuss our upcoming food and wine pairing seminar for the South Beach Wine & Food Festival on February 26th. The seminar is based on recipes from my new book as well as from important milestones in my life. He has arranged to pair some pretty exciting wines with each course. Check it out and join us if you can.
12:30pm: I make a salad of shredded carrots, broccoli, avocado and red cabbage with lemon, soy, a drop of fish sauce and a little sesame oil. Allison arrives to test a recipe with me. I am shooting an episode of "Dr. Oz" on Friday and they need the final recipe by tomorrow. It's for a "snacking" episode which will air February 17th. They have asked me to make a Five-Layer "Belly Busting" Dessert for the show, wherein each layer has an ingredient that is good for you but that still tastes great. I am starting with a Devil's Food Cake that uses Greek Yogurt instead of eggs and oil. The next layer is skim ricotta with coconut milk, shredded coconut and agave, then a sprinkle of finely chopped walnuts, flaxseeds and toasted oat, followed by piles of fresh berries (I know, its February, but what can you do!?) and finally lots of shaved dark chocolate on top. The final dessert is not necessarily what I would think to make on my own, but I have to admit, it tastes pretty good.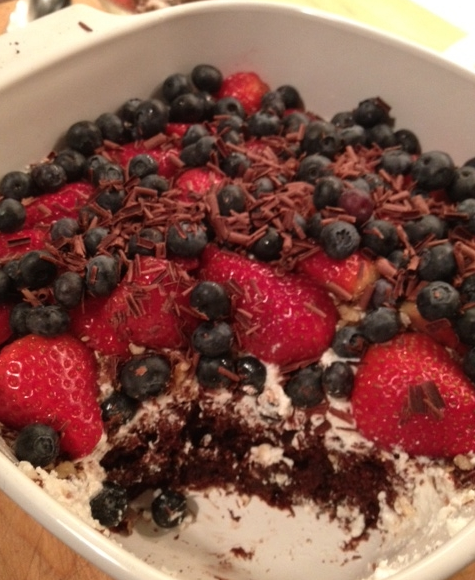 2pm: Allison and I work on updating my Google+ page. I can admit that I have been slow to most social media. I mastered Twitter early on, but really don't spend enough time on Facebook and the rest. Google is working with me on a bunch of events for my book launch so I am trying to get better acquainted with the site.
3pm: I meet my agent Jeff for a meeting with a lovely lady named Sheila from ShopNBC about possible brand collaboration and promotional opportunities.
5pm: Weekly Q+A call with my friend Monica from Bravo -- she's the editor of BravoTV.com and is one of the most patient and easygoing people I have ever worked with. I guess she has to be if you consider the "Bravolebrities" she has to deal with every day. We discuss the upcoming episode I watched last night for my blog. Then we spend about 15 more minutes talking about "Friday Night Lights." I can't help it.
6pm: My old friend Jason Kirk is in town from LA so I meet him at Peasant in Nolita for a drink before I have to run off to dinner. He and I studied in Spain together fifteen years ago and have remained close ever since. He and his wife Christine are planning a trip to Vietnam and Cambodia soon and since I went to Vietnam for my honeymoon four years ago, we spend most of the time talking about all the amazing things he will see, do and eat. I recount to him my favorite story from that trip, which you can actually hear for yourself, as I recently told it to an audience of 1,000 people for The Moth.
7:30pm: Dinner at Parm with Danyelle Freeman. We shot a season of "Top Chef Masters" together in LA 2 years ago and try to get together a few times a year to catch up. I haven't been to Parm since it first opened in November so am excited to try it again. Rich Torrisi, one of the young chef/owners, is an old friend and I am very proud of how well he has done. We worked together for several years when he was a line cook at Café Boulud, under Andrew Carmellini, and I was working on events and marketing for Daniel Boulud and all his restaurants. Danyelle and I over-order as usual: calamari with Italian long peppers, fresh mozzarella wrapped in prosciutto, baked clams, baked ziti, their famous eggplant parmesan, and of course that incredible ice cream cake (see below). At the end of our meal we bump into a few other friends who are there too, Kate Krader (Food & Wine's Restaurant Editor and Robin Insley, a NYC restaurant PR expert).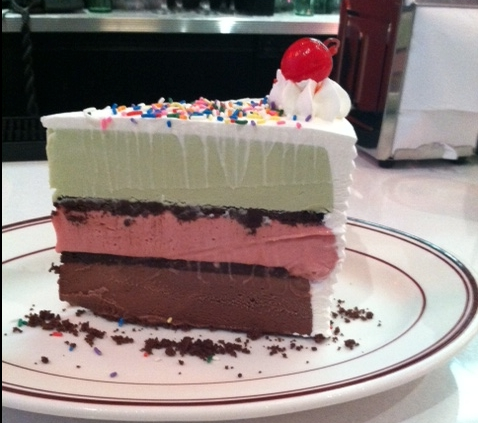 11pm: Just one episode of "Friday Night Lights!" Pretty please? Oh and I watched that night's episode of "New Girl" too. Hilarious. Two words: Underpants Captain.
Wednesday, February 8
9:30am: Weekly Food & Wine "coffee talk" with Wendy Mure (VP Marketing), Sonia Zala (Promotions Director), and Diella Koberstein (Senior Event Marketing Manager). We eat bagels and cream cheese and discuss everything coming up for Food & Wine, including my article in the March issue, updates on the Food & Wine Classic in Aspen, what we are doing at the South Beach Wine & Food Festival at the end of the month, and much more.
10:30am: More press interviews -- Tribune Media, Entertainment Weekly for my Top Chef blog, Elle.com
12pm: Food & Wine meeting about my book launch party! I cannot reveal the details but it is going to be AWESOME. Thank you Food & Wine and Essie Nail Polish.
1:30pm: COOKIES FOR LUNCH! My friend and mentor, cookbook author extraordinaire Dorie Greenspan, has a fantastic cookie company called Cookie Bar, with her son Josh. They are doing a Valentine's week pop-up at a storefront on Park Avenue so I just have to drop by and support them. Allison and I order way more cookies than we should. My favorite are the chocolate-peppermint and the classic blondie.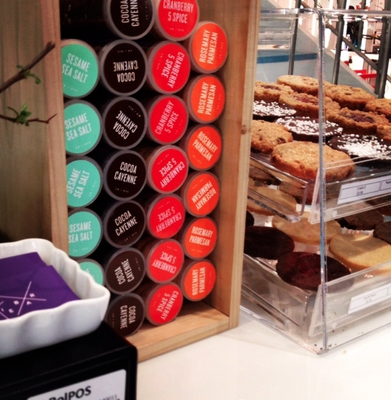 3pm: Conference call with the producer and food stylist from "The Dr. Oz Show" to finalize all details for my segment on Friday.
5pm: I pop into Jeff Chastain Parlor to see my friend Jessie Riley, who does my hair and makeup when I have to go to events. She's got mad style.
7pm: Jeremy and I head to Brad Pitt's Make it Right Foundation's event with eBay for a celebrity auction to benefit his work in New Orleans' Lower 9th Ward. I do some chatting on the red carpet, eat a few mini muffalettas, and check out the awesome auction lots.
9:30pm: I'm still hungry and my hair is looking so good that we cannot go home yet. So Jeremy and I go to Pastis, just around the corner from where the event takes place. I have not been here for a really long time -- its amazing how some things never change. It's still packed as always. We eat white bean and vegetable soup, grilled striped bass, chicken paillard and are home by 11pm!
11:30pm: Leftover cookies from Cookiebar and another episode of "Friday Night Lights." Coach Eric Taylor is my guru.
Thursday, February 9
9:30am: Coffee and avocado toast at The Commons Chelsea with one of my best friends, Jessica. She has three kids and we both have so much going on that we just don't get to see each other enough. We try to meet for quiet coffee once a month in the morning. I love this new little coffee place, its right near my house and they use La Colombe Torrefaction coffee. It's the best.
11:30am: Another recipe brainstorm session with Allison for 3 cooking demos I have to do on book tour (Vero beach, Florida, Seattle, and Montreal, as well as for a recipe I need to submit to Design Sponge (my favorite design website/blog!).
2pm: After wolfing down a bowl of lentil soup and a banana for lunch I have more press interviews for the book: YumSugar.com, People.com, and DivineCaroline.com. My cheeks are getting tired from yapping so much.
7pm: Time for the gym. A necessary evil. I go to the YMCA. It's for EVERY BODY.
9pm: I'm home too late to cook dinner so Jeremy and I order from Dirty Bird on 14th Street. It's pretty much the go-to take-out in our house. I love their rotisserie chicken, chopped salad and brussels sprouts. They also make these really delicious sauces that I could drink if I was allowed -- classic hot sauce and amazingly lemony honey-Dijon vinaigrette.

Friday, February 10
11:30am: I work from home all morning, answering emails and writing up a few recipes so I can meet my friend, Canadian author of the award-winning food history book "Save The Deli," David Sax, for an early lunch at Buvette in the West Village. I have been wanting to go here for so long and have heard so many great things. It lives up to the expectations. I have a Croque Madame with mushrooms and spinach, an extra large latte, and a glass of blood-orange juice. David will be hosting a book event for me in March for the McGill University NYC Alumni Chapter. We are both alums but actually first met when I was about 15, at summer camp in Northern Ontario, Canada.
1:30-5pm: At 30 Rock for the Dr. Oz show taping. Allison and I are there for over 3 hours, but the Five-Layer Belly Busting cake is a hit. Dr. Oz is very hands-on when I make it during our segment, which I love. Can't wait to see the show air next week!
8:30pm: Date night with Jeremy! We go to Hangawi in Koreatown, one of my favorite restaurants. It's vegetarian and the menu is vast, with so many delicious choices. Korean food is so spicy and satisfying. We order kimchee, mushroom and leek pancakes, the Hangawi salad, a tofu hotpot with ginger, the kimchee brown rice bowl, and extra spicy rice cakes with vegetables.
10:30pm-1am: Jeremy is going out of town for the weekend so he has to pack. I help a bit but get distracted by "Friday Night Lights," of course...
Saturday, February 11
11am: I meet another close friend Stacey and her husband Glen for brunch at Red Farm. It's such a fun addition to my neighborhood and the food is great: shrimp dumplings, pork and shrimp soup dumplings, steamed pork buns, egg roll with Katz's pastrami, vegetable spring rolls, Kung Pao chicken dumplings, pineapple and arugula salad. Ed Schoenfeld, the owner, regales us with stories of his years in the restaurant business.
1pm: I need to find some clothes for my upcoming book tour -- so many events! Who has the wardrobe for this? Stacey comes with me to shop uptown a bit. We find one thing but I am not totally satisfied...I go back downtown to run a bunch of boring errands at Duane Reade, Best Buy and Bed, Bath & Beyond. Three of my least favorite shopping experiences.
6:30pm: The gym. Again.
8:30pm: In a cab on my way to a friend's birthday party in Nolita I learn that Whitney Houston has died! And I will ALWAYS love you. Period.
8:45-11:30pm: Who knew Lovely Day restaurant on Elizabeth Street had such a cool little private room downstairs? My friends Alan & Sarah are having a joint birthday party (they are married). I have always liked this little place. Good sliders, edamame, calamari with yuzu, sweet potato fries, veggie summer rolls, and lots of wine.
12:30am: Home pretty early so can watched "SNL" on DVR. Zooey Deschanel does a pretty great job as host, I must say. She's adorable. I'm a big She & Him fan (her band). And I hear she is a big "Top Chef" fan. I like a girl who can make fun of herself and who also looks so cute in those frilly dresses...plus, she can dance! Who knew?
Sunday, February 12
10:30am: Cleaned out my home office, which I have been putting off for months. Went through all my book drafts, edits, and notes that piled up over the last 6 months. It was sort of therapeutic. I can now officially put it all to bed.
1pm-6pm: I take the F Train to Cobble Hill, Brooklyn to cook a long, boozy lunch with friends: Nilou Motamed and Peter Lindberg (both star editors at "Travel + Leisure"), Evyn Block and Adam Sachs (PR master and famed writer, respectively) and their little man Will (7 months), at the home of Susan Naci (Ad Director at Vanity Fair) and Alan Barlis (Principle architect at Dennis Wedlick) with their awesomely cool kids Rainen (4) and Sabine (14 months). Nilou brings a fantastic Iranian potato and egg pancake called Koo Koo, we grill three huge rib eyes, stew Turkish lentils with lots of garlic, cumin and dried spearmint, toss up a arugula & tomato salad, a few fried eggs for the kids, grilled zucchini, roasted cauliflower. All while guzzling bottles of Lambrusco and Brooklyn Local 1 ale. For dessert, I brought discs of Mexican chocolate with ginger to whisk into milk, and a pile of black & white cookies from Empire Bakery. Not bad. We all stumble home happy and full.
7pm: I signed up for a SoulCycle class three days ago and now I have to go. Still tipsy from lunch. It seemed like such a good idea at the time...I trudge over to their Union Square location and somehow I get through it. Feels pretty good to sweat out that garlic actually.
8:30pm: Home in time to watch the Grammys, do a few loads of laundry, work on an essay I have to submit to Barnes & Noble as a special extra for Nook purchasers of my e-book, and get to bed early. Next week looks like a busy one. G'Night!
See previous Food Informants below:
PHOTO GALLERY
Food Informants(CLONED)(CLONED)
REAL LIFE. REAL NEWS. REAL VOICES.
Help us tell more of the stories that matter from voices that too often remain unheard.