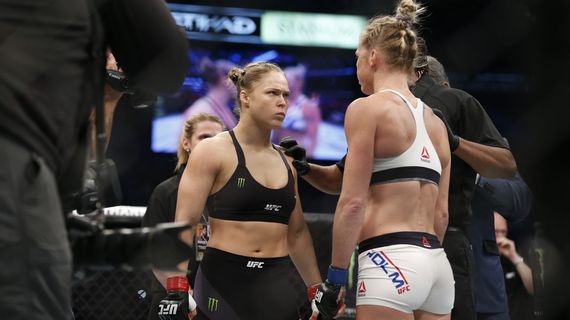 The rumblings are getting louder that a Ronda Rousey-Holly Holm rematch will happen next fall. For those of you not savvy in UFC cage fighting, don't worry: this article does not require you to be an expert. The only background information you need to know is that three short months ago Ronda Rousey was considered unbeatable.
Unbeatable of course until underdog Holly Holm took her down in a huge upset.
I've been there before. Well, not literally. My gift of gab has gotten me into fights, but that same gift has talked myself out of those fights, giving me an unblemished 0-0 fighting record. But I have been on a winning streak, riding high on a wave of momentum thinking I have captured some new business, when out of nowhere I get slammed to the mat. So what can we learn from Rousey about getting back up and preparing to win the proverbial rematch? About three-and-a-half things:

1. Analyze the tape and learn what you can. When Rousey looks at the footage of her first fight against Holm she will see that they fought in Holm's fighting style, which played right into her hands. If Rousey goes into the next match fighting her own style, she'll have a much better shot. Likewise, we should take the time to reflect on a business defeat. What went wrong? How can we make adjustments next time? Can we get our competition into an octagon to take some swings? Okay, maybe the rage of that last question should be channeled to the safe environment of a kickboxing class.
2. Prepare, but allow for some improv. Rousey will make adjustments of course, but Holm knows that and she's going to make adjustments right along with her. And sometimes that means tweaking the overall game plan on the fly. Have you ever been in a one-on-one potential new business meeting and the other person thought the meeting was about something else entirely? I once had a meeting that I thought was about keynote speaking at a major company and the guy on the other side of the table started talking about my career path. With my baby face, he must have thought I was there for career advice which forced me to steer the conversation politely back to the rails. Simply put, sometimes it doesn't go as planned.
3. Timing is everything. The UFC is scheduling the rematch for November, almost a full year after the first fight, which is a long time by fight standards. This intentional push-back allows the hype machine to gain momentum and have people buzzing. Similarly, we need to know when to pounce. For example, if there is a busy time of year for an industry, that might not be the best time for new business. The more you know about your potential customer's schedule and making sure your pitch fits in their calendar, the more it helps you.
And three-and-a-half: Beware of "perfectionist syndrome." Some people prepare, prepare and prepare but never pull the trigger because they feel their pitch/presentation/whatever isn't ready. Sometimes you just gotta go to print even if there's a tpyo... er, typo. After all, not scheduling the rematch is a sure fire way to not win the fight.
I'm a lover (not a fighter) on Twitter. Hit me up there!
Calling all HuffPost superfans!
Sign up for membership to become a founding member and help shape HuffPost's next chapter