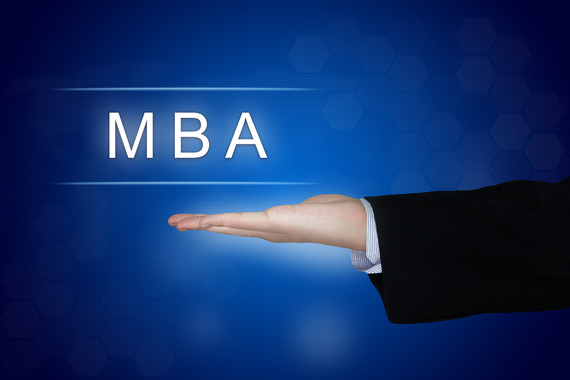 Higher education tends to cost an arm and a leg in the United States, but it's still one of the best ways to get to where you want to go when you're dreaming bigger life, career and financial goals. Americans value hard work and education and like to reward it.
According to the U.S. News and World Report of the Best Grad Schools in Business for 2016, Stanford University, ranked #1, costs $61,875/year for full-time tuition. That's a hefty debt to take on, even if you do anticipate raking in the big bucks one day. Poets and Quants, a website devoted to coverage of business schools, MBA degrees, business school and MBA ranking and admission advice, says, "Students have long gone to business school to gain entry to high-paying jobs in consulting, investment banking, private equity, venture capital, and hedge funds. So it is hardly surprising that the MBA has been the ticket to some of the best money-making careers in business."
But what if you have a family? What if you already have a job you love, but want to advance further up the food chain? What if you don't want to relocate? And what if you're still paying off that undergraduate debt, house or car, and don't want to add so much more to your bill? How can you get ahead with your career and command a higher salary without the big time commitment and financial investment?
There are no shortcuts to putting in the time to get an education, but Hugh Sherman, Dean of the College of Business at Ohio University, says there are other paths, including an online MBA: "Students...know the workplace is changing, and they want to gain the skills to become creative, high-knowledge leaders who can progress and gain more control over their careers." As you weigh your options, here are reasons to consider obtaining an online MBA through an accredited institution:
Less time, less debt. One of the major advantages of getting an on-line MBA is that you don't have to quit your job, move away from your family, or spend as much money on tuition as a full-time on-campus MBA program would demand. Full-time MBA programs have higher tuitions and require time away from your life and job in order to attend class. With an online MBA program, you can work toward your future without letting go of your present or putting it on hold. Dan Smith, former dean of the Kelley School of Business at Indiana University, said, "If you're going to stay generally on your same career path, the online MBA programs work pretty well. Some [people] are often times looking to move ahead with their current company or stay within that industry, as opposed to making a radical career change."
Higher salary. Education is an investment in your future. Poets and Quants reported in 2013, "For U.S. citizens who graduated from two-year MBA programs...the employment rate was a whopping 95%, the highest level in the past five years and up from 91% last year." That's a nice statistic. CBS News adds, "In the right circumstances, an online MBA can indeed boost your career (and hiring someone bearing one can indeed help your company). It's all a matter of matching your skills with the right program at the right stage of your career."
You may actually learn better and more. In CBS's "What's an Online MBA Worth?" Peter Shea, former head of the online education system for the State University of New York, said, "There is a growing body of evidence that suggest that the quality of online learning outcomes...is actually better than that of face-to-face instruction." Be sure to vet your online MBA choices. You want to make sure that the on-line MBA faculty has a crossover with the residential faculty - if they outsource their faculty it is a sign the program is not as reputable and they don't place the same value on their online education options.
Some people like the branding that comes with a top business school and are willing to risk the debt in order to "wear" the school label and benefit from the networking opportunities. But there is more than one way to reach your goal, and an online MBA from a top accredited school with great faculty at a lower cost is an attractive option. In the end, you have to make the best decision as to which path will yield the highest return on investment for you and your career.
Popular in the Community