In 2005, I went to Africa to do research for my latest one-woman show Let Me Down Easy. The play is about resilience and vulnerability: physical, spiritual, and political. The play pivots, in part, around issues to do with medical care. It is based on interviews that I then turn into a one woman show in which I portray several characters. To create Let Me Down Easy, I conducted over 300 interviews on three continents.
In the current production, I portray 20 people, the majority of whom are American. However, when I conducted my research, I was concerned by images I saw of Black African people in distress in major U.S. publications. Were these photos engendering action, or merely pity or worst apathy? I thought I would go to see for myself: How dire were the situations? Was there more than the camera captured? The camera captured vulnerability. Where was there resilience, creativity, even resistance? I visited Rwanda ten years after the genocide. I also visited Uganda and South Africa. What happens when the body is vulnerable to the state? Whereas Uganda was said to have a government that was addressing the pandemic, the AIDS crisis and resulting AIDS activism in South Africa was seen as the unfinished work of the anti apartheid movement. The government was accused of being in denial. The trip was troubling in many ways, but ultimately very rich. Wherever I saw destitution, I met people engaged in highly creative acts to make things better.
I visited a forest in Uganda where traditional healers met on a regular basis with a very charismatic Western trained African doctor, Sekagya Yahaya The project was called Prometra. The purpose was to bring traditional healers to accept Western medicine as they battled the AIDS in their communities. He knew that the traditional healers would have to become disciples of Western medicine even as they held on to what they believed was essential. I spent a memorable day in the forest as ancestors were called up. In fact, I was "blessed by my ancestors", which amounted to being spat on my mouthfuls of banana beer, as you can see in this photograph: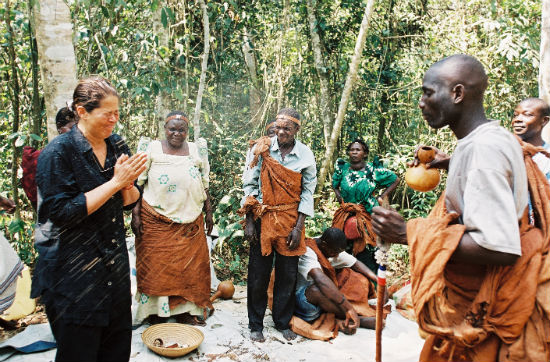 Photo credit: Diana Walker
Towards the end of the journey, right before leaving for the states, I went to Capetown to visit AIDS activist Zackie Achmat. I am first and foremost, a student of expression, and so after 320 interviews and nearly 7 years, a part of the conversation I had with Zackie and another activist Sipho Mthati, still plays like music in my ear: Imagine what this sounded like -

ZACKIE ACHMAT
.....the way in which grief is in the body is not felt by the government. I went to speak at a university last week and there were 400 kids, mixed race audience, black, black African, and white. There was one white kid who came up who said she had HIV. There were 30 black kids, a few had HIV themselves, but most of them spoke of their parents or siblings or other relatives either being sick or dying or dead. There's enormous grief there and so when one speaks of people's bodies it's not simply what is in the public domain and what is public it is how we go to sleep.
SIPHO MTHATHI
What's keeping government from feeling the grief and what's keeping people from expressing their anger and their grief in the way that it should be being addressed? ...We're not just talking about people being said to lose their loved ones. We're talking about grief that gets to be lived on in cycles of life of children who get orphaned, young people who depend on their siblings to go to school. So you're talking about an impact that at the moment we haven't even begun to measure. And what's therefore keeping people from expressing that grief? I think part of it is people's sense of respect and loyalty to the government because many of us still feel that we want to believe that our government cares and so we keep waiting for our government to show that it cares and we've been extra patient. I think that soon enough the time will come when people will lose their patience because I think people will begin to wonder whether in fact this government really cares -- and that's where our struggle has to get to. It has to get to say -- 'yes we are loyal to our government and we all want to believe that our government cares and can feel the grief, but our government has to show us that'.....It's the denialism and Zackie has referred to. I think government on the one hand is seriously scared of admitting to itself that this is a problem because if they do that then it means that they've got to rethink the whole way in which service delivery is done, the way in which we're talking about nation building. So it's going to require remodeling because we're talking large scale levels of planning and thinking and resourcing social delivery and I think challenging some really critical serious social issues of inequality between men and women. I don't think that our government's ready for that right now because as I said that's going to require complete rethinking, but on the other hand there is the arrogance that exists in our government where in the sense that this is a poor people's disease and so we can just hope that the cycle of life and death with take care of this problem and we can go on with what is for us the critical business of addressing the imbalances of the past. That's also what we've got to challenge.
ZACKIE ACHMAT
It's also the question if President Mbeki had to admit to himself that -- 'under my reign that is what has happened to deaths largely because of my denialism, not simply inaction, but active undermining the programs. What does that say to him? He would have to face up to something that is enormous in scale and in difficulty.
A day after that interview, I returned to my hotel in Capetown, turned on the television and went about the business of packing. I stopped when I saw images of black people in distress. I assumed these people were in Africa. Much to my shock, these were images from the United States of America. The people in distress were citizens of New Orleans who had been struck by Hurricane Katrina. Upon my return to the states I went to New Orleans and did a number of interviews. I portray one person from that research trip, Dr. Kiersta Kurtz-Burke. She is a young White doctor who describes herself as "privileged". She dedicates her career to bringing "top of the line" medical care to poor people, and at the time was working at Charity Hospital, a public hospital and one of the first hospitals for poor people in this country. Her idealism was shattered by the events that took place during Katrina. I perform twenty characters in Let Me Down Easy, Kiersta among them. The characters range from the very resilient (Lance Armstrong, a rodeo bull rider, a champion boxer) to the very vulnerable. Among the very vulnerable alluded to, are the poor people in New Orleans, many of them African American, who were literally abandoned by the American government at that time. Anderson Cooper told me that images he saw there, in fact, reminded him of corpses and bodies in distress he had witnessed during the Rwandan genocide. That is strong language. Yet I sense that many of us know there is a dark truth in our midst. That truth is that we will likely see in our future, more people in distress, and many of us have no idea what will be done about it. Many audience members speak with me after my performance about Kiersta's account of what happened at Charity Hospital. I can hear them gasp a couple of times as I portray her. Is this really us?
I wrote and performed several versions of Let Me Down Easy, which is not uncommon while developing a new play. The final and current version of the play includes very little material from my trip to Africa. However, the trip informed, in particular the play's emphasis on the resilience of the human spirit. The resilience that the play highlights does not come merely from shallow optimism, but from seeing clearly what one is up against, so that real creativity can step up. There is a dignity in struggle. This is what Dr. Kiersta Kurtz-Burke realizes during the catastrophic days she spent with her patients in Charity Hospital waiting to be rescued.
Below is an excerpt of my portrayal of her. This is created from a verbatim excerpt from the interview I conducted. It's available to this blog courtesy of PBS, Great Performances, which will air Let Me Down Easy in 2012.

Anna Deavere Smith, the creator of Fires in the Mirror and Twilight: Los Angeles, is performing Let Me Down Easy, a stunning story of the power of the body and the resilience of the spirit, at Berkeley Repertory Theatre through September 4. Info at berkeleyrep.org.
Calling all HuffPost superfans!
Sign up for membership to become a founding member and help shape HuffPost's next chapter