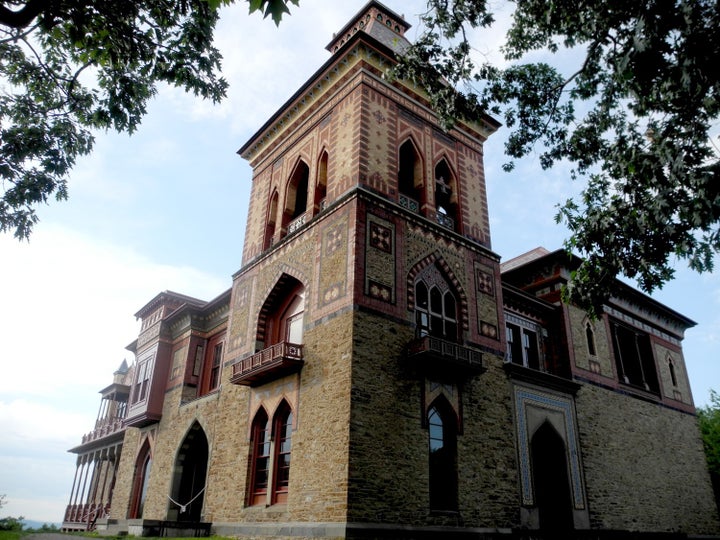 Olana is the fabulous country estate built in the Hudson River Valley by artist Frederick Edwin Church, who took up the mantle of the Hudson River School from his teacher and mentor, Thomas Cole. For the last 40 years of his life, from 1860-1899, Olana was his canvas.
It is the second day of our gal getaway on the Hudson River School Art Trail, and after visiting the Thomas Cole National Historic Site (#1 on the trail), we drive literally around the corner, over the Rip Van Winkle Bridge to the other side of the Hudson River, toward Olana (#2 site).
You can see the ornate mansion, perched on the high hills surrounded by trees, an intriguing vision from the bridge.
As we approach Olana, a sign on the road introduces me to a new word, and a new concept – "viewshed." The word intentionally evokes "watershed" - a protected resource area. Here, Olana, chosen and designed by the artist Church for the views, successfully established a "viewshed" maintaining that this is a cultural resource worthy of protection and preservation to block development.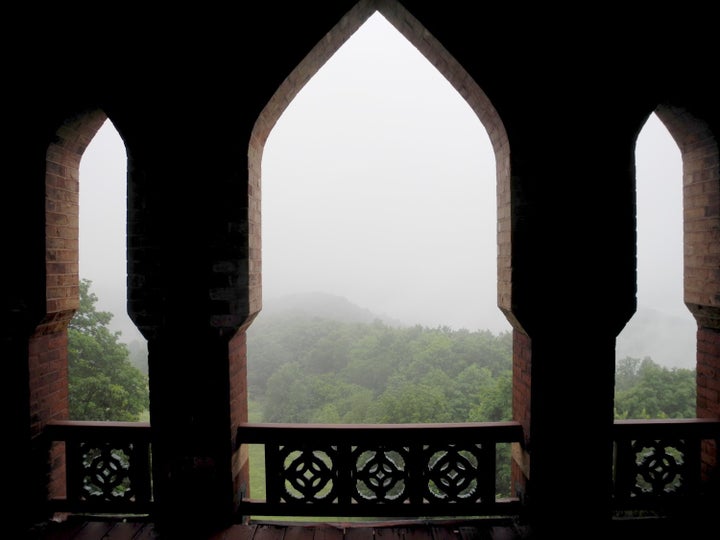 The notion of preservation versus progress is the very essence of Church and his Olana, taking up the key theme from Thomas Cole, his teacher and mentor.
Church's background is very different from Cole's. While Cole was an immigrant from England, Church was born in Hartford, Connecticut in 1826 to a well-to-do family (his father, Joseph Church, owned several businesses including a silversmith and became a director of Aetna Life Insurance Company). Whereas Cole had little art training, Church's father arranged for him to study with Cole, from 1844-46. Church then went to New York City to set up a studio. He became the youngest Associate of the American Academy of Design, in 1850, and within a few years, became one of the most successful artists of his generation.
And whereas Cole, the immigrant, was enthralled by the wildness of the American landscape, Church fell under the spell of naturalist Alexander von Humboldt, who encouraged artists to travel the world. Church traveled to the Middle East, South America, Europe (one of his children was born in Rome), Labrador and Greenland. He brought these images and ideas back to the Hudson River Valley where he would build Olana, and his worldliness filled his canvases.
Ultimately, Olana became his canvas.
Over the last 40 years of his life, from 1860-1899, he designed and fashioned Olana into a three-dimensional work of art that includes the magnificent Persian-inspired home with its various collections, set within a 250-acre landscape, meticulously designed for iconic views of the Hudson River Valley.
What is most remarkable about Olana is that the home and grounds never left the family - the furnishings, the art, even the books, are all Church's possessions, and we see them laid out in the deliberate living canvas that Church intended.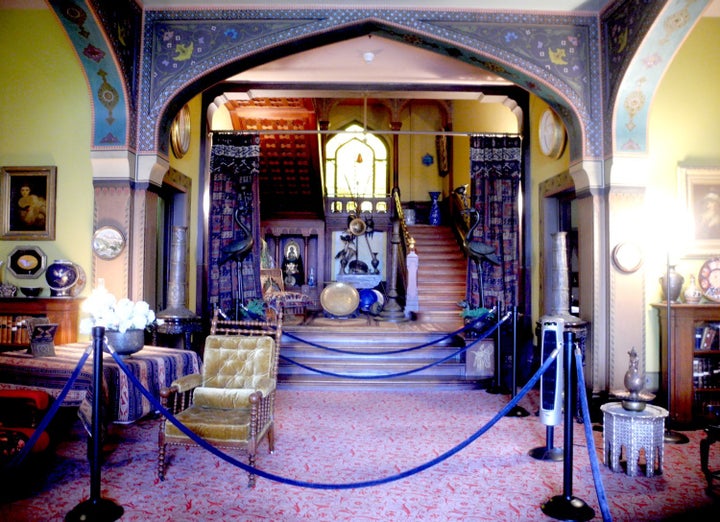 After Church died, in 1899, his son, Louis, occupied the house, and when Louis' widow died, in 1964, the house and estate were saved from being sold off by virtue of a public-private collaboration between New York State Parks and a private nonprofit, Olana Partnership (similar to the collaboration between the Central Park Conservancy and New York City's parks department). Olana opened to the public as a museum in 1966.
This is most fitting, since Church served as commissioner of Central Park (his friends were landscape designer Frederick Olmstead and architect Calvert Vaux, who both helped in his ideas for Olana.
And Church, who achieved national and international prominence with his seven-foot wide painting, "Niagara" (1857), was credited with creating the Niagara Reserve – the first state park and one of the first in the nation, a precursor to the national parks movement.
The grounds include five miles of carriage trails, managed by New York State Parks, and are open to the public at no charge.
You visit the house, though, with a guided tour.
The Partnership is In process of restoring Olana as well as the landscape. The physical landscape, in Church's planning and today, is as much art as the landscape painting on canvas. As you walk the trails, the images are framed - markers here as along the other sites of the Hudson River School Art Trail, compare the scene today to paintings.
Frederic Edwin Church's Worldly View
But while Thomas Cole was an immigrant from England who glorified America's landscapes in a way that had not been done before, Frederic Edwin Church was one its most traveled among the Hudson River School artists, and he brought these images and this worldliness into his canvases.
You become familiarized with Church's biography in a well-done video at the Visitor Center, before touring the house, which I notice features Edith Cole Silverstein, a descendent of Thomas Cole. Church studied with Cole for two years, 1844-1846 but Cole died soon after, in 1848. Church seems to have always maintained a connection with Cole - returning to the Hudson Valley to build his home close to Cole's, traveling with to Labrador Cole's biographer, and found ways to help the family - helping sell Cole's paintings (he owned several himself, some of which are on view at Olana) and hiring Cole's son Theodore as Olana's farm manager.
By the time Church was in his 20s, he became enamored with the renowned naturalist and explorer Alexander von Humboldt who encouraged artists to travel and paint equatorial South America. In 1853, Church made the first of two expeditions following Humboldt's footsteps, chiefly in Colombia; the second, in 1857, to Ecuador.
The paintings he produced from these trips made him one of the best known and most successful painters of his generation.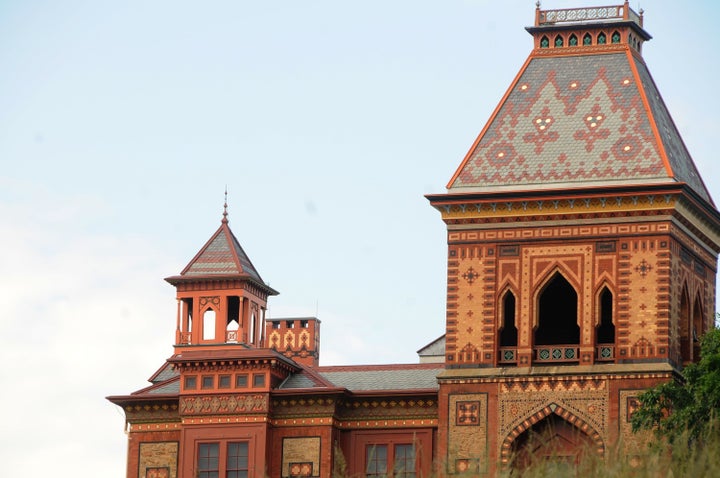 The New York exhibition of his ten-foot canvas, The Heart of the Andes, in 1859, "was the most popular display of a single artwork in the Civil War era, attracting 12,000 people in three weeks to its New York premiere alone, then traveling to Britain and seven other American cities on a tour lasting two years."
The painting sold for $10,000 to collector William Blodget, at the time, the highest price ever paid for an American painting," Olana curator Evelyn Trebilcock tells me.
We get to see Church's final study for "Heart of the Andes" at Olana.
Church's paintings were like national celebrities.
Church set out again to travel to exotic places and intrigued by literature of Arctic exploration, in 1859, he hired a boat to take him to the north Atlantic between Labrador and Greenland to sketch icebergs (I find it interesting he was joined by Louis Legrand Noble Thomas Cole's biographer). At the beginning of the Civil War, in 1861, Church exhibited Icebergs: The North, another grand canvas, which also was a blockbuster hit.
With his career ascendant in 1860, Church's married Isabel Carnes and it is at that time that Church came back to Hudson, where he had learned painting with Thomas Cole, and bought a farm overlooking the Hudson River on the opposite shore from Cole's house.
Church had strong ties to New York City where he had his studio and where many of his clients were located. He served as Commissioner of Central Park and was a founding trustee of the Metropolitan Museum of Art. (Church was responsible for locating Cleopatra's needle, the obelisk, behind the museum, Trebilcock tells me.)
Church seems to have been so much more than an artist, taking up Cole's campaign to use his art to encourage preservation of nature. Indeed, Church didn't just paint a fabulous canvas of Niagara Falls, he is credited with creating the Niagara Reserve.
Touring Olana: 'Thou Art Welcome:"
You walk in through the threshold to Olana under an inscription in Arabic, "Thou Art Welcome:"
Most remarkable: all the land and the contents of the grand home are intact, because they had always been within the Church family, and everything you see was meticulous conceived and planned by Church.
That's what makes the experience of being here all the more profound - there is an immediate connection to the character and creative process of this great artist, who until this day, I had only appreciated through his canvases on view in art museums.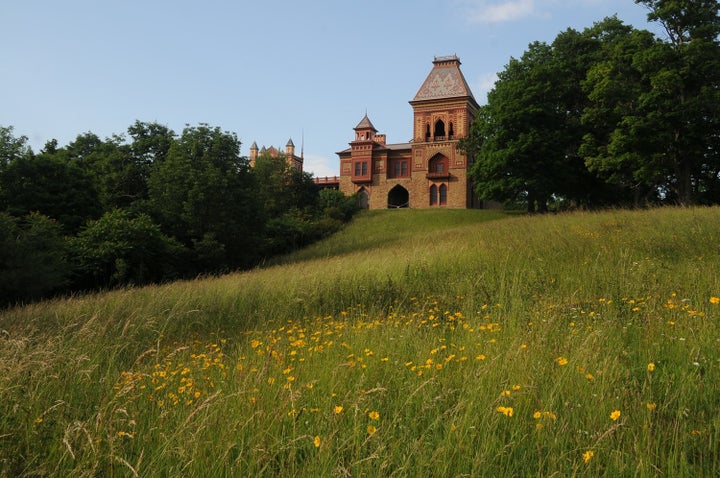 Olana is every inch Church's creation. Church travels the world (he is a worldly person in his reading and outlook) and went to Mideast, and when came back, wanted to create a "fantasy". He actually never went to Persia but thought the Persian style could be fanciful. But he didn't just fabricate the designs out of his imagination, he studied Persian art and architecture. He never visited the Alhambra, but bought photos in order to incorporate the Moorish design elements. He experimented with colors and patterns.
"The desire to build attacks a man like a fever," Church wrote.
He brought in Calvert Vaux as the architect, to realize his ideas.
Church experimented with different designs; he mixed the colors; he based his patterns on a book of Persian architecture; the stencil designs on the door - in gold and silver paint - have a shimmering effect
The gilded patterns we see on the grand doors – Les Arts Aribe – are from original stencils.
"He meticulously arranged every room, choosing exotic items for their emotional effect, each room a composition. It took him four years to complete decoration."
The paintings we see that decorate the rooms are Church's own collections - his own paintings as well as painters he admired, including Thomas Cole.
We see his study for his famous painting, "Heart of the Andes".
There is also Church's painting of "Petra," 1868, with its unusual perspective - a vertical image of the temple, carved into rock cliff , as you come to it through a rock cleft, like a photograph.
Most interesting to me is to see his library, and what he was interested in, what informed him (almost like reading a journal, it is so telling about values, perspective, world-view, what informed him). He was interested in natural science, novels, religion (Presbyterian), "Women of the Arabs", "Popular History of the Mexican People" "Natural Law & Spiritual World." He owned a copy of Darwin's "Origin of the Species."
He was friends with Mark Twain, who also lived in Hartford, where Church was born.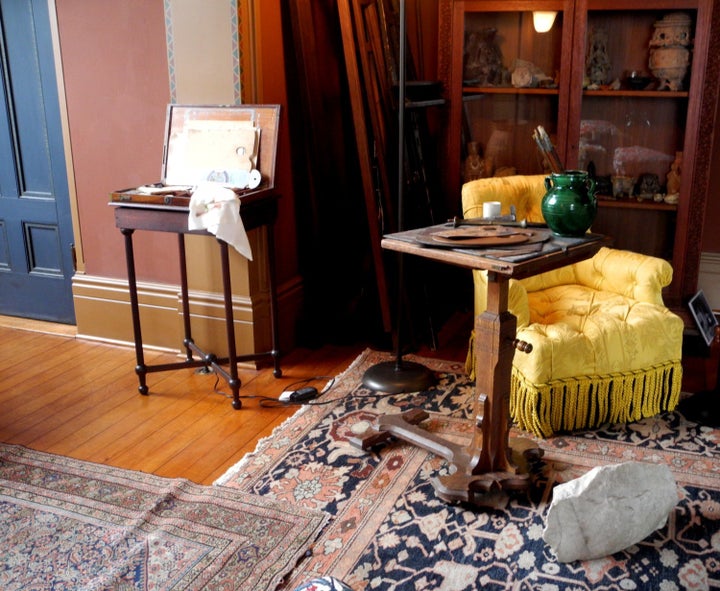 Most important to Church were the views. He oriented the house and the windows southwest to best capture the view.
"Our home will be a curiosity in architecture, but the view from every window will be fabulous," Church said.
Olana is one of first to have a preserved "viewshed" (Monticello is another) - arguing the need to preserve the view helped defeat a plan to built a nuclear power plant on the Hudson.
In his later years, Church was afflicted with crippling rheumatism. Olana becomes his canvas.
In 1888, Church expanded the house and built himself a new studio. Today, his studio seems just as he left it, with various items of folk art and pre-Colombian artifacts Church collected from Mexico.
On the wall, "Christian on the Border of the Shadow of Death," a dark, early painting, reminiscent of Cole.
"Church was a smart marketer of his art – people paid a fee to see just one painting. Lithographs of his work were successful," Olana curator Evelyn Trebilcock, tells us as she escorts us through the house.
"When Church studied with Cole, he painted in Cole's style, incorporating Christian message, but Church realizes it is not commercial -not saleable- so he instead shows God in beautiful sunsets."
We go up back stairs that would have been used by the servants - to the second floor family rooms, which were opened to the public in 2009.
Here you can see part of Olana's costume collection - the textiles have to be rotated because they are so fragile.
All the furnishings are original –they even have left a core sample of the original horsehair mattress (can't keep horsehair because too buggy, would bring bugs to rest of collection). Wallpaper that had to be replaced was reproduced exactly from the original.
Olana has a gallery space for seasonal exhibitions.
By 1876, when Church was 50, landscape painting had fallen out of fashion and his career had waned, Church came down with crippling rheumatism. Home and family become more important and Olana became his primary canvas.
In 1888, at 61 years old, Church devoted himself to expanding Olana and building new studio; he closed the New York studio he had rented for 30 years.
After Church died, his art (along with the Hudson School) fell out of favor.
In 1964, after Church's daughter-in-law died, throwing the fate of Olana into question. Then David Huntington, an art historian, got interested and reignited popularity in Church's work.
Hunt organized a group to buy Olana; New York State Governor Nelson Rockefeller stepped in with support from state, to come up with this public-private collaboration.
This is all the more remarkable because the1960s was not a good time for Victorian architecture - it was a time for sweeping away the "old" for the new, a period of anti-institutionalism. Cole's home, Cedar Grove, for example, was put up for auction and might have been knocked down altogether to make way for the Rip Van Winkle Bridge.
"The house was going to be dismantled - the items had already been tagged for auction at Sotheby's," Mark Prezorsky, landscape curator, tells us. "The Hudson School was out of style. You could buy a Cole at a garage sale."
The Catskill Mountain House which dated from 1824, was burned down intentionally in 1963, he reminds us. (We had visited the site on our hike the day before.)
But Huntington, the art historian, "was able to see what Olana was."
Olana - this great estate - became one of the early successes in preservation. Today, there is an ongoing effort to preserve the grounds as well as the grand home.
"The farm is big part or Olana," Prezorsky tells us "The way we experience it is how move through it –the views open up..... He composed his home as artistic masterpiece in midst of nature. This is one of the few farms where art and farming intersect."
Church created a 10-acre lake as part of the design "before machinery; he sold off "muck" for profit." Church, he says, was a very practical man; he wanted the farm to be a sustainable enterprise.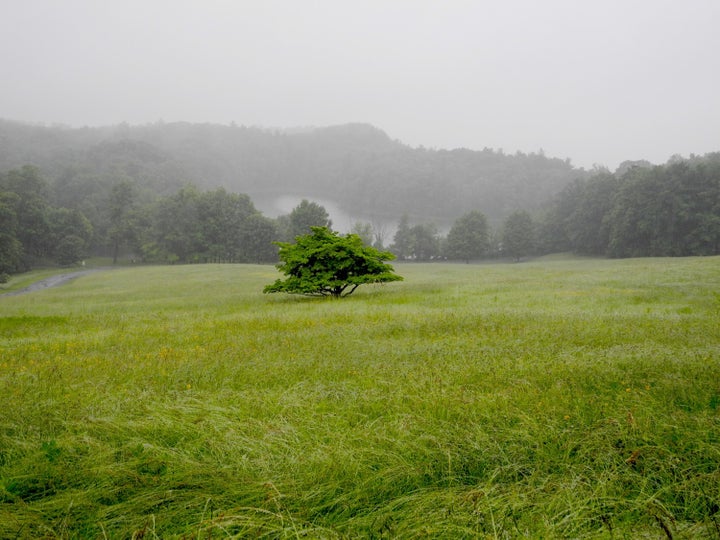 Prezorsky's task is to restore the landscape. "When he put in trees, the area was already deforested because of industrialization of the river." Church planted orchards. Now, one of the tasks is to prune back the trees to open up the viewshed.
It occurs to me that Olana is like our Downtown Abbey - or more accurately, how Highclere Castle, where Downtown Abbey is filmed, has survived - a story of how innovative ways have had to be devised to sustain this great estate.
Olana is also a Center for Church Study and the center loans out paintings to other museums.
Olana has been nominated by the National Park System as a World Heritage site (on par with Taj Mahal). "It got high up in the subcommittee, but we were told we needed to wait," Prezorsky says.
Because the weather was poor the day we visited, I return to Olana the next day in the late afternoon sun, to best appreciate the landscape, to walk the carriage trails to see how the hillside undulates and flows down to the Hudson River.
Olana offers a rich calendar of special events (see olana.org) including summer camps for kids, lectures, book signings. There was talk of introducing tours along the carriage trails by golf cart.
Get a schedule of special events, and plan your visit (see the schedule of the house tour), as well as ways to explore the grounds, at the website, olana.org.
Olana State Historic Site, 5720 Route 9G, Hudson, NY 12534, 518-828-0135, olana.org.
Related
Popular in the Community