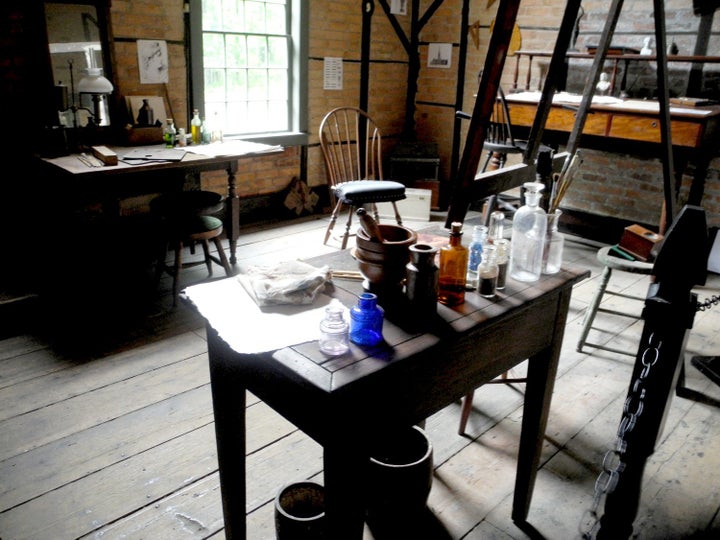 It is pouring rain as we set out for our second day of our "gal getaway" on the Hudson River School Art Trail, to the Thomas Cole National Historic Site (site #1) which includes an hour-long tour of his Cedar Grove home and studio, and Olana State Historic Site (site #2), Frederic Edwin Church's fanciful castle-like mansion built in the "Persian" style, where the house and the 250-acre grounds are itself art compositions, living landscapes.
Ideally, we would have started our trek on this portion of the Hudson River School Art Trail (the first eight of the 22 sites are in the mid-Hudson River region) at the Thomas Cole National Historic Site to get the historical and biographical narrative of the man who is considered the founder of America's first art movement, as well as get to immerse ourselves in the creative process of these men and this movement, before we literally follow in the artists' footsteps through the landscapes they painted. But our first day was sunny - perfect for hiking - and we anticipated the rain. But this way, we bring our personal familiarity with the scenes to better appreciate what Cole and the Hudson River School artists were trying to convey with their art.
Thomas Cole National Historic Site
Development has enveloped Thomas Cole's Cedar Grove, which was once a 130-acre farm. The corner where Cole's studio once stood is now a synagogue. Houses line the street and literally around the corner is Route 23 and the Rip Van Winkle Bridge.
Indeed, the road to the bridge were supposed to be built right through where the Cole house stood, but after an outcry, was moved. This involved moving a cemetery to accommodate the bridge in its new location.
While we are waiting for our scheduled tour (which takes about one hour), we watch a superb 15-minute video about Thomas Cole and the Hudson River School.
Thomas Cole was born in Lancashire, England, in 1801 and emigrated to the United States with his family (his father was in textiles) in 1818, settling in Steubenville Ohio. He had little formal art training; he picked up the basics from a wandering portrait painter. But Cole soon focused on landscape. Ultimately, Cole transformed the way America thought about nature and the way nature was portrayed on canvas.
As an immigrant from England, Cole was dazzled by America's vast stretch of untamed wilderness, unlike anything that existed in Europe.
At this point in time, though, most Americans did not appreciate the wilderness - they thought of it as something to be feared or exploited.
Cole recognized America as a land in transition – the settled and domesticated juxtaposed with the wild and undomesticated… He witnessed the changes taking place around him.. And in the early 1800s, America was still in process of creating own culture, distinct from the European settlers.
Cole worried that America's rapid expansion and industrial development would destroy the glorious landscape - in 1836, he could see the railroad being built through the valley and he bemoaned the loss of forest along Catskill Creek, "the beauty of environment shorn away."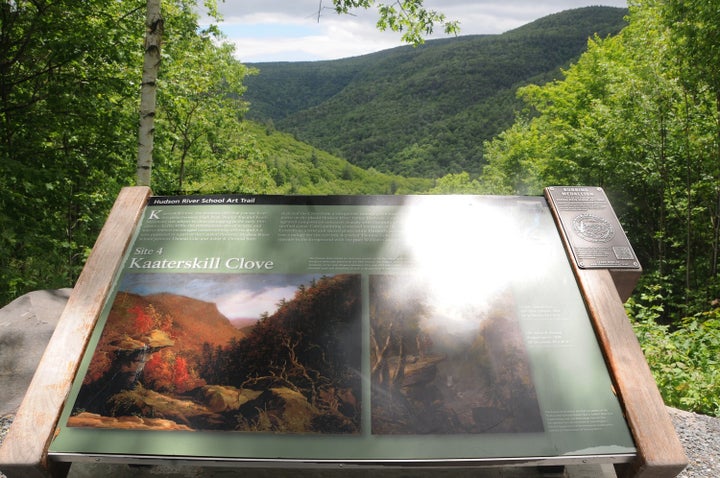 On our hikes the previous day, I became intrigued with how Cole would have captured the scenes - the sheer logistics of getting to these remote places that take us 20 minutes to reach by car along paved roads. Cole painted at a time before photography was a handy tool, before capped paint tubes made painting "en plein air" feasible as it was for the Impressionists later on in the century.
I learn that Cole hiked with a pocket easel and pencil. He would get to a place like Sunset Rock by dark, camp and stay there a few days.
He made copious notes of the smallest details - the light, color, the atmosphere, the vegetation and natural forms.
We see his process unfold in the original pencil sketch he made of Kaaterskill Falls - higher than Niagara - a place already popular with tourists when Cole visited in 1825 (and we visited the day before).
Then, back in his cramped New York City studio, he would create a study in charcoal and crayon. His routine was to wait months before he painted in order to let his ideas percolate.
When Cole saw the Kaaterskill Falls, already a popular visitor site, there were tourist pavilions on top which appear in his original sketch. But he takes signs of "modern" man out of the painting and instead adds a native American warrior on the very ledge that we saw the day before. In this way, he turns the real to an ideal, "altering reality to seek higher truth about sanctity of natural world."
"He waited for time to pass to put a veil over inessential detail to turn it into beautiful and sublime...He had a vision of nature as an expression of the divine."
It is important to realize that at the time, a painting afforded the only way for people to see scenes without actually visiting.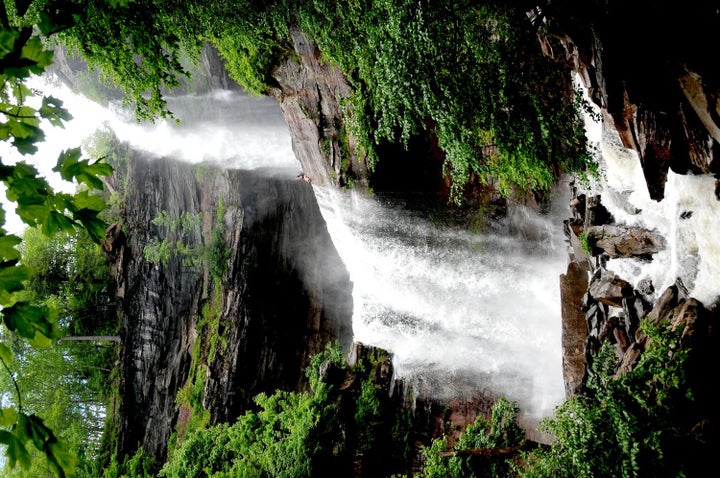 Over a three-year period, he painted "The Course of Empire" a series depicting the same landscape over centuries and generations as civilization rises and falls, from savage to civilized, from glory to fall and extinction. He intended the series as a warning against American unbridled expansion and materialism. It took him three years to do and earned him a veritable fortune in commission and fame.
Cole also became progressively more spiritual - coinciding with a rise in spiritualism in America. - and used his landscape painting as religious allegory.
This is manifest in Cole's "Voyage of Life," a series of four paintings that show a pilgrim from infancy to old age, led by a guardian angel, which became Cole's most popular work.
Under the Spell of the Hudson River Valley
Cole initially came to the Catskills on a steamship up the Hudson River, and then by carriage to this town of Catskill, and fell in love with the landscape.
Around 1827, he rented studio space at Cedar Grove, John Alexander Thompson's 130-acre farm in Catskill, where Cole initially rented studio space after 1827. Cole fell in love with Maria Bartow, Thompson's niece, and moved into Cedar Grove permanently, all living together in the modest house which was relatively new then, built in 1815.
Touring the house is remarkable because it contains many of Cole's personal artifacts including several of his paintings, like "Prometheus," and his special items like musical instruments that he played and used as props for his paintings.
All of this is fairly miraculous because the house was sold in the 1960s and the contents auctioned off - the paintings, furniture. Over the years, many of the items that were sold off have since come back, like "Uncle Sandy's" chair, which we see today, which was purchased by a local postman who donated it back to Cedar Grove only six years ago.
The simplicity of this house as well as the fact that much of the furnishings are period, but not original, distinguishes it from Frederick Edwin Church's Olana which we visit next (and significantly, also underwent transition in 1964, but Olana and the contents of the house, were preserved).
Even so, you feel you get to know Thomas Cole, walking through his home.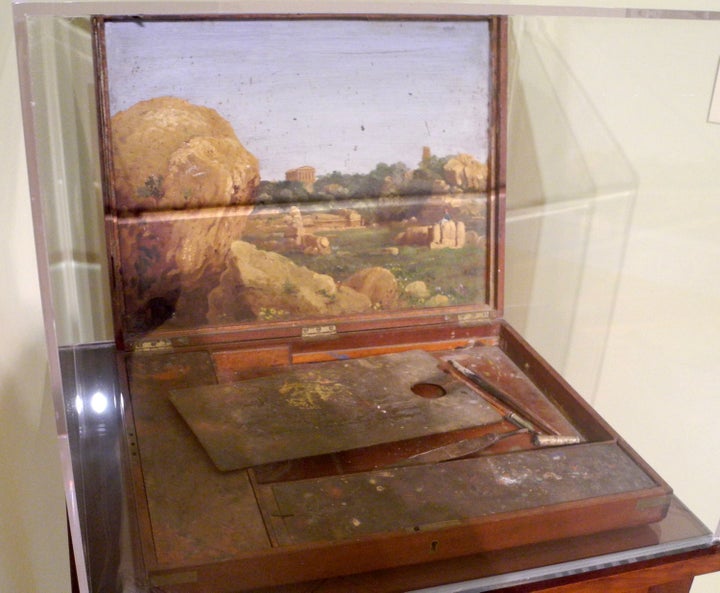 The Coles had a suite of rooms in the house. The sitting room of suite of rooms contains the Aeolian harp he made, a magic lantern (like an early slide projector), a guitar on the sofa was included in his painting, "The Picnic" (it was returned to the house from an art dealer only last year), a folding chair and easel and sketchbooks.
In another room, like a gallery, we see his sketch with his notes of Kaaterskill Falls.
On the wall, is his painting of a color wheel which was a way for him to make notes about what colors to paint - but looks to me like modern art.
We see his collection of biological specimens in glass (a popular hobby at the time), and his painting box with a scene from Germany, which strikes me as so personal, like a diary.
In the bedroom, we see Thomas Cole's trunk and his wife's Bible on the desk. The artist may have died in this very room, in February 1848. It is believed that he died of pneumonia (he wrote to a friend that he wasn't feeling well; and died 9 days later). He was just 47 years old. His wife, just 36, pregnant at the time, delivered their sixth child that September.
When Cole died, his friends from New York couldn't get to the funeral, but the entire town of Catskills turned out.
That May, his friends William Cullen Bryant and Arthur B Durand collected dozens of his paintings for an exhibit at the American Academy of Art in New York City. Now New Yorkers could see his landscapes and people began to appreciate the scenes he depicted and painters began to follow him.
Cole's fame - along with the Hudson River School artists - faded though after the Civil War, with the emergence of photography.
The docent tells us that much of Cole's sketches and notes are archived in the Albany Museum of History and Art (I subsequently learn that the Detroit Institute of Art, owned by the city of Detroit, has 2500 of Thomas Coles' sketches, an ironic turnabout since this city has declared bankruptcy putting the collection in limbo.)
We also get to visit his studio, restored to what it was when he was painting "Voyages of Life."
Related
Popular in the Community