Are "the good guys" always more popular than "the bad guys"? Not in the "Star Wars" universe. 
With the opening of "The Force Awakens" this week, "Star Wars" has once again taken the world, and the Internet, by storm. And curiously enough, people seem to be more interested in the Galactic Empire, the brutal dictatorship led by Emperor Palpatine, than in the Rebel Alliance, the resistance movement against the Empire. 
Take a look at this chart Google Trends released this week. Search volume for "Galactic Empire" is four times greater than for "Rebel Alliance":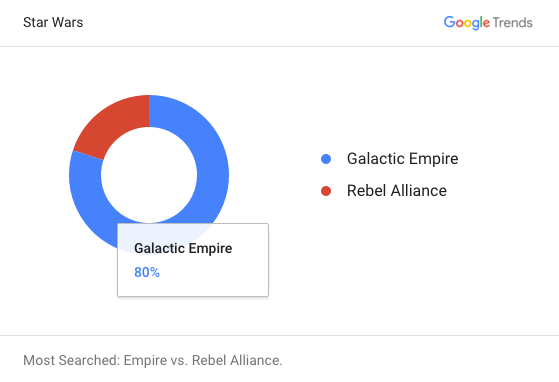 The chart above speaks to a common psychological phenomenon in movies, literature and pop culture: our enduring fascination with fictional supervillains.
Extensive research and debate has been published about the allure of the villain. Some psychologists have argued that superhuman foes satisfy our desire for unconstrained power or freedom; others, instead, believe that our interest in supervillains stems, in part, from our need to understand the complexity of the human experience.
Hence, we naturally tend to have a lot of questions about fictional supervillains, and what better place than Google to find answers?
Perhaps, though, there's a simpler explanation: The Galactic Empire is just gloriously badass. 
"The Force Awakens," the seventh chapter of the space opera franchise, opened in U.S. theaters nationwide on Friday.
Calling all HuffPost superfans!
Sign up for membership to become a founding member and help shape HuffPost's next chapter