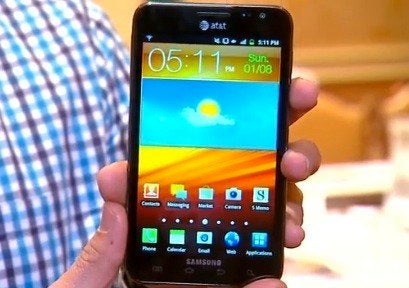 On Monday, AT&T and Samsung both announced that the Galaxy Note "phablet" (a device that fills a size niche between smartphone and tablet) will be coming to the U.S.
According to Gizmodo's and Engadget's live blogs of AT&T's announcement, the Note will feature a 1.5GHz dual-core processor, a 5.3-inch HD Super AMOLED screen with 1,280x800-pixel resolution, 1GB of RAM and 16GB of storage. It will run Android Gingerbread and will sport both a rear-facing 8-megapixel camera and a front-facing 5-megapixel camera. The device will also feature AT&T LTE connectivity.
The Galaxy Note phablet combines the calling abilities of a phone with the larger screen size of a tablet. But some say the size is too large. Gizmodo's Brent Rose, who has self-described "ape hands", found the 5.3-inch screen usable, but barely. He writes, "I was able to type on it one-handed, but even for me the far side of the screen was a bit of a stretch."
Engadget described the phone as "snappy" and said it is a "dead-ringer" for its overseas predecessor. One of the major physical differences is that the U.S. version sports four buttons along the bottom bezel below the touchscreen, whereas the global device has only three. Most of the other differences aren't visible on the outside of the device.
AT&T has not yet announced either the release date or price.
Popular in the Community