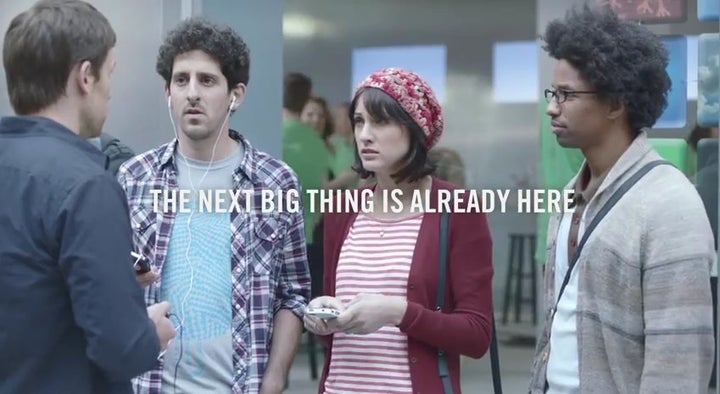 Samsung continues its snarky assault on those who wait (in line for the new iPhone 4S) in its latest ad, released Friday morning.
By now, the setup for these commercials should be familiar: Apple fanboys and fangirls wait in line and discuss how excited they are for the upcoming iPhone, only to be upstaged by a passerby and his or her higher-quality Samsung Galaxy S II (that the owner did not have to brave the cold for). Previous ads have highlighted the Galaxy S II's screen size and 4G LTE capability; this one points out the apparent misconception that it is difficult to download and upload music and movies to an Android phone.
The advertisement, which repeats the tagline of previous Galaxy S II commercials by closing with the claim that "The Next Big Thing Is Already Here," also makes passing reference to Google Music, the recently announced service that stores 20GB of music for free and is available to stream either via Android app or in the mobile browser. Like iTunes, Google Music also features a music download store with most songs going for 99 cents, and by the tone of this ad, Google and its handset manufacturers view the new music service as an equalizer for Apple's iTunes.
That's a Google-Apple throwdown, however; the Samsung-Apple rivalry, meanwhile, has spilled over from electronics stores and onto many other platforms. Aside from these direct attacks in the media, it was recently reported that Samsung's smartphone sales surpassed those of Apple last year, making the Korean company the largest handset manufacturer in the world for Q3 2011. Apple and Samsung have most notably been locking horns in courtrooms all over the world, with lawsuits and countersuits in Australia, France, the United States, the United Kingdom, South Korea, Japan and elsewhere.
Calling all HuffPost superfans!
Sign up for membership to become a founding member and help shape HuffPost's next chapter