 Now, Apple devotees have even more pieces of Samsung hardware to be secretly jealous of: Samsung won two huge prizes at the Mobile World Congress' Global Mobile Awards, for Best Smartphone of 2011 (for that Samsung Galaxy S II) as well as Device Manufacturer Of The Year.
First, the GSII: Samsung took home the Best Smartphone award for its fanboy-taunting Galaxy S II, which GMA judges called a "phenomenal success around the world [that] has outperformed all its Android rivals and demonstrated the maturity of the ecosystem." The Galaxy S II, Samsung's current flagship phone, was announced in February 2011, at last year's Mobile World Congress, and released in the United States in September; it went on to become a smashing sales success for the Korean electronics company, selling over 20 million units worldwide as of February 2012.
With the Galaxy S II leading the way, Samsung had a strong 2011, toppling Nokia to become the world's largest smartphone vendor for the third quarter of 2011 while making aggressive strides in the tablet market with its Galaxy Tab series. This, apparently, was enough for the GMA judges, who also gave the Device Manufacturer of the Year award to Samsung, writing that the company saw "[s]uccess across the board with progress in every category, and outperform[ed] rivals in a tough market."
In a written statement given to the press, Samsung mobile exec JK Shin accepted the award: "We are pleased to receive this honor from GSMA and believe that it's a testament to Samsung's innovation, quality products, and attention to consumer preferences. We sold over 97 million smartphones in 2011, demonstrating that this is the right approach."
HTC, meanwhile, was last year's winner for Device Manufacturer of the Year, though the company ended 2011 with weak quarterly earnings and has announced a broad re-branding strategy for 2012 (which you can read about right here).
This year's Global Mobile Awards seemed to represent broad victories for Samsung, with its two headlining awards, and the Android operating system in general. Though the iPad 2 won the Best Handheld Tablet award, many of the notable winners at the GMAs were Android-flavored, including SwiftKey, an Android keyboard, for most Innovative Mobile App, and Google Maps for Android, for Best Consumer Mobile Service.
Apps that run on several different operating systems won the remainder of the consumer prizes, with Angry Birds Rio (available for iOS, Android, and BlackBerry) winning Best Mobile App for Consumers and WhatsApp (iOS, Android, Symbian, WP7), a cross-platform messaging app that eliminates the need for SMS text messages, taking the Judge's Choice for Best Overall Mobile App.
Here's a full list of the Global Mobile Award winners; for the judges' reasoning on all winners, head over to the GMA's official website. (Scroll down past the list to view our roundup of the most exciting new gadgets from MWC 2012.)
Best Mobile App for Consumers
Winner: Rovio Entertainment Ltd. - Angry Birds Rio
Best Mobile App for Enterprise
Winner: Citrix Systems - Citrix Receiver
Judges Choice - Best Overall Mobile App
Winner: WhatsApp Inc. - WhatsApp
Most Innovative Mobile App
Winner: SwiftKey
Best Mobile Advertising & Marketing Campaign
Winner: Brandtone - Carling Black Label "Be the Coach"
Innovation in Mobile Advertising
Winner: Google - Google Wallet
Mobile Marketing & Advertising Agency of the Year
Winner: [am.o.bee]
Best Enterprise Mobile Service
Winner: Fiberlink - MaaS360
Best Consumer Mobile Service
Winner: Google - Google Maps for Android
Best Network Product or Solution for Serving Customers
Winner: Turkcell - Turkcell TiklaKonus
Best Product, Initiative or Service for Underserved Segments
Winner: Safaricom - Grundfos
mWomen Best Mobile Product or Service for Women in Emerging Markets
Winner: Etisalat, Qualcomm, D-Tree International and Great Connection Inc. - Etisalat Mobile Baby
Best Use of Mobile in Emergency or Humanitarian Situations
Winner: UBL Omni - transparent and efficient Cash Disbursement service after the 2009 IDPs Crisis and the 2010 Flood Crisis
The Green Mobile Award
Winner: Flexenclosure - E-site
Best Mobile Health Innovation
Winner: Etisalat, Qualcomm, D-Tree International and Great Connection Inc. - Etisalat Mobile Baby
Best Mobile Innovation for Education or Learning
Winner: OnPoint Digital - CellCast Solution
Best Mobile Innovation for Automotive, Transport or Utilities
Winner: Ford Motor Company Ltd. - Ford SYNC with Emergency Assistance
Best Mobile Money Innovation
Winner: Etisalat, MasterCard and Oberthur Technologies - Etisalat Commerce
Best Mobile Innovation for Publishing
Winner: Financial Times and Assanka - The Financial Times Web App
Best Smartphone
Winner: Samsung - Samsung Galaxy S II
Best Feature Phone or Entry Level Phone
Winner: Nokia - Nokia C3-00
Device Manufacturer of the Year
Winner: Samsung
Best Mobile Tablet
Winner: Apple - Apple iPad 2
Best Embedded Mobile Device (Non-Handsets)
Winner: AT&T - Garmin GTU 10
Best Mobile Broadband Technology
Winner: KT - KT's Premium WiFi Solution
Best Infrastructure Technology
Winner: Alcatel-Lucent - lightRadio Network
Best Technology Breakthrough
Winner: Vodafone Group PLC - Quad Rate Technology: an evolved path doubling the efficiency of mobile voice
Best Cloud Based Technology
Winner: Appcelerator - Titanium Integrated Development Platform
Best Technology Product or Solution for Safeguarding and Empowering Customers
Winner: Cloudmark - Cloudmark Mobile Messaging Security Suite
GSMA Chairman's Award
Joint winners: KDDI, NTT DOCOMO, INC. and SOFTBANK MOBILE
Government Leadership Award
Winner: Government of the Republic of Colombia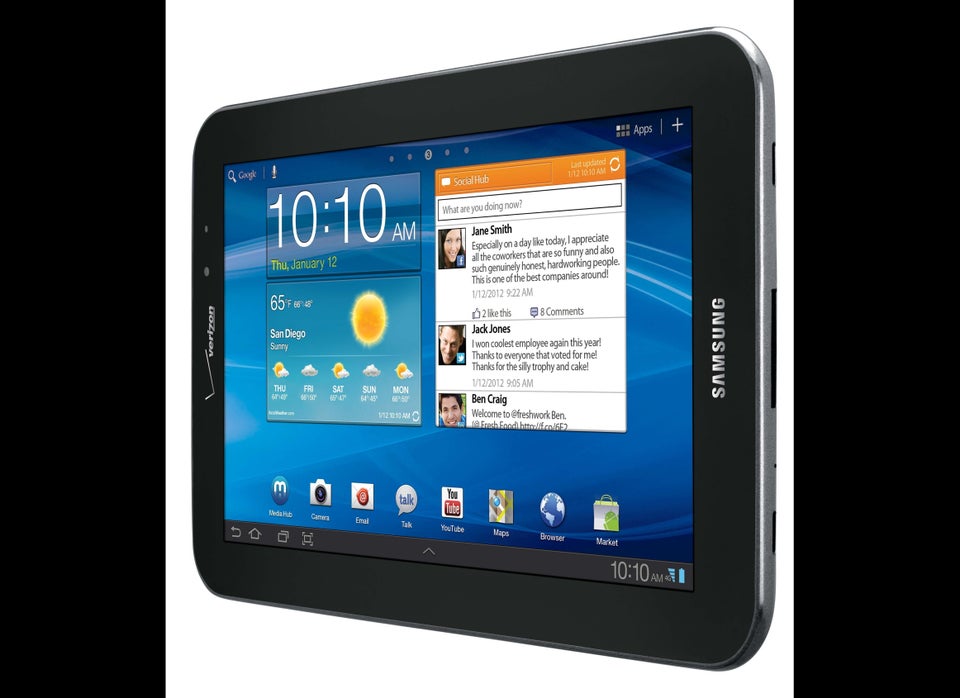 HTC, Nokia and Samsung At Mobile World Congress
Popular in the Community