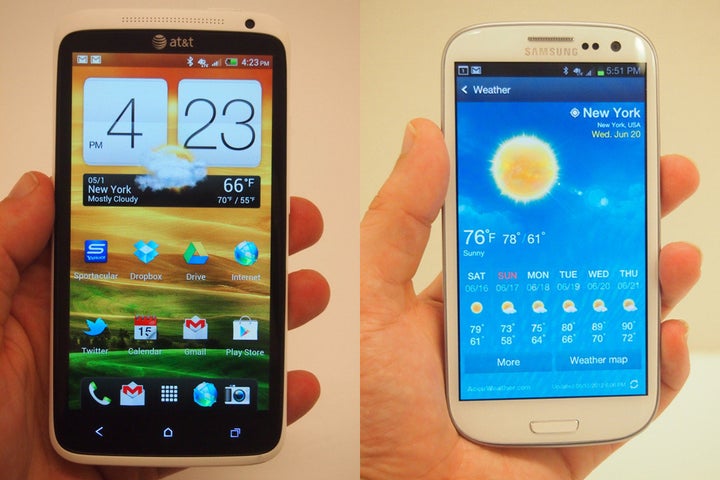 - The iPhone 4S is a whip-fast little thing, with the best camera and deepest selection of quality apps of any smartphone; but it lacks next-generation 4G LTE connectivity, and a new 4G iPhone is expected this September.
- The Motorola Droid Razr Maxx packs unmatchable battery life into an Android 4.0 device; the weak camera and dull display that drag it down, however, should be amended in an upcoming "Droid Razr HD."
- The Nokia Lumia 900 is an inexpensive, easy-to-use smartphone running the dead-simple Windows Phone operating system; Microsoft's recent announcement that no current Windows Phones will be upgraded to Windows Phone 8 or any full-future release means that you should wait until WP8 devices are out this autumn/winter.
The Droid Razr Maxx, iPhone 4S and every Windows Phone device are out of the question for the savvy shopper, in other words. So what smartphone should you buy, if you're looking for a fast and modern smartphone that won't be semi-obsolete in two months? If you can't wait for the "iPhone 5" or the "Droid Razr HD" or the "Nokia Lumia 910," which currently available smartphone do you purchase?
Here are my recommendations. Given imminent updates to iOS and Windows Phone devices, all of my recs are Android phones; compared to iOS and Windows Phone, Android necessitates a certain level of comfort with technology. Real novices or casual smartphone users are better off waiting for the autumn, and for the new iPhone and crop of Windows Phones:
Perhaps you've seen the (completely omnipresent and unavoidable) ads: Samsung's Galaxy S3 has arrived in the states, with a gleaming 4.8-inch AMOLED display and some of the fastest smartphone processing available. Heavily advertised features like S Voice (Siri wannabe), S Beam (NFC sharing between GS3s) and SmartStay (display stays bright as long as your eyes stay on it) come up short, but the speed of the phone and that gorgeous display make Samsung's third Galaxy S a charm.
Carriers: Verizon, AT&T, Sprint, T-Mobile, U.S. Cellular
Price: $199 with two-year contract at Verizon, AT&T, Sprint, U.S. Cellular; $279 with two-year contract at T-Mobile
Read The HuffPost Review
The pundits at tech site Gizmodo maintain that the HTC One X is the best Android phone out there, and it's easy to see why they are so enamored: The One X's 4.7-inch display is lovely and responsive, and while it can't match the Galaxy S3 in speed, the superb camera of the One X challenges the iPhone 4S for the smartphone photography crown. Due to weak sales (presumably), the price of the One X has also recently been cut to $99 from $199 (on two-year contract), meaning that the One X is one X-cellent purchase (sorry). Without punning: It's a relative bargain at $100 on contract.
Sprint just turned on its 4G LTE network, which means that the 4G LTE smartphones it's been selling can take advantage of the faster speeds. That means that the EVO 4G LTE -- the smartphone with the built-in kickstand -- is now as fast as it should be (in select cities). Like the One X, the new EVO boasts a gorgeous display and deluxe camera; and though the design has proven hit-or-miss for some, it's certainly an eye-catcher. Next-generation noise reduction during voice calls is also built in, though it's unclear when Sprint will power up its networks to handle that feature, or how well it will work in practice.
Google/Samsung Galaxy Nexus
It's almost 8 months old at this point, and its display and camera shrink when compared to those of the current iPhone, Galaxy S3 and HTC One phones. The Galaxy Nexus, however, is still a treat, especially if you don't like the "skins" that manufacturers like HTC and Samsung load onto their phones. The Galaxy Nexus is clean, simple Android, without the obnoxious clocks or bloatware; plus, it already has Android 4.1 "Jelly Bean," an update that seems to have made the Galaxy Nexus run faster than on the day it was released back in December. And here's the real selling point of this aging phone: The Galaxy Nexus is now free on Verizon. An updated Nexus phone isn't expected until the end of 2012 or beginning of 2013, so if you're looking for pure Android with the latest operating system updates, the Galaxy Nexus remains a rational purchase.
A certain amount of anxiety comes with buying a new smartphone: What if the newer model, with the better camera and crisper display and newer operating system, is unveiled right after you swipe the credit card? With the four phones listed above -- the Samsung Galaxy S III, the HTC One X, the HTC EVO 4G LTE, and the Galaxy Nexus -- you should be able to relax. Nothing indicates an imminent update to any of these smartphones, as each should remain its company's flagship for several months to come.
As for the iPhone 4S, the Droid Razr Maxx and the Lumia 900 -- well, don't look now, but improvements to those models are right around the corner. Hope you saved your receipt.
CORRECTION: The folks at HTC have emailed to clarify that the One X has been discounted for a limited time only for a back-to-school promotion, not due to poor sales as others are reporting. Also, a previous version of this article called the EVO the only smartphone with a kickstand; Motorola's Photon comes with a kickstand, too.
Calling all HuffPost superfans!
Sign up for membership to become a founding member and help shape HuffPost's next chapter