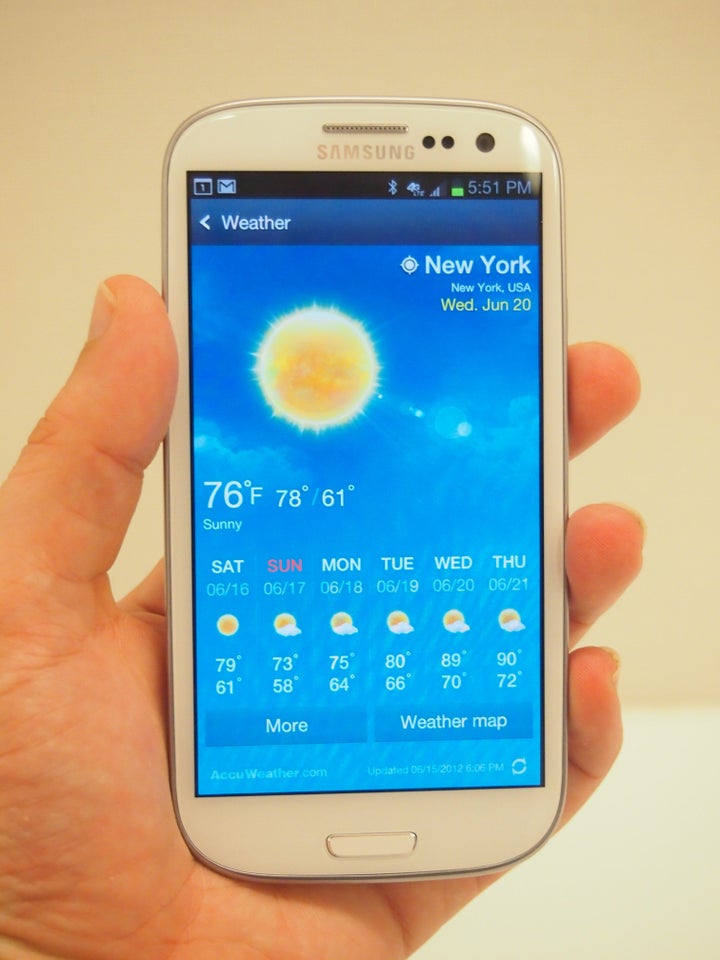 Advertisements for the Galaxy S3, the new top-of-the-line Android smartphone from Samsung, claim that the GS3 was "designed for humans."
If you are a horse, in other words, stop reading right here. This smartphone gets zero stars for horses buying a smartphone. Go look at the iPhone 4S, Horse. You too, Adorable Baby Monkey.
For humans, however -- the species that makes up a surprising majority of Huffington Post readers -- I can, with all of my human heart, endorse the Galaxy S3. Available on all of the major U.S. mobile carriers for $199 on contract, the Galaxy S3 is an attractive phone with whip-quick speeds, a large, hypnotically beautiful screen and superior battery life. The camera cannot compete in image quality with those of the HTC One X or the iPhone 4S, but every other experience central to the success of a smartphone feels premium, state-of-the-art, and -- and this is the descriptor that I constantly find myself returning to -- fast.
SPEED

Call this bad boy Nestle, 'cause it's quick. The 4G LTE speeds on AT&T's network make downloads and page-loading lickety-split speedy; apps appear instantly after launch, and the beastly 2GB of RAM ensure that no matter how many power-hungry apps you have open at once, everything operates smoothly. The thing runs faster than a sophomore at Yale who's just heard about the cardigan sale at the local Brooks Brothers -- which, if you've never seen, is really, really fast.
Scrolling on the touchscreen is as smooth as it's ever been on Android, nearing, though not equaling, the sleekness of the iPhone and Windows Phone. Speaking of smooth, the lock screen lets you swipe in any direction to unlock the device -- that's neat, and a welcome change for those trying to access their phones on-the-go.
The 4.8-inch display likely will turn some off immediately. But despite the big screen, the GS3 is slimmer and weighs less than the iPhone 4S, with its comparatively tiny 3.5-inch screen. (Part of that's due to the plastic backing which -- thanks to some clever material finish -- has a polished non-plasticky feel to it.)
But about that display: It's lovely. My specs sheet tells me its Super AMOLED, 720x1,280; whatever it is, its beauty is alluring to the user. The Gorilla Glass screen might be sized for gorilla fingers, but the phone fits comfortably in your hand or your pocket, thanks to that thinness. It's not as comfortable as the iPhone 4S, of course: Obviously you are choosing between one-handed convenience and display size here.
Here we must draw back our superlatives: The Galaxy S3's camera does not measure up to its rivals. In my HTC One X review, I said that the One X came close to catching the iPhone 4S; well, the Galaxy S3 doesn't come close to catching even the One X. There are tons of pre-loaded features on your stock camera -- exposure, ISO, white balance, and about 12 others, including filters -- but the default image quality on the rear camera (8 megapixels) just doesn't measure up.
The front camera (2 megapixels) also falls short. Neither camera captures light or color as well as those on the iPhone 4S.
ICE CREAM SANDWICH, WITH SAMSUNG-FILLING

I've written all about the pros and cons of Android here, and those hold true for the GS3. The handset is great for heavy Google users who love the power and flexibility of widgets; it gets even better the more you use it, but there's still a barrier to entry for newer users. Past that, what does Samsung have for us? What apps does Samsung add on to enhance the stock experience you could find on the Galaxy Nexus?
Trinkets. The new S Voice app is a Siri competitor that understands even less than Siri and doesn't even spout absurd responses to your asinine queries. We also have NFC on-board, for mobile payment by touch and "bumping" content to other Galaxy S3s; I'm not convinced the technology will catch on soon enough for that to be a selling point, though. There's also Pop Up Player, which allows you to watch any downloaded movie in a smaller "pop up" window while you're doing something else on the phone. Cool, but a little pointless and bordering on gluttonous; I never found a reason to use it.
There is a neat idea in here called Smart Stay: Basically, if the front camera senses you are looking at the display, the screen will not dim. It's not an essential feature, but it does work and did not seem to drain the battery.
Samsung's Android skin, TouchWiz, is one of the uglier skins out there (I prefer the HTC Sense, for what it's worth). A simple change of the system font to Helvetica and switching up the widgets seemed to beautify things, however.
ONE MINOR COMPLAINT

The home button is a bit hard to press in with one hand.
WRAP-UP

The Samsung Galaxy S III will be available on the four major U.S. carriers for $199 with a two-year contract for the 16GB model (expandable up to 64GB via microSD).
We are at the point in the iPhone 4S' life cycle that you should no longer be buying it. Apple should release a new iPhone, with 4G LTE, in September or October; buying a non-4G smartphone at this point is folly. The Galaxy S3 is a safe bet for a well-made, fast (there's that word again) 4G LTE handset, along with the various new HTC "One" models floating around nowadays.
It's not the best device for tech novices -- an iPhone or Windows Phone is probably still best for you, casual users -- but if you are technologically savvy, are looking for a new smartphone, and are a human, you'll enjoy the Galaxy S3.
THE CAPTAIN GADGET SPEC SHEET FOR THE GALAXY S III
Carrier and cost: AT&T, Verizon, Sprint, T-Mobile, U.S. Cellular,199 on two-year contract for 16GB model
Display: 4.8 inch Super AMOLED, 720x1, 280, 16 million colors
Weight: 133 grams, or 4.7 ounces, or "really, really light for its size"
Designed for giraffes?: No
Operating system: Android 4.0 "Ice Cream Sandwich" with Samsung TouchWiz
Network: 4G LTE and 3G HSPA+
Designed for pandas?: No
CPU: 1.5 GHz Qualcomm Snapdragon S4 dual-core
Memory: 2GB RAM (first smartphone in the United States with 2GB RAM)
Storage: 16/32/64GB internal; MicroSD card slot
Designed For Your Toothbrush?: No
Camera: 8MP rear-facing with LED flash and auto-focus; 1,080p video capture, burst shot; front-facing 1.9MP
Battery: Removable
Special Features: S Voice, a voice-activated assistant; S Beam, for NFC transfers; Smart Stay, keeps display on when user is looking at screen; Pop Up Play, creates picture-in-picture viewing for videos; Social Tag, which allows you to tag friends from social networks in pictures straight from the camera; Direct Call, lift the GS3 to your ear while sending a text to dial your friend.
Designed For Humans?: Why, yes!
Below, check out a slideshow of the Galaxy S3, including a camera comparison against the iPhone 4S and several screenshots of the features in action:
PHOTO GALLERY
The Samsung Galaxy S3, In Photos
Calling all HuffPost superfans!
Sign up for membership to become a founding member and help shape HuffPost's next chapter
BEFORE YOU GO