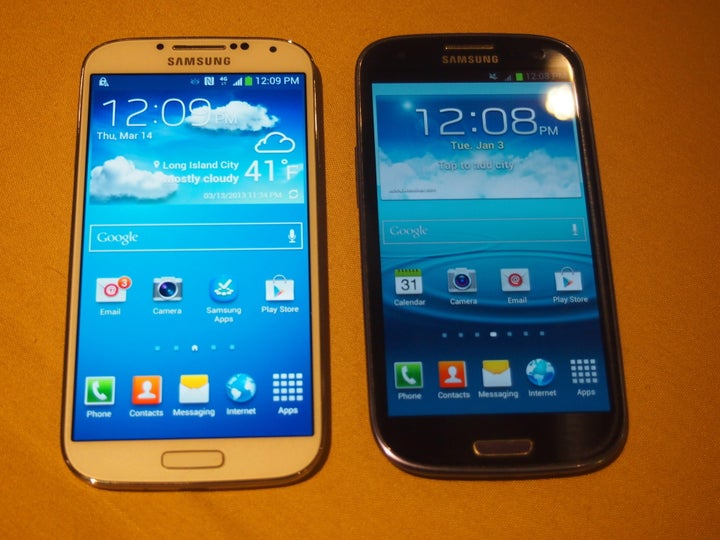 Samsung's Galaxy S4 boasts a bigger screen, better camera and faster processor than its predecessor Galaxy S phones; it also ships with a whole bunch of new features, too many to list in our primary wrap-up about the S4 launch (with photos here), which happened Thursday evening in New York. Here is your unabridged and alphabetized version of every new feature -- or, at least, the really important ones -- you'll get with Samsung's latest volley in the smartphone wars:
Air Gestures: Refers to hand movements made above the phone's display, without coming into contact with the display, that controls the phone. Common gestures include waving your hand over the display to skip a track or waving left and right to switch between open web pages in the browser. These gestures only work with specific Samsung apps.
Air View: Like the stylus on the Galaxy Note 2, you can hover over the display with your finger to view information about certain pieces of content. For example, hovering your finger over an email shows you a longer preview without opening the message; hovering your finger over a date on the calendar shows you a quick view of what to expect on that day.
Drama Shot: Camera feature that shoots 12 photos at once and shows you a time-lapse of all the action in those photos combined into one picture.
Dual Camera: Activates both the rear camera and the front camera, so that the photographer can superimpose himself or herself into the subject of the photo. Samsung gave as an example someone watching football superimposing himself or herself into the game.
Dual Video Call: While video-chatting with someone, you can show them both your face and the view from your rear camera while you chat.
Group Play: Allows multiple Galaxy S4 owners in close proximity to join a private network in which they can, among other things, play a game.
S Health: New app that acts as a fitness tracker and food diary. The Galaxy S4 has a built-in pedometer to count your steps, and you can take photos of your meals each day to keep count of your calories and eating habits. Samsung will also sell a fitness bracelet, a digital scale and fitness belt to measure blood pressure, pulse, glucose levels and weight for those interested.
S Translator: An app in which you can input any of 10 languages and receive a translation, either spoken or in text. Also works to translate text on your email, text messages and a few other Samsung apps.
S Voice Drive: New hands-free function for drivers that allows the driver to operate the phone with his or her voice.
Samsung Adapt Display: The Galaxy S4 "learns" what you are viewing and adjusts the display's brightness accordingly. If the phone senses you are reading an article, for example, it will illuminate from a more muted brightness.
Samsung Adapt Sound: Similar to Adapt Display, your audio can adapt to the content you're listening to (video, music, etc.) and optimize itself to that content.
Samsung Optical Reader: Camera feature that can snap a photo of a business card and import that information into a new contact in your phonebook. Was not working as of demo time, but Samsung reps assured me it would be fixed by the time it shipped to consumers.
Samsung Smart Pause: When watching a video, the front camera can sense when your eyes move away from the screen and pause the video automatically if you aren't looking.
Samsung Smart Scroll: When you are reading an email or article on the web, you can scroll up and down by tilting the device up and down rather than swiping with your finger.
Samsung WatchON: A built-in IR sensor lets you control your television set with your smartphone. Comes with a standard remote and a program guide depending on your cable provider. Can also control certain cable boxes and DVD players.
Share Music: When linked with Group Play, multiple Galaxy S4s can work as surround sound speakers, all playing the same song at once.
Sound & Shot: Allows you to record up to nine seconds of audio at the time of taking each photo.
Story Album: Templates that allow you to create a digital photo journal or scrapbook from a certain event. You can also then order and print out that story album for a fee.
Phew! So, what do you think? Do any of these jump out at you, or are all of these destined to be unused features for Galaxy S4 owners? Fight it out in the comments below. (And, in case you were wondering: A Samsung spokeswoman told me that some of these features *might* be made available to older Galaxy S phones but declined to name which features, or when).

Related
Before You Go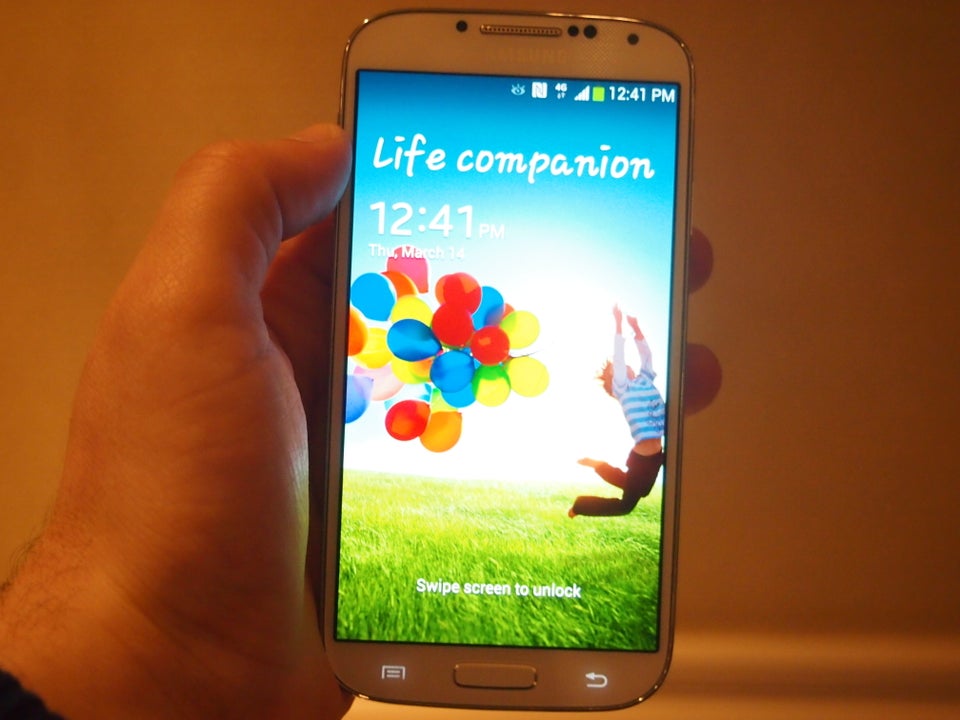 The Samsung Galaxy S4
Popular in the Community