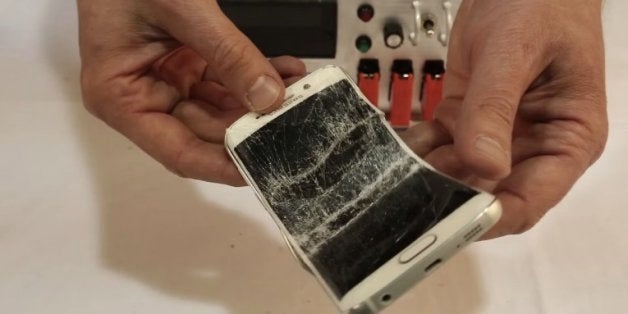 Remember "Bendgate"? As our smartphones get bigger, they get more fragile -- and Apple's not the only company whose phones break under pressure.
SquareTrade, an electronics insurance company, used its own "bend bot" to put the new Samsung S6 Edge, the new HTC One M9 and the iPhone 6 Plus to the same pressure test. Watch the video here:
The robot works by putting pressure in the center of the smartphone until it bends or breaks. Even though Apple had to deal with a huge controversy about the iPhone 6 Plus bending under pressure, Samsung's new smartphone bent at the same point.
The iPhone 6 Plus bent at 110 lbs. of pressure, and it completely broke at 179 lbs.
The Galaxy S6 Edge also bent at 110 lbs., and its screen cracked at that point.


The smartphone was still functional with a broken screen, though, and the Galaxy didn't completely break until it was under 149 lbs. of pressure.
The HTC One M9 bent and broke at 120 lbs of pressure, since the phone's power button is on its side, right where the smartphone bent. You can't use a phone without a power button.
"Is this 'Bendgate 2'?" SquareTrade asks in the video. "No, but for Samsung fans it may be worse. Instead of a bent phone, they may have a pocket full of glass."
Here are the three phones after they've reached their breaking points, with the HTC on the left, Samsung in the middle and Apple on the right: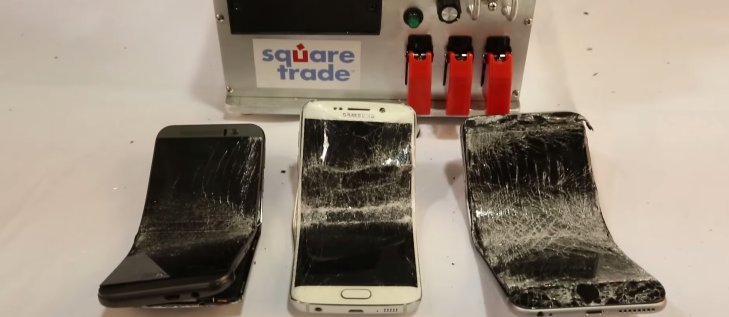 Apple received harsh criticism last September when some users discovered that the iPhone 6 Plus, the tech giant's largest smartphone to date, could be bent under a seemingly small amount of pressure. Even though the controversy didn't stop people from buying the 6 Plus, "Bendgate," combined with operating system glitches, did damage Apple's stock in the midst of the drama.

Calling all HuffPost superfans!
Sign up for membership to become a founding member and help shape HuffPost's next chapter