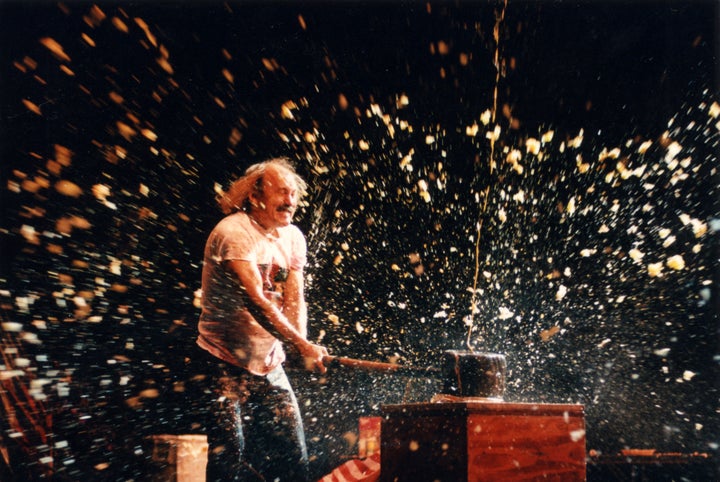 UPDATE: 3:29 p.m. -- Gallagher's manager, Christine Scherrer, has told The Huffington Post that the comedian is currently in an induced coma and will remain so for the next 24 hours to relax and recover. She said his family is with him and, according to his doctors, all signs are good.
His performance dates for this weekend and next have been rescheduled but upcoming dates remain in place. Scherrer also said that Gallagher had been in excellent health since his previous heart attack last year. This is the first incident since that time.
On Wednesday night, Gallagher did a meet-and-greet with his fans prior to his scheduled show at Hat Tricks in Lewisville, Texas, and suffered a heart attack in his green room before taking the stage.
Previously:
According to his management company Too Fun Promotions, Gallagher, the iconic and often polarizing comedian who made a name for himself by smashing watermelons with a sledge hammer during his shows, is currently hospitalized after suffering a heart attack.
The comedian was scheduled to perform at Hat Tricks in Lewisville, Texas, when, shortly before his performance, he began to suffer severe chest pains and was rushed to the hospital, where he remains for the time being, according to TMZ.
The comedian has become a somewhat controversial figure in the comedy community in recent years, coming under fire for some of his material, and famously walking out of his appearance on Marc Maron's beloved WTF Podcast. Despite that, he still commands sold-out audiences across the country and tours continuously.
Gallagher suffered an earlier heart attack almost exactly a year ago while performing on stage at Whiskey Bone's Roadhouse in Rochester, Minn. In a video of the incident, Gallagher is seen collapsing immediately after smashing what appears to be a bottle of ketchup.
Two weeks later, at a performance in Boca Raton, Fla., he explained to his audience, "I almost died two weeks ago ... these are extra days that I've been given. I guess God said, 'Wait a minute, Boca ain't had their show yet.' So it's not me, it's God's will we have this show tonight." He continued, "You can like God all you want to but I'm pissed at him ... I had a heart attack while I was doing sledge-o-matic, which is gonna look great in the paper. But now I could die doing something stupid and my story won't be as cool."
TMZ reports that the comedian will remain hospitalized for the next couple of days.
CORRECTION: A previous version of this story incorrectly identified Gallagher's management company. The post has been updated to reflect the correct information.
Popular in the Community