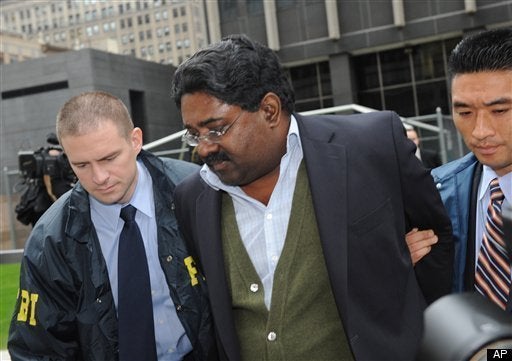 Research assistance by Claire Schneiderman
The story of Galleon Group, the hedge fund at the heart of the biggest insider-trading scandal in decades, has plenty of colorful characters from a billionaire whose charitable donations ended up aiding rebels in Sri Lanka to a foul-mouthed ex-Bear Stearns executive who befriended a mild-mannered IBM vice president.
Here's a guide to the scandal's most colorful quotes and anecdotes:
- Leon Shaulov, a loudmouth senior trader at Galleon, once turned on a colleague, Gary Rosenbach, in front of the rest of the staff, screaming: "You're a disease, you're a jinx."
- Galleon founder Raj Rajaratnam once "paid $4 million to have Kenny Rogers come to a birthday party at his house and sing his favorite song, 'The Gambler,' over and over again. Kenny refused to go on after a dozen times."
- Anyone who arrived late at Galleon's morning meeting of 70 analysts, portfolio managers and traders was fined $25.
Straight from the indictment of co-defendants Danielle Chiesi and Mark Kurland, both from the hedge fund New Castle, and Robert Moffat, the IBM officer who provided them with information regarding AMD, IBC, and Sun Microsystems, come some incredibly insightful quotes caught on government wiretaps:
- Chiesi to Kurland, on whether to call an Akamai executive when they believed Akamai would announce quarterly earnings earlier than expected, "Do you want me to call [the Akamai Executive] up? It's a pretty fucking scary thing to do." Kurland replied, "Call him... Let him talk."
- Following this conversation, an Akamai executive called Chiesi to say that he was "gonna come visit you in New York and I'm gonna give you a present. But it has to be face to face..." Later, he said, "Danielle, I have a major present for you." Chiesi asked what he was talking about, and the Akamai executive replied, "Information." Chiesi said, "Well that, that is a great present."
- Perhaps Chiesi knew that she would be indicted in the first case of insider trading where the feds used wiretapping. When Kurland called Chiesi at the end of August, 2008, Chiesi said that she was going to "get a new cell phone and talk to [the AMD executive from there... I know I'm paranoid." Kurland replied, "Alright, well don't keep talking about it on the phone. I'll take care of it alright."
- Regarding whether Chiesi and Rajaratnam would have bought AMD stock if they weren't in on the trading, Chiesi asked, "If the two of us weren't close to the company as we are, would you be long the stock?" Rajaratnam replied, "Yeah, no. I wouldn't." Chiesi said that she "wouldn't of touch[ed] it with a fucking 10-foot pole."
- In what seems a clear sign that Rajaratnam and Chiesi were aware of potential wrongdoing, during a discussion of AMD stock, which both of them were buying, Chiesi said: "I don't want anybody else to make money on this but us, 'cuz I don't want to get in trouble for a lot of reasons..."
- A conversation between Chiesi and a co-conspirator was even more telling: the co-conspirator asked when the announcement would take place regarding an AMD reorganization, Chiesi replied, "September... I swear to you in front of God... You put me in jail if you talk." Later, Chiesi said, "I'm dead if this leaks. I really am... and my career is over. I'll be like Martha fucking Stewart."
Calling all HuffPost superfans!
Sign up for membership to become a founding member and help shape HuffPost's next chapter