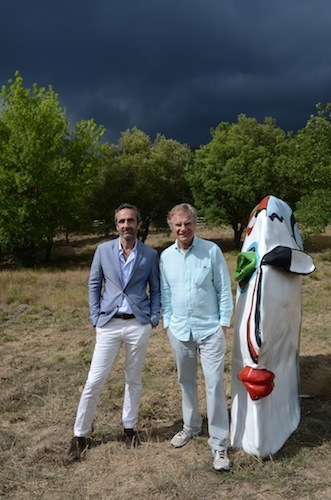 A veteran of the art world, Parisian gallerist and art dealer Jean-Gabriel Mitterrand, better known by his initials JGM, is one of those mysterious and international contemporary art world. For more than 20 years, he has been working and exhibiting some of the major artists of our time, from Niki de Saint Phalle, the lalannes and Mark Handforth. This successful, yet discreet art dealer, has single-handedly witnessed the major changes that have occurred in the global international art scene. While sitting down with jgm, we got to understand how contemporary art may be perceived today, and how these changes have impacted the role of gallerists. He also shared with us his own latest projects he has been working on over the past year, including a new exhibition space in Paris as well as a vast outdoor sculpture park, Domaine du Muy, in the South of France.
Q: You come from a family where art seems to play a significant role... Your brother was the French Minister of Culture a few years ago. Prior to that, your uncle, François Mitterrand devoted a lot of efforts and political reforms to support culture and arts during his 14 year mandate as President of the French Republic, with unforgettable realization such as Le grand Louvre...What was your first contact with art?
Mitterrand: Art did not mean so much in our family compared to literature. Painting and music were subject to arguments rather than accordance; for instance my father could not bear Picasso and he always found opera, as much as concert halls, extremely boring, While there was never any music played at home, I used to play on my side the 33 1/3 rpm record of L'Apprenti Sorcier by Paul Dukas in a row. Art got into my life with Jean Edelmann's paintings. He was a wonderful friend of mine, as well as my father who collected his works. He painted a bit in the post-cubist manner but his paintings were very colorful. After that, I had a second breakthrough: I got absolutely overwhelmed by a Murillo canvas representing a beggar I saw in the London National Gallery. I bought the poster and hung it in my room. But at that time art was only purely "emotional." I was a teenager and I did not really have yet an "artistic business vision."
Q: It seems that over the past years, you have been going through major changes within your gallery business, and you have been working on new exciting art ventures. Can you tell us more about them?
Mitterrand: When I opened the gallery in 1988, it was impossible to call it Mitterrand as my uncle was the president, so I gave it my initials: JGM.Galerie. After 26 years in the business, I felt that the name has finally become "legitimate," and that it was now time to call it Galerie Mitterrand. So last year we celebrated together the renaming of our gallery, along with the opening of our second exhibition space in Paris in Le Marais. Its main focus lies within the promotion of a younger generations of artists ; we are working with artists such as Mark Handforth. We are also opening a vast outdoor sculpture park in the South of France, the "Domaine du Muy." I thought that it would be interesting as a concept to put sculpture in a natural space and near a place visited by many collectors (located 30 minutes away from St Tropez). It is supposed to bring a real change in the way we perceive life through art. The curator, Simon Lamunière, managed to create a sort of a game between nature and art, with installations and sculptures that step out of the wildlife, sometimes with a certain respect, and sometimes in a more abrupt way.
Q: Your son has recently been working more closely with you and he is involved in all new your artistic endeavors. Is art a family affair for you?
Mitterrand: My daughter Laura has been working with Gavin Brown in New York for 12 years and she also created the international contemporary art fair, "Independent." My other daughter, Alice, is a script writer and movie director, and indeed my son Edward, after having had his own gallery in Geneva, became an artistic advisor in my gallery to spearhead the young artists program that we've been putting up for our second exhibition space. We are also running together the "Domaine du Muy" sculpture park project. So yes, art is definitely part of our DNA and a necessity for the whole family!
Q: How would you describe your job as a gallerist? Do you feel endowed with a mission, a kind of commitment to leverage the awareness of contemporary art and provide a wider access to a broader audience ?
Mitterrand: I could describe my work as the desire to share with artists their ambition of accomplishment, success, recognition as well as access to the institutions and museums or collectors. My life is first dedicated to the artists, then to the institutions, individuals or corporates which collect the works of the artists I work with. But prior to that, we need to work on making the public discover those art works, to educate them and to make them like it. This might sound a bit as if I took a sacred vow, but on the contrary, this is only a matter of pure passion and excitement for everything that brings strong feelings and which helps us find meanings for our lives, along with the joy of sharing with people the beauty of each new artwork and creation I discover.
Q: You opened your gallery in 1987, almost 30 years ago. Do you feel that the job of gallerist has evolved since then? Your gallery program is also quite interesting and "uncommon" since you represent contemporary artists who belong to today's hot and upcoming scene, as well as some who lived their glory days in the 1980-1990's (such as French artist Niki de Saint Phalle or the Lalannes). Do your relationships with contemporary artists differ from those you had with "past" contemporary artists?
Mitterrand: The job I started in the 1970's is different today because relationships with artists have deeply changed. The relationships I had with artists from the 1960's and 70's are or were very solid, strong, personal, sometimes even passionate; it is about a total commitment, like for instance the one I had with Niki de Saint Phalle all the way until she died in 2002. I carry the same bonds with the Lalannes (a French artist and artist duo comprising married couple François-Xavier Lalanne (1927-2008) and Claude Lalanne (b. 1924).) Claude, the widow, is a dear friend but at the same time, she is also a very demanding artist and she is almost the last one of a generation who had to wait for a long time to reach market and museum recognition. With younger artists, the relationships can be intense too. But the increase of the art market, along with the competition between galleries, as well as between artists themselves, created a more fragile connection with them. It's almost suspicious sometimes, because their careers depend more on the economic power of the gallery, rather than on its ability to help build the artist's career internationally, and to have them get into the most famous art fairs and prestigious collections.
Q: We're curious to get your opinion on what "contemporary art" means today. The Centre Pompidou Museum decided to have its contemporary art collection starting in the 1980's. According to you, what is a "contemporary artist" in 2015?
Mitterrand: For a long time, "contemporary" meant post-World War II art, which was therefore art made after 1945. But the arrival of American artists on the international scene brought a new meaning and content to the "contemporary" scene. There is no age limits for an artist to be considered as a contemporary one: Louise Bourgeois, for instance, has always been contemporary, just like Picasso. Then it only depends on the art experts and historians, who decide whether an artist is contemporary, or not. This is why for instance, Balthus is not really a contemporary artist even though he was way younger than Picasso. By defining "contemporary" art as a younger art, the Centre Pompidou Museum has unleashed a certain conservative approach of the history of art, and I think it is right. Its statement relies on today' s art scene and this is essential; this should be an example to be followed by all of us.
Sign up for our weekly newsletter to get the best of ARTPHAIRE delivered straight to your inbox!
Constance Breton is an ARTPHAIRE contributor. She is also a the founder of The Art of this Century, which is a platform that offers bespoke experiences and journeys in the art world for a private community of members.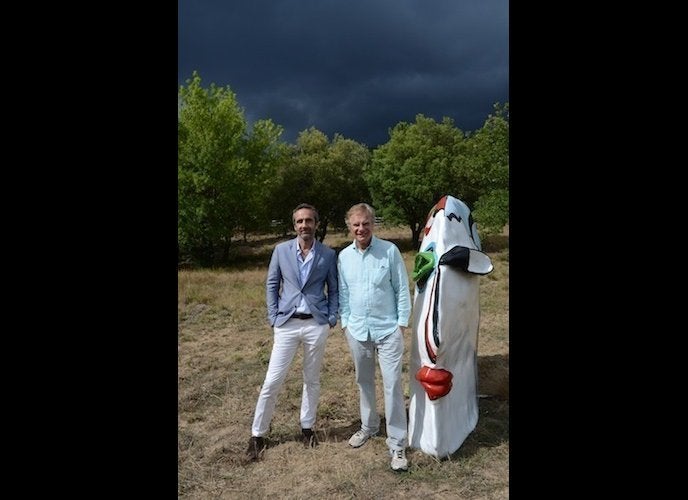 Gallerist Spotlight: Q&A With Jean-Gabriel Mitterrand Of Galerie Mitterrand & Domaine Du MuyEnter a title for your slideshow i.e. 'The Top 10 Songs of the 1980s'
Related
Popular in the Community